Mack & Domynique Reportedly Had An "Epic" Breakup On Married At First Sight
Fans think the Season 16 trailer accidentally revealed the split.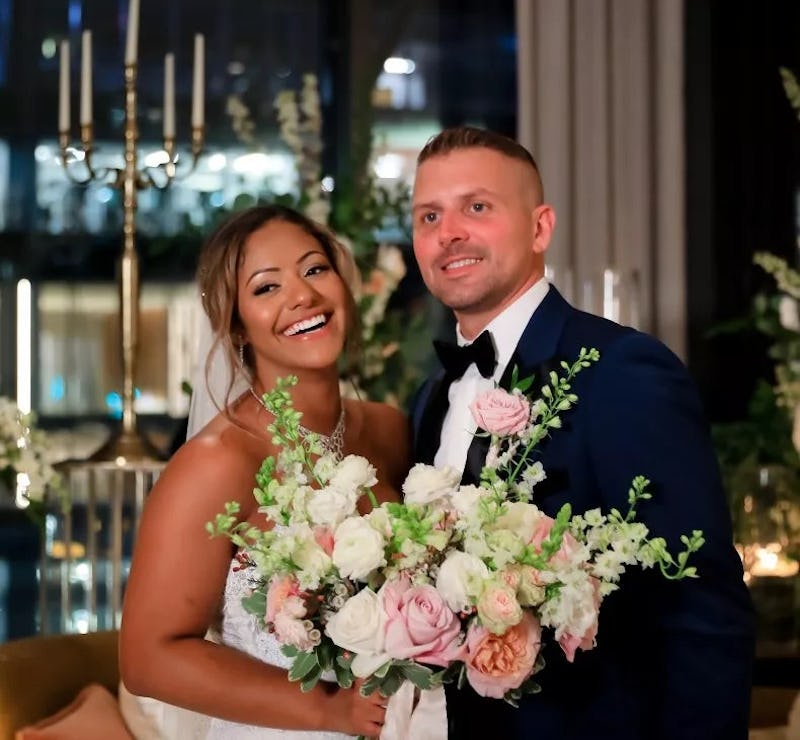 Autumn Moultry/Lifetime
Despite going through a thorough matchmaking process, Married at First Sight Season 16 couple Domynique Kloss and Mackinley "Mack" Gilbert seemed to have the least in common of the five Nashville-based pairs. That could have something to do with Mack being "vague" when describing what he was looking for in a wife, as he admitted to his friends on the Lifetime reality series. Meanwhile, Domynique, who's 25 and nearly 10 years Mack's junior, didn't even sign up for the eight-week social experiment: Her mom, Toya, submitted the application on her behalf. That all lends credence to the many clues that Mack and Domynique are no longer together after MAFS.
In fact, several fans think they broke up before Decision Day — and that the Season 16 trailer inadvertently revealed the unhappy ending. When the end of the clip teased the finale outcomes, they were the only couple not shown together in a final meeting with Dr. Pepper or Pastor Cal. The season's sneak peek didn't include many happy moments between them either. After Domynique referred to something as "petty," the 34-year-old director of operations, who was later shown in tears, told her, "I can promise you, you're not perfect. You do have things to work on, and you should consider that."
Though their respective Instagram accounts are currently set to private, Mack's Facebook tellingly lists his relationship status as "single," seeming to confirm that they decided to divorce. Meanwhile, Media Take Out confirmed via a source close to production that Mack and Domynique split before filming wrapped, and the breakup "will be epic." The website later reported that Domynique took issue with Mack not having his own place in Nashville, where he recently moved to pursue new career opportunities, according to his MAFS bio.
On the show, Domynique said that she and her mom both wanted this to be her first and last marriage, though neither her family nor Mack's were entirely on board with their method. They also had concerns over race, as Domynique is biracial and Mack is white. She explained to Mack's mother that growing up in the South, her mixed race had been a "hurdle" in her romantic life. "Those types of things do weigh heavy on my heart... I really just want to be accepted for who I am," the associate sales broker shared.
In Newsweek's clip from MAFS' Jan. 25 episode, Domynique's aunt, Tiea, directly asks Mack if he's ever dated outside of his race. "I have mostly dated white and Latina women," he responds. "I have gone on dates with Black women; honestly, I just haven't had a lot of return luck on that side." In an interview, Domynique's grandmother, Leah, explains that her "concern is the racial thing," adding, "Domynique is used to dealing with it but it might be a new thing to Mack and that's the reason why we're asking these questions."
Only time will tell how they navigate that issue, along with others, and if they did really break up on MAFS.