Are Richard & Vika From Bling Empire: New York Still Together?
The Season 1 finale saw Vika stop Richard's marriage proposal.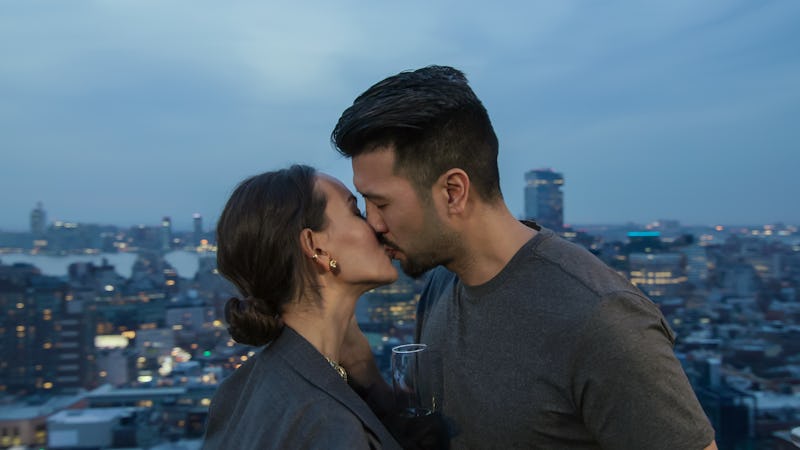 Netflix
The love lives of the Bling Empire: New York cast make up the majority of the first season. Not only is Richard Chang thinking about proposing to Vika Abbyaeva, but Los Angeles transplant Dorothy Wang dips her toe into the NYC dating scene and even meets a nice guy while in the Bahamas with the rest of the cast. Influencer Tina Leung submits herself to a matchmaker and some pretty awkward dates with men in bad suits, as well. Meanwhile, Lynn Ban and her husband, Jett, struggle to connect throughout the season, making for some uncomfortable scenes between the couple.
But Vika and Richard seemingly have a healthy, strong connection, even if he needlessly advised her not to hang out with the other women in the cast without him around. It all comes to a head at the end of the season when he tries to pop the question to her on a rooftop, and she stops him before he can even get the words out. Her reluctance doesn't seem to have much to do with their argument over her girls' trip to the Bahamas, which he later apologized for.
So does Vika and Richard's relationship stand the test of time? Here's what we know.
Why Did Vika Stop Richard's Proposal In Bling Empire: New York?
Vika tells Richard that she feels like he is being pressured by his family to marry and start a family. While she thinks that they are each other's person, she wants to wait and see where their relationship goes for a little bit longer before slipping a wedding band on her finger. Richard is clearly distraught by her hesitance to tie the knot, and that sort of drama can take a toll on a relationship. But all signs on the internet seem to show that Richard and Vika are still together after his botched marriage proposal, indicating that wedding bells might still be in their future.
Where Are Richard & Vika Now After Bling Empire: New York?
Bling Empire: New York started filming over a year ago in the fall of 2021, according to Netflix. Since then, both Richard and Vika have liked and commented on each other's Instagram pictures and have even posted pics together as recently as Halloween 2022, complete in a couples costume. Over the summer of 2022, they seemingly traveled to Italy together, both along the Amalfi Coast and in Tuscany. In August, Richard posted a pic of them together on a bench in the Italian countryside, and some people commented with champagne emoji and a few "congratulations." It's unclear if this just means that the pics were fire and someone misunderstood it to be some sort of engagement photo, or they secretly did get engaged and are saving an announcement for a later date.
What is clear is that they are very much in love. In early December, Vika posted a reel of her and Richard walking a beach with some dreamy music behind it, and at the press events for the season premiere, Vika and Richard are sitting next to each other. They are likely still together — or they are just very, very good at fooling their fans ahead of their Netflix debut.