Shaq Might've Spoiled His Relationship Status With Kirsten After MAFS
His life "hasn't changed much."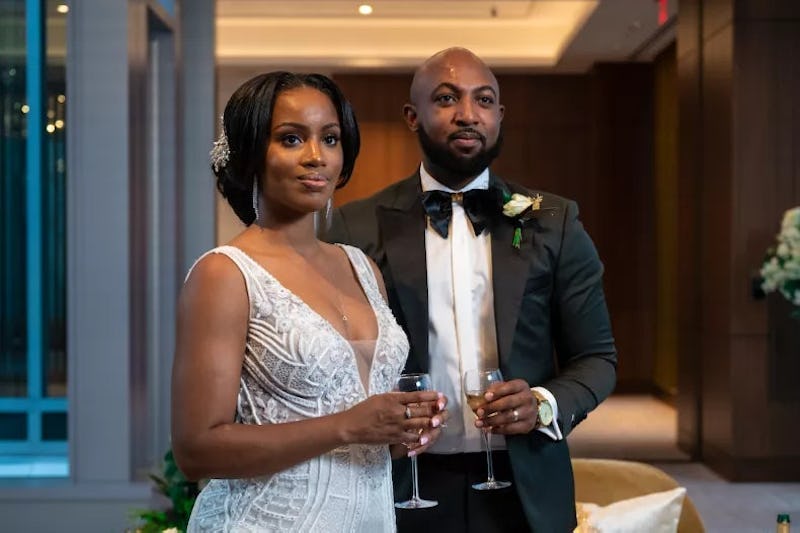 Matthew Kahn Photography/Lifetime
When Shaquille "Shaq" Dillon met Kirsten Grimes on Lifetime's Married at First Sight Season 16, he barely had enough time to balance work and school. In fact, the first major conflict in their marriage quickly arrived when Shaq, a 31-year-old grad student and executive director of enrollment services at Tennessee State University, delayed their honeymoon in Jamaica to present at a research conference in Mississippi. Though it would normally be a bit early to use the disagreement as a barometer of the couple's success, Shaq recently told Distractify that his "life hasn't changed much" since filming ended, seeming to hint that he and Kirsten are no longer together after MAFS.
After all, their issues began as soon as they laid eyes on each other. Kirsten's MAFS bio notes that she's had difficulty finding a man who meets her standards, and it didn't take her long to decide — and make no secret of her position — that she was not attracted to Shaq. "He's bald and he's younger than me, so that's two strikes," Kirsten said. So when the officiant announced that Shaq could kiss his bride, the 32-year-old real estate agent only offered her cheek. As she explained to Distractify, "I was expecting to see a man with a haircut, low beard, not just good looking."
As the MAFS trailer teased, they will continue to be on different pages regarding their non-mutual physical attraction as the season goes on, too. Though Shaq said Kirsten was exactly his ideal "type," a later clip teased that she was still feeling that there was "not really" any chemistry between them. Still, she'd initially hoped his nice smile and outgoing personality would eventually outweigh a lack of attraction on her part. They may have some even bigger issues to tackle as they dive deeper into their emotional relationship, too.
Both Shaquille's and Kirsten's Instagrams are set to private, so there aren't many further clues of where they stand today, but the MAFS Fan account reported that only one couple stays married on Decision Day. As the account also claimed to confirm, all signs currently point to Nicole and Chris being the couple that stays together. Meanwhile, other hints already strongly suggest that fellow Season 16 couple Mack and Domynique had an "epic" breakup before filming even wrapped.
The MAFS matchmakers weren't totally off base though: Shaq and Kirsten both put an emphasis on religion, naming their "deal breaker" as someone not sharing their Christian faith. "I would have been confused with the experts' matchmaking process, had I been matched with a person who is not religious," Shaq explained, while Kirsten added, "As a child and as an adult I pray daily and attend church. I want my future family to be raised in a Baptist church." Only time will tell if their shared values were enough to sustain a successful marriage though.