Viral & Aashay's Indian Matchmaking Relationship Just Hit A New Milestone
Here's everything to know.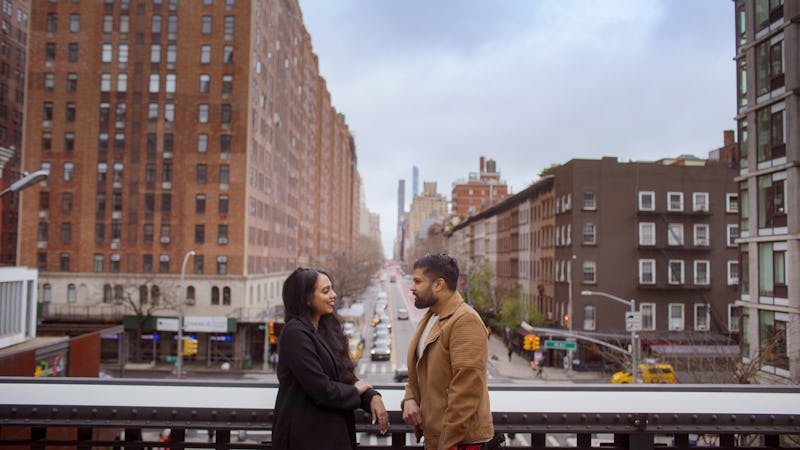 Courtesy of Netflix
During Season 2 of the Netflix reality series Indian Matchmaking, Sima Taparia worked with Viral Joshi — a client based in North Carolina who had a long list of criteria for her matches. She wanted someone self-made, who wouldn't be intimidated by her success; her ideal partner would also be from Gujarat, and able to speak the same language as her family.
After Sima Aunty set Viral up on a failed date (with a boy also named Viral, whom she took to a furniture store for their first date), she was then matched with Aashay Shah, a New York City-based Gujarati doctor who came to the U.S. at age 12. Their connection seemed immediate; while Viral had lacked chemistry with the other Viral, she felt a spark with Aashay just moments after he arrived at her North Carolina home. It helped that he also checked off all of the major boxes on her list.
They spent their first date at a rock climbing gym, where Aashay showed off a shoulder tattoo and his advanced climbing skills. Viral then visited him in New York City near the end of the season — and although she was initially annoyed at his tardiness, she quickly forgave him as they walked along the city's High Line. By the Season 2 finale, it seemed like things were boding well for the couple. So, did Sima Aunty make a successful match between Viral and Aashay?
Yes! For a while, fans only had clues about Viral and Aashay's relationship status — like photos taken at the same New York rooftops.
However, Viral and Aashay confirmed their relationship soon after Season 2 aired. "The stars have aligned," Viral wrote, speaking highly of Sima — and the experience of appearing on international TV. "I'm so grateful that our story unfolded in front of the world because it inspired people to believe in the purity and beauty of love again," she said.
During Indian Matchmaking Season 3, Viral and Aashay reached a new milestone (well, several). After Aashay met Viral's parents, Viral traveled to India to meet Aashay's. Though she was concerned they might perceive her as an "ABCD," or "American-Born Confused Desi," the meeting went well on both sides.
While in India, they also went shopping for jewelry — and Aashay mentioned browsing for rings. Though they didn't get engaged during Season 3, they did seem to be in a really good place. Aashay even brought her as his date to a wedding, something he'd never done before.
"When I started this whole process ... I went on one date a year," Viral said. "Now I'm like, I have the best boyfriend ever. He's the best."
This article was originally published on