Ariana Grande Explained Why She Stopped Getting Botox & Fillers In A Raw Video
"For a long time, beauty was about hiding for me."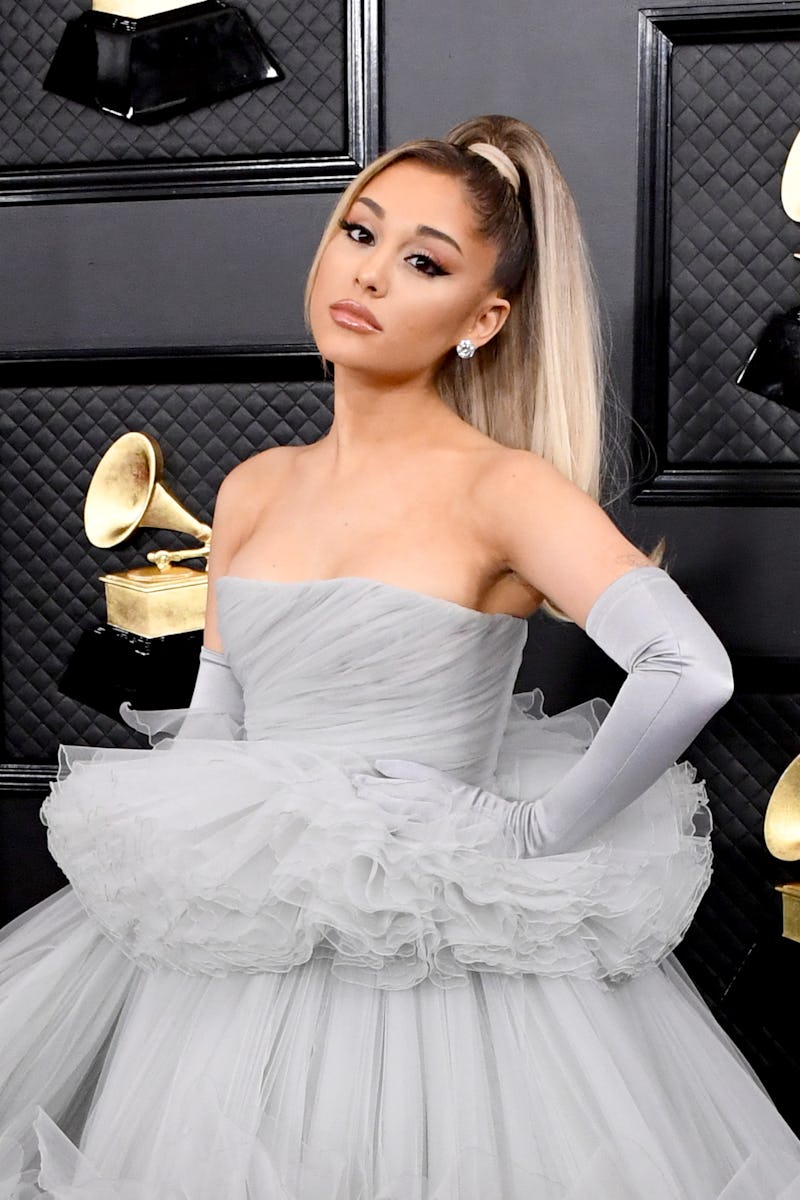 Sometimes a beauty video is just a beauty video, and other times, it can turn into "a little therapy session." That's what Ariana Grande found out when she filmed her Sept. 12 beauty secrets video for Vogue. The two-time Grammy winner was going through her routine and creating a cat-eye makeup look when she opened up about her approach to beauty in the past, including getting Botox and fillers, and she surprised herself by getting emotional.
"Full transparency, as a beauty person, as I do my lips, had a ton of lip filler over the years and Botox. I stopped in 2018 because I just felt so… too much," Grande said, taking a beat to compose herself. "I just felt like hiding, you know?"
The pop star added, "Didn't expect to get emotional," with a laugh, and then pressed on. "For a long time, beauty was about hiding for me, and now I feel like maybe it's not."
Earlier in the video, Grande explained that she was affected by the fact that she got her start in the entertainment industry so young. It meant that she was "exposed to so many voices at a young age" and didn't know what was "worth hearing and not," as she put it.
Expanding on how makeup helped her hide, Grande said she tended to go with "more and more and more" in her approach to her hair, eyeliner, et cetera. "That can so beautiful at times and I still, I still do have love … and appreciation for it, but I think as I get older, I don't love that being the intention behind it anymore," she said. "I think of it as self-expression now and accentuating what is here."
For Grande right now, that means giving herself a change to see her face age. "I know for me, I was just like, 'Oh, I want to see my well-earned cry lines and smile lines; I hope my smile lines get deeper and deeper and I laugh more and more,'" she added.
That said, the "POV" singer noted she isn't ruling out the possibility of one day getting Botox and fillers again or even getting a facelift in 10 years. "These are just thoughts that I feel like we should be able to discuss if we're sitting here talking about beauty secrets," she said. "F*ck it, let's lay it all out there."
Her candor, especially about insecurities and aging, seemed to be appreciated. "I've never heard any celeb talk about getting lip filler and Botox so freely and transparently and I love it!" one viewer wrote in the comments. Others called it "refreshing" and applauded her for being "honest and transparent" about the subject. "this is literally so beautiful it made me cry. beauty IS so often about hiding... i love her for being so real about this," another fan wrote.
Like any cry or smile lines she may have, Grande's wisdom has been hard-earned. As she celebrated 10 years of Yours Truly in late August, she shared some of the lessons she'd want her Positions-era self to pass along to her younger Yours Truly self in a TikTok Q&A. "I would want Yours Truly Ari to say to Positions Ari, 'Don't let go of me,'" she said, adding, "'Don't let them make you apologetic or want to shrink yourself. You know what you're doing, and don't listen to anybody who you don't trust or respect or know, who doesn't love you.'"
Fortunately, she's learned to embrace her "very Cancerian humanness," as she called it in an Instagram post about her Vogue beauty video, and fans are here for it.