Ariana Grande & Dalton Gomez's Relationship Timeline Is Full Of Private Pictures Of Love
The usually private couple sometimes lets the world in with occasional snaps of their lives.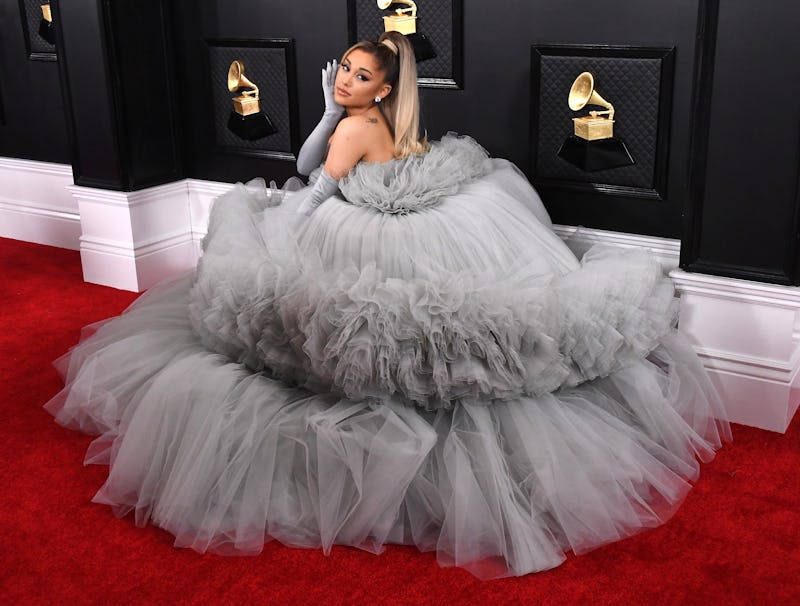 Steve Granitz/WireImage/Getty Images
It's been nine months since Ariana Grande got married to Los Angeles real estate agent Dalton Gomez, and their relationship is stronger than ever. Grande and Gomez's dating and engagement period may have seemed like a whirlwind affair, but their romance never was; if anything, the couple's relationship timeline shows just how long they were committed to one another. They were actually together longer than you might realize — and are now ready for "forever n then some" as wife and husband.
Now that Grande's entered a new era in her music career, she's most definitely not escaping the spotlight anytime soon. And since Gomez is committed to the singer, he'll be right there in the limelight with her. At first, the couple did a good job of keeping their relationship private, but the "34+35" singer did share photos, videos, and messages on social media that proved they were pretty serious about each other. Between starring in a music video together, calling him her "best friend," and growing speculation that "Positions" is about Gomez, fans became curious about the couple.
With that, here's how their relationship started.
January 2020: The Romance Reportedly Begins
According to People, a source confirmed in March 2020 that Grande and Gomez had been dating for an estimated two months. "They have been hanging out for a couple of months," the source said. "Ariana doesn't want to do another public relationship so she is trying to keep this one quiet, but she seems very happy with Dalton."
February 2020: Grande Spotted Kissing Someone
On Feb. 11, TMZ shared photos of Grande kissing a mystery man at Bar Louie in Northridge, California. Based on the source who spoke with People, there's a good chance the "unknown dude" was Gomez. He was also at a party Grande's manager, Scooter Braun, threw for his wife in West Hollywood, in which the real estate agent was seen walking in front of the camera of a video that was filmed at the party.
March 2020: They Quarantine Together
In March, E! News reported they were quarantining together, where they got to know each other well. "She's gotten to know him quickly with the quarantine," a source told the outlet. "They've been spending a lot of one on one time at home." The insider also dished that the two have "many mutual friends" and even "run in the same circle."
A source also informed People about the two quarantining, "Ariana is staying at home with friends. She is very serious about self-distancing and has been with the same group of people for days. One of the people she is with right now is Dalton."
May 2020: Gomez Stars In Her Music Video
In what was a big reveal, Gomez made a cameo in Grande's music video with Justin Bieber for "Stuck With U." At the very end, Grande is seen dancing with a man, and you briefly see his face. His appearance also confirmed their relationship. Also in May, they were seen protesting and supporting the Black Lives Matter movement together. Plus, Gomez made a quick appearance in Grande's promo with Lady Gaga for their song "Rain on Me."
June 2020: Instagram Official
While celebrating her 27th birthday in June, Grande went Instagram official with Gomez. Alongside a series of photos, she shared a selfie with the realtor. She captioned the Instagram, "almost 27 :)."
Throughout June, the "God Is a Woman" artist shared several more photos of Gomez on her Instagram, including one of them kissing and another of him kissing her on the cheek.
August 2020: Grande Celebrates Gomez's Birthday
On Aug. 7, Grande celebrated Gomez's birthday by sharing silly photos and videos from their time together. She also gushed, "hbd to my baby my best friend my fav part of all the days :) i love u." Prior to his birthday, she shared another photo of them enjoying the outdoors — which was sideways, of course.
October 2020: Grande Releases New Song "Positions"
On Oct. 23, Grande released a new song, "Positions," from her sixth studio album of the same name, released on Oct. 30. While many believed some of the lyrics shade ex Pete Davidson, most fans thought the track is about her new beau. "Heaven sent you to me," Grande croons in the first verse. "I'm just hopin' I don't repeat history."
December 2020: Grande Shares A Kissing Photo
In early December, the singer shared a rare photo of her and Gomez kissing on Instagram as part of a slideshow captioned "some life stuff." Despite the pair's hesitance to share their relationship online, a source close to Grande told E! News that the singer is "madly in love with Dalton" and likes that he prefers to stay out of the spotlight. "It's a very healthy relationship. They love to be 'normal' and Ari loves that he is very down to earth," the source said. "He balances her out from the crazy industry she is in. They spend a lot of time hanging out at her house being low-key."
December 2020: Grande Debuts A Diamond Ring
Grande shared big news on Dec. 20. She posted several photos of the couple on Instagram, including two showing a big and beautiful diamond ring. That — and her caption, "forever n then some" — said it all. From their private beginning to their engagement, Grande and Gomez's relationship timeline shows these two have a romance that's flourishing.
January 2021: Ariana and Dalton Are "In Love"
Grande and Gomez's love story continued to make headlines at the top of 2021. Entertainment Tonight reported that friends of the lovebirds perceived their engagement as "somewhat rushed" and "skeptical that the relationship will be ultimately short-lived."
Regardless of their friends' supposed concern, they were reportedly happy in each others' quarantine company for the new year. "Ariana and Dalton have been spending a ton of time together since getting engaged and keeping things pretty low-key and private. They're mainly keeping to themselves and just enjoying their time together."
February 2021: "Positions" Songs About Dalton
February was the month when Ariana dropped the deluxe version of her sixth studio album, "Positions." Its release reignited speculation among Arianators on which tracks could have potentially been written with Gomez in mind. According to E! News, some of those songs in question included "test drive," "worst behavior," "main thing," and "34+35 Remix" featuring Doja Cat and Megan Thee Stallion.
March 2021: Date Night
Ariana and Dalton were seen going out for dinner one night in March. Photos of the famously private couple leaving FIA restaurant in Santa Monica, California, were shared by Just Jared. Perhaps the Grammy-winning recording artist and real estate agent were celebrating a belated one-year anniversary.
April 2021: Ariana Shares More Photos
In April, Ariana shared three personal pictures of her and Dalton on her Instagram page. Since then, the post has garnered over 10 million likes. Each photo shows the couple happy and visibly in love. In the caption, Ariana wrote, "!!! my heart my person !!! thank u so much for being u."
The photos made a significant splash due to Ariana and Dalton's commitment to keeping their relationship private. Ariana even made this more clear in a previously deleted Instagram Story while supporting actress Florence Pugh's decision to keep her own relationship with "Scrubs" star Zach Braff under wraps. According to BuzzFeed she wrote, "I know I've taken a step back from [sharing personal life things] to protect my loved ones and myself."
May 2021: Ariana and Dalton Get Hitched
News that Dalton Gomez and Ariana Grande are officially husband and wife dropped on May 17, 2021. People reported that the pair were married in a "tiny and intimate" ceremony among less than 20 people at their Montecito, California home. "The room was so happy and full of love. The couple and both families couldn't be happier."
A source also told the entertainment magazine that Ariana, Dalton, and the couple's respective families were "just so excited," adding, "This is a happy time for them, both sets of parents are thrilled."
July 2021: Ariana and Dalton's Honeymoon
Two months after secretly tying the knot, the newlyweds celebrated their honeymoon in the Netherlands. The "Into You" singer commemorated their first vacation as husband and wife with a carousel of photos and videos from their trip on Instagram.
On July 17, after returning home, the couple attended Christina Aguilera's concert at the Hollywood Bowl.
August 2021: Ariana Celebrates Dalton's Birthday
One month after the couple's honeymoon, they had something else to celebrate: Dalton's birthday. "Happy birthday to my baby, my husband, my best friend!!!!" the pop star wrote on her Instagram Story alongside a photo of them in Amsterdam sitting inside a giant pair of wooden clogs.
November 2021: Ariana and Dalton Give Thanks
The "7 Rings" singer posed alongside Dalton and their dog on Thanksgiving and sent warm wishes to her fans. "Nothing was ever as loud … Sending you all so much love I hope you feel it from here," she wrote on Instagram.
February 2022: Ariana and Dalton Celebrate Valentine's Day
After Valentine's Day, Grande gave her followers a much-needed marriage update when she shared a post from the couple's romantic date night. The singer shared a photo of the pair followed by a brief clip of them kissing, which she simply captioned with a heart emoji.
March 2022: Private Pictures At Home
While Grande and Gomez typically prefer to keep their love private, the singer sometimes shares snaps from their life together. In March 2022, she uploaded a photo dump to her Instagram that included a sweet picture of Gomez holding their dog high in the air. The series also included Grande's friends Doug Middlebrook, Aaron Simon Gross, Katie Schuster, Courtney Chipolone, and Elizabeth Gillies.