Watch Austin Butler & Vanessa Hudgens' Awkward Reunion At The Oscars
The pair, who previously dated for nine years, crossed paths at an after-party.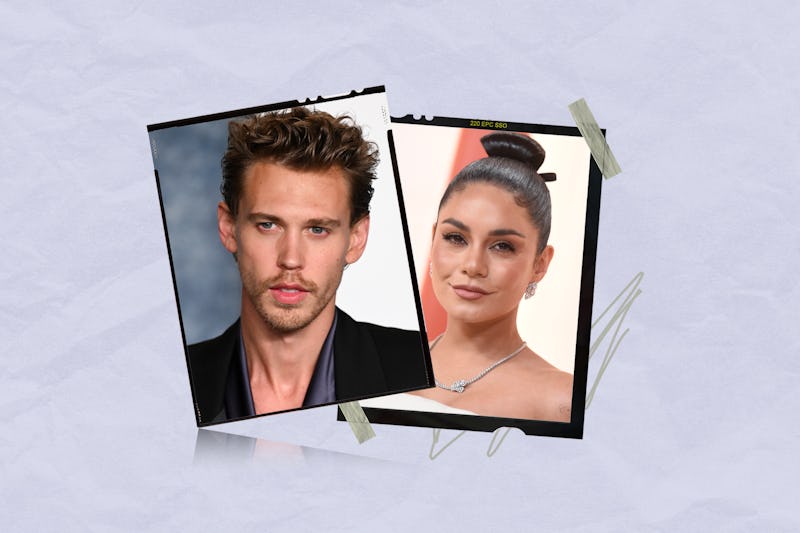 Gilbert Flores /Karwai Tang /Getty Images
Hollywood events like the 2023 Oscars are a common place for celebrity reunions, both good and awkward. The latter certainly appeared to be the case for Oscar nominee Austin Butler and red carpet presenter Vanessa Hudgens, who experienced an awkward moment as the night's festivities ended. The former couple attended the Vanity Fair after-party, with the Elvis star posing on the red carpet with his girlfriend, Kaia Gerber. Butler was later spotted chatting outside to fellow actor Sharon Stone as he acknowledged and waved at fans in the crowd, and it was here that he encountered his ex.
In the moment which was caught on film, Hudgens walked right in front of the actor, looking down at her phone. The pair did not acknowledge one another, although Butler appeared to look at her after she had passed him. Twitter immediately went wild about the encounter. One viewer commented: "This was so awkward but how else were they supposed to act ? They aren't together anymore and they aren't friends."
Hudgens is now engaged to Cole Tucker, a pro baseball player who popped the question in late 2022 after dating for two years. Butler and Hudgens were in a relationship for almost nine years, having first met on the set of High School Musical in 2005. They started dating in 2011, but after nearly a decade together, they decided to call it quits in 2020 due to a "matter of distance," according to E! News.
The couple were incredibly close, and Butler confirmed in January 2023 that Hudgens encouraged him to take on the role of Elvis Presley in the Baz Luhrmann biopic, Elvis. Butler first told The Hollywood Reporter that a friend told him to take the part after hearing him sing to a Christmas song by Presley on the radio. After much specualtion, the actor later confirmed during an interview with The Los Angeles Times that this "friend" was Hudgens. "That's right. We'd been together for so long and she had this sort of clairvoyant moment so I really, I owe her a lot for believing in me," he said.