Bachelor Fans Are Comparing Matt's Season To Mean Girls
Put it in the book, honey.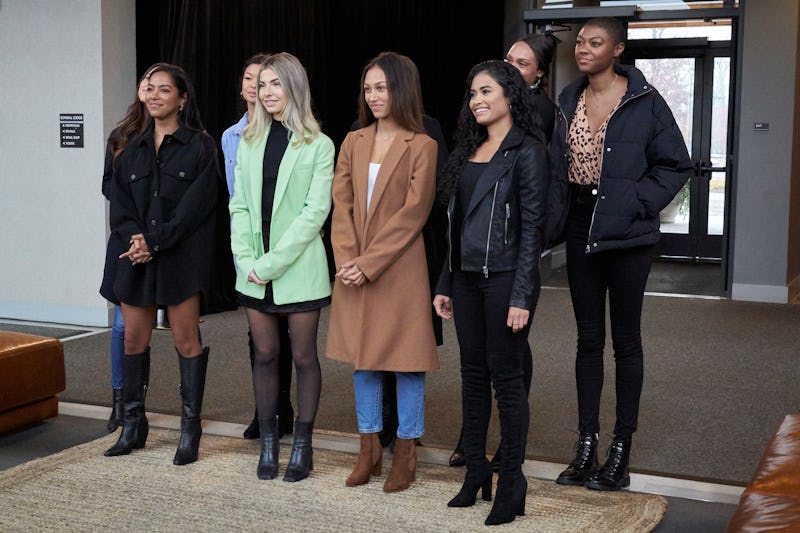 ABC/Craig Sjodin
"Queen" Victoria may have gone home a few weeks ago, but some Bachelor fans think there are still plenty of mean girls left in the house. So much so that they're comparing Matt's season to Mean Girls.
Though Matt has attempted to shut down some of the bullying amongst his contestants over the last few weeks, when Heather made her surprise entrance, she was greeted with a chorus of harsh digs from the 10 remaining contestants. "What's your name and what are you doing here?" Serena asked Heather shortly after she arrived, later muttering "can you please leave" under her breath. The women also took issue with the fact that Heather previously competed on Colton's season, with Pieper accusing her of "Bachelor-hopping." "So you missed [Colton] so you tried this one?" Jessenia said, while Serena later pointed out that Heather has "been through this process" already.
Despite Heather tearfully explaining that she didn't "want to make anyone uncomfortable," Serena dismissed her in a move that reminded social media users of Regina George. "Just talk about it it in an interview because I don't want to hear your tears right now," she said.
Bullying has been a topic of conversation throughout Matt's season, thanks to instances like Victoria stealing another contestant's crown and Anna spreading a damaging rumor about Brittany. Former Bachelorette Rachel Lindsay recently told Bustle that she was taken aback by how vicious the women on Matt's season have been to one another over the past few weeks.
"I've had side conversations with some of the OG Bachelorettes, and we have said that it is hard to watch," Rachel said. "The show just doesn't seem to be the same show that we were on ... It's tough to watch a show that you're so protective of because it worked for you or changed your life or taught you something that maybe you didn't know before. These silly little arguments or antics like with 'the queen,' it's like, if I didn't get paid to watch the show, I wouldn't watch it."
Rachel has also noted that the amount of screen time that Victoria and the other "mean girls" have gotten this season might encourage others to apply for the show for attention, rather than to fall in love. "[It] bears the question of, 'What's happening here? Who are we trying to attract?'" she told Insider. "Is it a younger audience? Is it an audience that would be entertained by bullying? I would say that's not the case because a lot of viewers seem to be really upset at what they're seeing."
Additional reporting by Brad Witter.