Author Emma Rosenblum Explains Why Gossip Is So Refreshing To Read
And lucky for us, her debut novel is chock-full of it.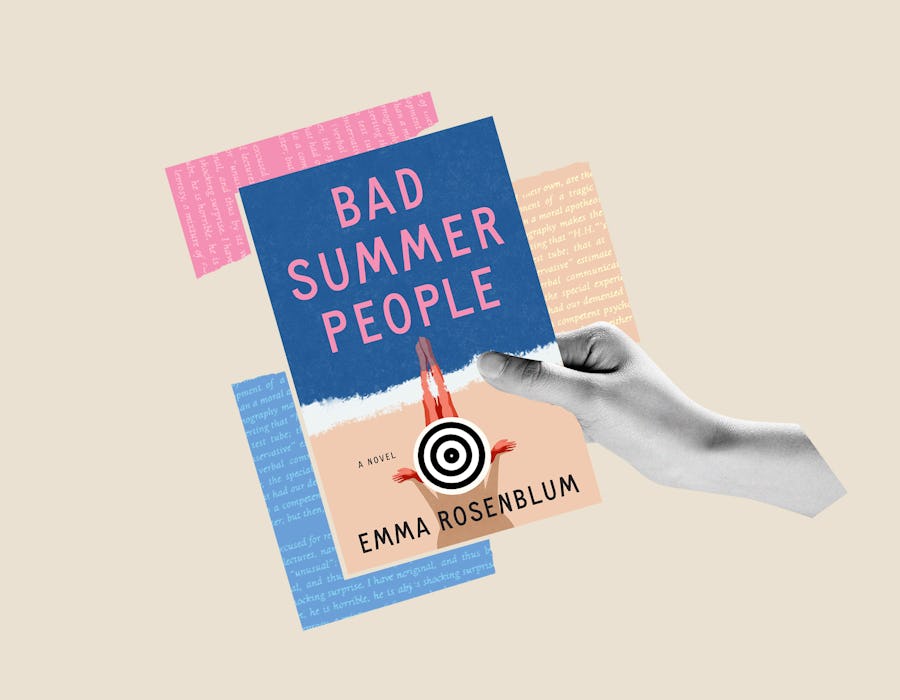 We all do it. Think the mean thought. Make the cutting comment to our best friend. And in Emma Rosenblum's Bad Summer People, thankfully, the characters do too. "Women are taught very early to be nice to everybody's faces, which sometimes pushes them to be even meaner behind people's backs. I thought maybe this would shift as you age, but it's exactly the same as high school," says Rosenblum, who's the chief content officer of BDG, which owns Bustle. She leaned into this ugly truth when writing about a group of upper-class New Yorkers whose idyllic small-town summer is upended when a dead body is discovered. "It was super freeing fun for me to recreate those kinds of gossipy, back-stabby conversations, which isn't something I'd seen reflected that often in fiction."
Rosenblum started working on Bad Summer People in the summer of 2021 when The White Lotus had first premiered and Succession's third season was about to air. As she devoured both shows, she honed in on what she believed made them work: the total absence of moralization, particularly when it came to depicting their characters.
"There's very little room for nuance of characterization [in most commercial fiction]. Either someone's a bad guy or a good guy. But every person has traits that make them complicated. They can be generous and then also jealous," she says. Or in the case of Bad Summer People: They can be kind but a cheat (Jen); a gossip who's also a loyalist (Rachel); an ice queen and a loving mother (Lauren). "Particularly when you're characterizing women, there's that trap where you either make them a real villain or they have to be someone you totally root for. Nobody's like that."
It's this total lack of pretense that does ultimately make you root for — and see yourself in — the refreshingly b*tchy characters of Bad Summer People. "I've found that when people read it, they love the aspects of the women gossiping with each other because they can relate to it," Rosenblum says before confessing, "I'm guilty of it. Everybody is!"
Below, the debut author reflects on writing in her tennis clothes, re-reading Giovanni's Room, and her favorite piece of writing advice.
On falling back in love with James Baldwin:
There's a scene in my book where Micah, the young gay bartender, is desperately trying to get the attention of the lifeguard he's in love with, so he's reading a vintage copy of Giovanni's Room on the beach. I hadn't read Giovanni's Room in a really long time. If you haven't read it since your college English class, which I hadn't, I recommend a re-read. I re-read it recently and I was like, "This is so good."
On her Fire Island uniform:
I wrote this book during the summer when I was in Fire Island, and many times I'd be in a tennis outfit. I like an all-white, Adidas tennis dress — but by the end of the summer, you have to throw them out. I would go run to the courts during a break from work, then come back and do a Zoom call in my tennis clothes, which all of my colleagues make fun of me for. Then I'd pull up the document [I was writing my book in].
On knowing when to stop:
I read this piece of writing advice that people repeat a lot: You should end when you're parked downhill. It's the idea that you should end in a place that, when you get back to the manuscript, you have a clear sense of where you're going. I would always try to stop when I knew where the next thousand words would go, because then it wouldn't feel so intimidating to reopen the document.
On having a front-row seat to the drama:
I wrote this book sitting at a smallish dining table in my parents' house in Fire Island. They have a covered porch in front of the house where the windows outlook the Great South Bay, and everybody's riding back and forth on their bikes. It was very inspirational for the book to see small-town life going on right in front of me. You couldn't ask for a nicer place to write a book about Fire Island, and the story was easier [to write] than it would've been if I'd been in New York City, sitting in my apartment.
This interview has been edited and condensed for clarity.