Read An Exclusive Excerpt Of Bad Summer People
BDG Chief Content Officer Emma Rosenblum's highly anticipated debut will be top of your reading list. Here's a first look at the book, which is out in the UK on June 8.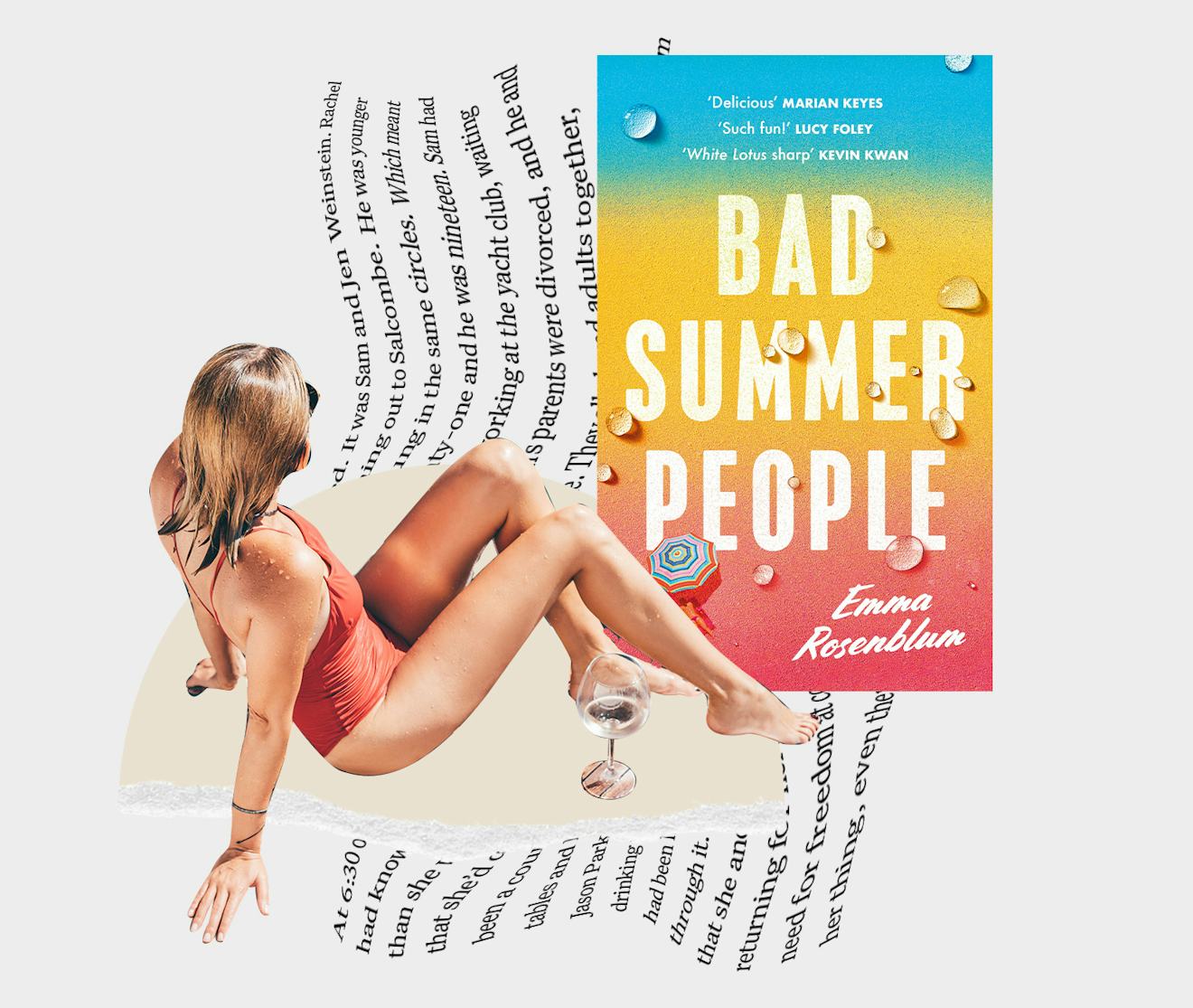 Caroline Wurtzel/Bustle; Getty Images; Penguin Michael Joseph
Rachel Woolf knew how to get people drunk. Entertaining was her specialty, something she enjoyed doing and was actually good at. She wasn't good at much. She'd done so-so in college (Middlebury; her family had used connections to get her in, as her SAT scores surely hadn't). Then she'd bounced around afterward from marketing job to marketing job, never truly finding her path. She was currently stuck in middle management, while most of her friends were VPs, or SVPs, or even EVPs, if they were lucky. Or smarter than Rachel.
She wasn't great at finding boyfriends, either. She'd lived with someone once, Benji Malin, in a small apartment in Murray Hill. That was when she was twenty-eight to thirty-one, during that prime time when her social circle was getting married. But Benji had broken it off when she insisted they get engaged. She'd been aimlessly dating since, a couple of six-month-long boyfriends followed by breakups when they couldn't (or, rather, wouldn't) commit. She'd tried everything — setups, apps, a matchmaker that cost way too much money and who connected her with only one guy, a grumpy ad exec who was five foot four. Now, at forty-two, she was only finding men who'd been divorced, twice, had custody issues, and/or were impotent. Thank God for Viagra.
So, here she was—middle-aged, single, childless, still living in Manhattan in a one-bedroom apartment while all her friends had moved to the suburbs with their families long ago. But at least she had her house on Fire Island, in Salcombe, the small town in which she'd grown up spending summers, causing trouble with her three sisters. She had a life there. She was someone there. No one in Salcombe knew how sad her existence really was. She always had a story about so-and-so, whom she'd just been dating, or such-and-such job, which was just around the corner. She had tons of friends, way more than she had in the city, and she looked forward to the summer each year like a kid counting down till Christmas. On Labor Day, she spiraled into a depression that didn't end until the next Memorial Day.
And then there was tennis. Rachel loved playing — she was on the courts at least three days a week, more in the summer. She enjoyed everything about the game — the cute outfits, the exercise, the winning (she hated losing). She and her doubles partner, Emily Grobel, often made it to a late round of the women's doubles tournament in August, and Rachel was hoping that this would be their year. She'd heard Cici Maclean had a wrist injury, that Lauren Parker hadn't picked up a racket all winter, and that Vicky Mulder had to collect her daughter at sleepaway camp the weekend of the tournament. So that gave Rachel and Emily a shot of going far, maybe even winning it all. She was supremely dedicated to making this happen. She'd already had one lesson with the new pro, Robert, and he was talented. He'd worked on her serve, which was admittedly weird, and she could tell his tweaks were making a difference. Plus, he was extremely handsome and charming. He made her feel like a star.
She thought about this while she set up her house for drinks later that night. She'd invited four couples, plus Robert, over for watermelon margaritas (a recipe from the New York Times cooking section) and appetizers. As a festive twist, she'd decided to have Micah Holt bartend for the evening, even though she didn't really need the help. Micah was the gay, college-age son of Judy and Eric Holt, who lived on Navy Walk. He worked as a bartender at the yacht club, and Rachel had known him since he was a baby. He probably would have done it for free — Micah always added to the fun and made the adults feel cooler just by gracing them with his stylish, upbeat presence. Rachel was giving him a hundred dollars to hang, keep everyone's glasses filled, and help her tidy up afterward.
The party was called for 6:00 p.m., but she assumed people would come at more like 6:30. At 5:45, Micah arrived, looking very Timothée Chalamet in fitted white jeans and an electric-blue sweater. Rachel thought back to when she was in Middlebury, the guys in baggy khakis and roll-necks doing keg stands. Boys nowadays were a different species.
"Hi, Rachel. Thanks for having me! I got Willa to fill in for me at the club, so I'm all yours. Let me know how I can help with the setup," said Micah, smiling amiably.
Rachel didn't have much left to do, so she sent him off to the kitchen, instructing him to create a makeshift bar on her porch with whatever nice-looking booze and stemware he could find. She went into her bedroom to finish getting ready, studying her face critically as she applied a final brush of bronzer, angling it up her cheekbones as she'd been taught by a Trish McEvoy makeup artist at Saks.
She found Micah perched on a wicker chair on her porch, having artfully arranged her alcohol on a small fold-out table pushed off to the side of the room. He stood as she entered.
"How's that? Need me to do anything with the food?" "Looks great, thanks," said Rachel. "How's school going?"
Micah was only twenty, but he struck Rachel as older than his age. Growing up, he liked to hover near the adults, listening to their conversations and occasionally piping in with an adorable aside. Rachel had always suspected he was gay. He was too beautiful and clever not to be. When he came out in high school, and Judy and Eric began quietly telling their friends in Salcombe, no one seemed to care (people did care when he got accepted to Yale; an Ivy League education was more important, to Salcombe residents, than one's sexual orientation).
"All good," said Micah, hooking his thumbs in his pockets. "I'm an English major like everyone else. I'm going abroad this year to Madrid. I can't wait. Otherwise, happy to be out here bartending. I suppose I should have gotten an internship this summer, but I'm genuinely not feeling stressed about it all. I'm trying to enjoy the moment, you know?" Rachel didn't know, and it made her feel old.
At 6:30 on the dot, the first of her guests arrived. It was Sam and Jen Weinstein. Rachel had known Sam forever; he'd also grown up coming out to Salcombe. He was younger than she was, forty to her forty-two, but they'd hung in the same circles. Which meant that she'd dated him long ago, when she was twenty-one and he was nineteen. Sam had been a counselor at the day camp, and Rachel was working at the yacht club, waiting tables and helping with events. By that point, Sam's parents were divorced, and he and Jason Parker stayed alone in his bay-front home. They all played adults together, drinking wine with dinner and doing laundry loads of sheets and beach towels. Sam had been having some anxiety in the wake of his parents' battle, and Rachel helped him through it. She'd been proud of that. At the end of the summer, she'd floated the idea that she and Sam stay together—he was back to Dartmouth in the fall, and she was returning for her senior year at Middlebury. But he politely rejected her offer, citing the need for freedom at college. Rachel had been devastated but played it cool. That was her thing, even then.
The following year, the summer after Rachel graduated, she'd attempted to get back together with him. He was older and broader; another year away from home had made him even more appealing to her. He was in Salcombe for a week before his law firm internship started, and they were at a party at their friend Ben Connolly's house. She'd followed him upstairs when he went to the bathroom and pushed him against the hallway wall when he came out. He turned his head when she tried to kiss him.
"I'm sorry, but no," he'd said. "I do like you as a friend, though." Her face stung with embarrassment, and she'd slunk home without saying goodbye to anyone. She still felt the shame of it every time she saw him, the press of her lips on his hair instead of his mouth.
"Sam, Jen, hi!" Rachel said, welcoming them in. Sam was still so handsome; he had curly, thick, prematurely graying hair and wore trendy black plastic glasses. He was in a breezy white linen shirt and was somehow already tan, even though it wasn't even July. Jen handed Rachel a bottle of expensive-looking sauvignon blanc, which she passed along to Micah, who stuck it in an ice bucket on the bar. Sam gave Micah a bro-y hand clap, and Jen went over and gave his shoulder a squeeze. He retreated to the kitchen.
"It's great to see you again," Jen said as she embraced Rachel in a small, awkward hug. "I hope you had a wonderful winter. I'm so glad to be out here."
It was impossible to hate Jen, even though Rachel surely tried. She was so good. Pretty, with shoulder-length brown hair, large hazel eyes, and porcelain-smooth white skin, Jen was also annoyingly kind to everyone. She was a psychologist, with a private practice she ran out of their large home in Westchester, treating wealthy, disgruntled housewives. Sam and Jen were a golden couple in Salcombe, beloved by the whole town. Even their three little kids were beautiful and well-mannered. At least Rachel was a better tennis player than Jen, who'd only taken up the game recently. This gave Rachel some comfort. Also, she'd fucked Jen's husband first.
Extracted from Bad Summer People by Emma Rosenblum. (Penguin Michael Joseph £16.99)
Bustle readers get an exclusive £3 discount when preordering from Waterstones from 25 May to 8 June. Just enter the promo code BADSUMMER at the checkout.