What Bama Rush Doesn't Reveal About The Rush Process
Max's new documentary fails to pierce the veil surrounding Greek life at the University of Alabama.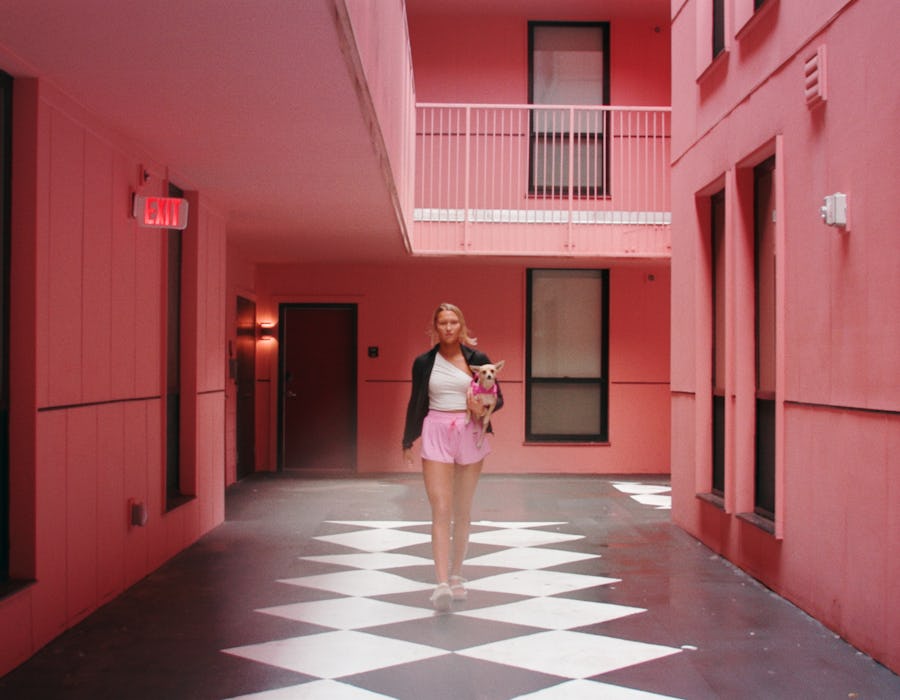 Courtesy of Max
In August of 2021, a new trend hit TikTok with the force of 1000 barrel curling irons: Bama Rush. Videos of sorority hopefuls showing off their outfits for rush week at the University of Alabama went viral on the platform, which spawned a series of questions from casual viewers: What is "rush," exactly? Why do these girls need so much Kendra Scott jewelry for it? Is EVERYONE blonde? Some young TikTok users even saw the videos and thought, I want to be a part of that.
So it was with Isabelle Eacrett, one of four young women profiled in director Rachel Fleit's new documentary Bama Rush, which premiered on Max on May 23. A wispy blonde freshman from Rancho Cucamonga, California, Isabelle admits in the doc that she probably wouldn't have chosen the University of Alabama had she not found and become mesmerized by those rush videos on TikTok. Throughout the film, she works with a paid "rush consultant" to understand and prepare for the mysterious process of joining a sorority at a school where Greek life is a dominating force.
Fleit, too, attempts to understand and educate her audience about the rush ritual — with limited success. Two of the young women she follows drop out before the first round of recruitment. Another hopeful, Shelby, makes it all the way through — and finds TikTok fans in the process — but drops out of the documentary for fear that sororities will blacklist her for participating. Only Isabelle sticks with both rush and the doc until the end, but Fleit does not follow her into the sorority houses, and she declines to ask her much about what goes on inside them. Despite wild on-campus rumors that Fleit was planning to send sorority hopefuls into the houses wearing microphones hidden in bracelets (fun idea!), Fleit seems to have had no real plan to capture the process. By the end of the documentary, the actual experience of rush remains just as mysterious as it was when Fleit began filming.
Why is it so difficult for outsiders like Fleit to get a glimpse of rush? The exercise itself is not particularly scandalous, and pretty straightforward: at Alabama, potential new members, or PNMs, move through the sorority houses in four rounds, quickly zeroing in on their favorite houses while the sororities vote on their preferred recruits. There is no hazing or drinking or secretive rituals during rush itself — for the most part, it's just a lot of chatting. The rush consultants Fleit interviews admit as much: They focus mainly on improving their clients' small-talk skills.
Still, sororities are extremely reticent to discuss the way their chapters conduct recruitment. Back when I was rushing at another southern state school in my freshman year, I remember being warned not to post anything about the experience on the preferred social media platform of the day (Facebook). Shelby, the aforementioned documentary dropout, has even apologized on TikTok for filming the documentary in the first place, stating that she has nothing but positive things to say about her sorority experience and that she is "praying" for every UA sorority sister in the wake of the documentary's release. There is a code of silence, and though it doesn't cover up anything particularly nefarious, it does protect a precious resource: mystique.
At schools like Alabama, the Greek system depends upon a steady stream of confused, nervous freshmen who show up on campus ready to do just about anything to fit into the dominant social scene. The more opaque the rush process is, the more control sororities have over it. "Top tier" sororities benefit especially from this lack of transparency: They want to be the ones picking the "best" PNMs, and they do not want to have to explain how they make those judgments. The less PNMs know about how sororities choose them, and the more concerned they are about what could possibly get them blacklisted from certain houses, the less likely they are to band together and rise up against the process and the system altogether.
It's unfortunate, then, that no documentarian has yet been able the pierce the veil of sorority rush, especially at a place like Alabama, where the Greek system notoriously secretive (Fleit hints at this with a discussion of "The Machine," a semi-underground group of Greek students that aims to control the student government). If Fleit had been able to get inside a sorority house for just a few hours during rush, she would not have found anything that shocking: Just a group of young women making polite small talk with potential recruits and then judging them ruthlessly behind their backs. Given that kind of window into the process, some would-be pledges might reconsider walking into a sorority house in the first place.