This Banned Friends Ad Shows Monica As You've Never Seen Her Before
The rest of the Central Perk crew are compromised, too.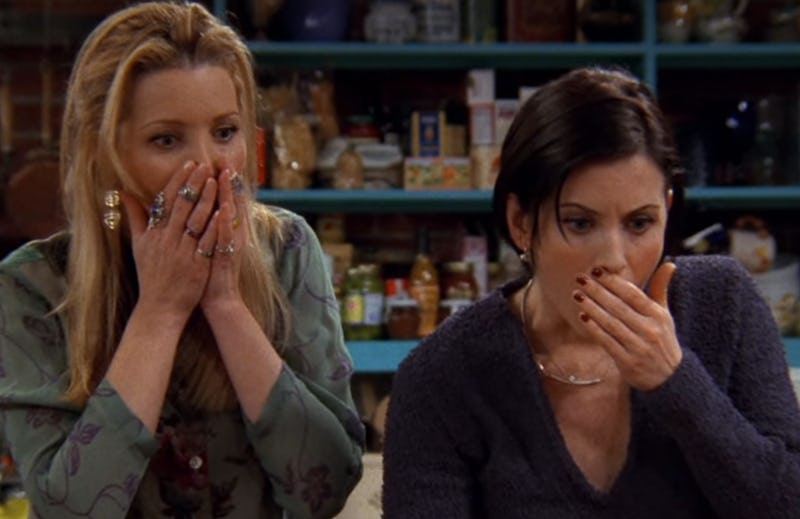 Warner Bros.
Although one of the most popular sitcoms of all time, there are some rare clips from Friends' '90s heyday that even the most ardent of fans might have missed. One example is a controversial 1994 commercial promoting the hit comedy that was subsequently taken off the air. But, what is the story behind NBC's banned Friends trailer?
Two different versions of the advert in question were reportedly filmed before Friends became a TV sensation, and featured the show's entire cast dressed in nothing but their underwear. The commercial begins with Matthew Perry, David Schwimmer, Lisa Kudrow, Jennifer Aniston, and Matt LeBlanc introducing themselves to the camera while posing in white underwear against a backdrop akin to a lingerie ad. "I'm not doing this," Courteney Cox (aka Monica Geller) interjects. "This is a shameless exploitive attempt to get people to watch our show."
In the unseen clip, Cox continues: "They've got us in our underwear. We're never gonna be in our underwear ... We're not gonna be in our underwear, are we?"
Meanwhile, a second version of the banned commercial again shows Cox refusing to pose in her underwear to promote the show.
"Friends has moved to a new time and they want to see us in our underwear again," co-star Aniston (Rachel Green) explains, prompting Cox to respond: "Every time we deliver a message to America we have to do it without our clothes? It's degrading, I'm not doing it."
However, when Kudrow (Phoebe Buffay) points out that Friends will air between two of the highest-rated NBC shows, Seinfeld and ER, Cox quickly changes her stance, asking her fellow cast members to help her "unzip."
The NBC trailer then concludes with Perry (Chandler Bing) jokingly telling viewers "look, we're practically naked."