Barry George Left The UK After His Wrongful Conviction For Jill Dando's Murder
"They just basically persecuted me."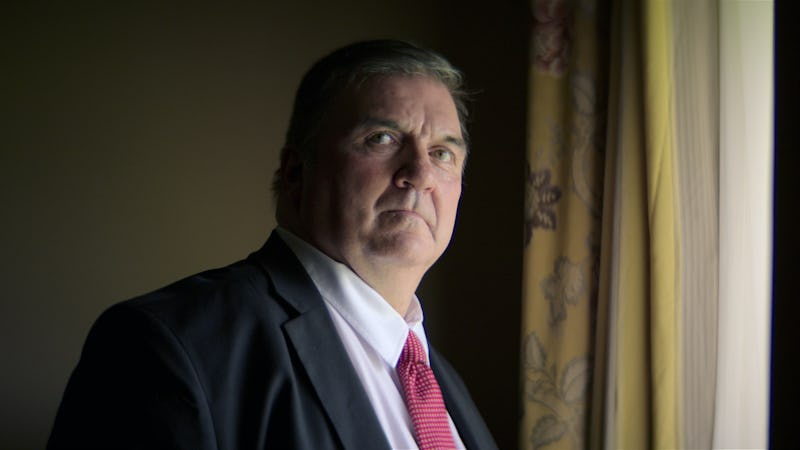 Netflix
In April 1999, Jill Dando, a TV personality best known for hosting Crimewatch, was killed outside of her London home. Barry George was later arrested on suspicion for the murder, tried in court, found guilty by the jury, and sentenced to life in prison — but after just 8 years behind bars, George was acquitted of the crime and released from prison.
George has continued to speak to the press in the years since his release. Most recently, he appeared in Netflix's Who Killed Jill Dando?, a new true-crime docuseries that revisits George's involvement in the case. The streamer's three-episode doc arrives more than four years after the BBC commissioned a documentary to commemorate the 20th anniversary of Dando's death, which aired in April 2019. Titled The Murder Of Jill Dando, the BBC doc aimed to tell the full story of "one of Britain's most high-profile unsolved killings" with the aid of never-before-seen footage provided by the Metropolitan Police. Though it focused less on George, it did offer viewers insight into how his sentencing was decided.
Below, learn more about what George's life looks like today, and how he feels about his wrongful conviction all these years later.
George Is Still Fighting For "Justice"
"I was locked up for 8 years. I knew in my own conscience I hadn't done anything of what they said," George, now 63, says in Who Killed Jill Dando? "It makes me angry that they have taken 8 years of my life away. They just basically persecuted me."
After his release, George tried to get compensation for his time behind bars. But the Ministry of Justice denied him about $1.7 million for his wrongful conviction, and three years later, in 2013, the Court of Appeal also refused George any compensation. The court said he was "not innocent enough," per The Mirror.
In a March 2019 Daily Mail interview, George expressed frustration over this ruling, asking, "How more innocent than innocent can a person be? I spent years in custody and then they have looked at the thing and decided I'm not innocent enough." He told the newspaper he intended to "continue [his] fight for justice."
He's Living In Ireland With His Sister
George currently lives in Ireland with his sister, Michelle Diskin Bates, whom he's called his "rock." (Michelle also ppears in the Netflix docuseries.) George said of his new home, "It's quiet here. You're treated like a scab in London, but you're not here."
After George was released from prison in 2009, he received a "chilling threat" while living in Hackney, in East London, according to The Mirror. "When I was in emergency accommodation in Hackney, I was stood in a long hallway and I had a gun put to my head and was told, 'Watch your back,'" he claimed in an interview with the newspaper. George has said he moved to Ireland after the incident, because he feared for his life and was being subjected to police harassment.
Michelle also discussed the reasons for George's move in her 2018 book, Stand Against Justice. She claimed hat her brother was living in Ireland due to "constant hounding from the tabloids," per the Irish Telegraph.
This article was originally published on