Magpie Murders S2 Will Include A *Major* Shake-Up
With Lesley Manville and Timothy McMullan set to return, here's what we know so far.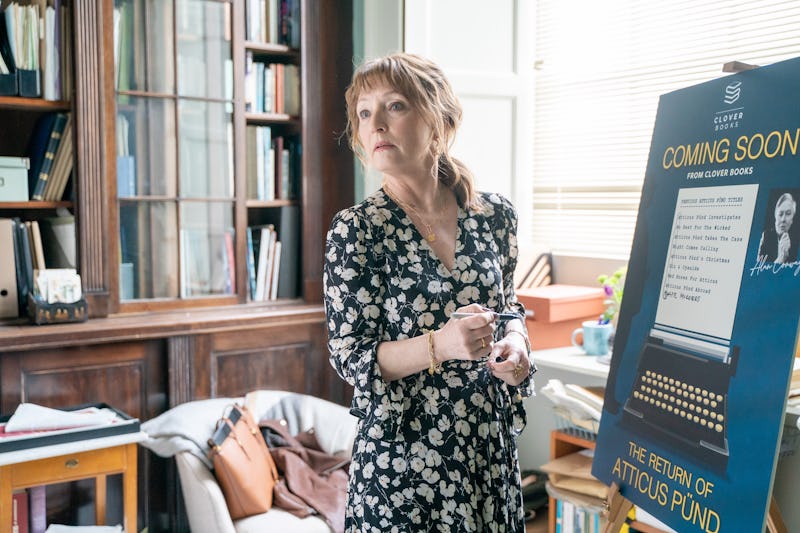 BritBox
Based on the 2016 mystery novel by Anthony Horowitz, Magpie Murders was met with critical acclaim when adapted by BritBox in 2022. Starring Lesley Manville and Conleth Hill, the series followed Susan Ryeland (Manville), who believes foul play is at fault concerning the death of her client, mystery author Alan Conway (Hill). The BBC has now acquired the show and will produce a six-part second series based on Horowitz's sequel, Moonflower Murders. And so, here's everything you need to know about the second series of Magpie Murders, including how the first season ended and what you can expect when it returns.
What Happened In Magpie Murders S1?
The first season of Magpie Murders saw Susan working on a manuscript of one of Alan's novels following the adventures of the detective Atticus Pünd. Susan realises that the last chapter of Alan's latest book is missing and soon discovers that he is believed to have committed suicide. Susan can't help but think something is wrong, so she sets out on her own mystery to find the missing chapter. As she does so, the series follows the story detailed in the manuscript with Pünd, played by Timothy McMullan.
A murder mystery within a murder mystery, the series ends with Susan discovering that Alan was murdered, all because he wanted to destroy the legacy of his novels that he grew to hate. In response, Susan's publishing boss killed Alan to maintain his books' popularity and ensure that his publishing business wasn't damaged by Alan's self-destruction.
Magpie Murders S2 Plot
The BBC has confirmed that the second series will be an adaptation of Moonflower Murders, the second book in the Susan Ryeland series. In the novel, Susan is now running a hotel in Crete. Here, she is approached by Lawrence and Pauline Treherne, a couple who run their own hotel in England. Their hotel just so happened to be the scene of a murder Conway used in his book, Atticus Pünd Takes the Case. After their daughter read the book, she concluded that the person jailed for the murder was innocent. Susan is offered £10,000 to return to England and stay in the hotel to see what insight she can bring to their daughter's theory.
Magpie Murders S2 Cast
Lesley Manville and Timothy McMullan will reprise their roles, but the rest of the cast has yet to be announced. The BBC says further information "will be announced in due course."
Magpie Murders S2 Trailer & Release Date
Filming will start later this year, with the second series set to air sometime next year, according to Radio Times. The first series will air once again this spring on BBC One and BBC iPlayer, for those who want to catch up.