Everything To Know About Bel-Air Season 2
The next installment is almost here.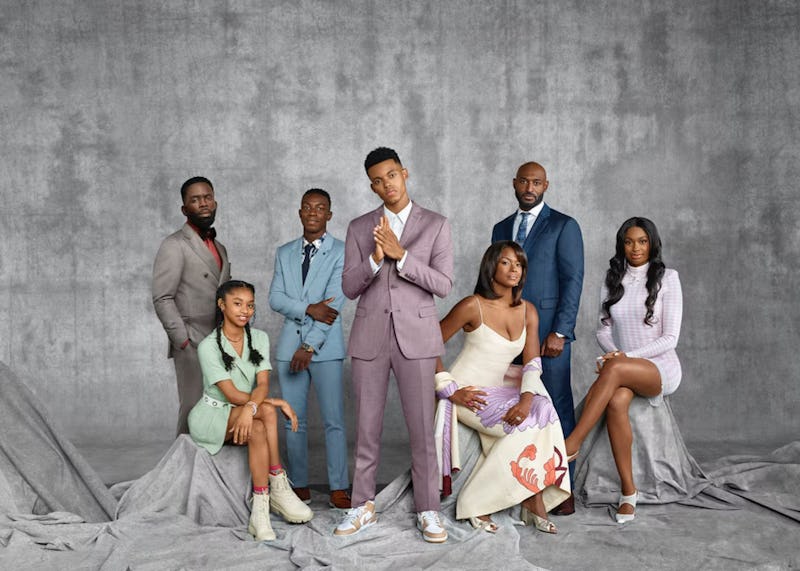 Kwaku Alston/Peacock
After the first season of Peacock's Fresh Prince reboot Bel-Air reached its conclusion, fans were able to feel rest assured that Season 2 was indeed on the way. The series was given a two-season order when it was picked up back in September 2020 after Peacock won a three-way bidding war between HBO Max and Netflix. Executive producer and original Fresh Prince of Bel-Air star Will Smith said he was "hyped" about the "unprecedented" deal. "I've been in this business for 30 years and that does not happen," Smith said in a YouTube video at the time. "They ordered two full seasons of Bel-Air based on the quality of the pitch and the work that [the cast and crew has] done."
Though Peacock's dramatic reimagining of the original '90s series didn't premiere for another year and a half after that, the decision paid off. According to Comcast CEO and chairman Brian Roberts, Bel-Air became Peacock's most-streamed new show. (He didn't provide any viewership numbers.)
Going into Bel-Air knowing that Peacock believed in the team's vision so strongly was "really helpful" for Morgan Cooper, who serves as a director, co-writer, and executive producer on the series. "If it's just one season, then that can shape the way that you approach some of the storytelling," Cooper told Collider. "Knowing that we have that runway has just been super beneficial in allowing us to really open our minds to the possibilities, knowing that we're writing two seasons instead of one. We see so much potential in these characters."
You can find everything we know about Season 2 so far, below.
Bel-Air Season 2 Premiere Date
On Nov. 17, Peacock announced that Bel-Air Season 2 will premiere on Feb. 23, 2023. The hit series will return with three episodes on its premiere date, followed by new episodes dropping Thursdays.
Bel-Air's first season began filming in late 2021. Star Jabari Banks, who plays Will, posted an Instagram on set that October, and the season premiered a few months later on Sunday, Feb. 13, 2022. Radio Times reported that filming of the sophomore season was officially underway as of Nov. 2022, after Jimmy Akinbola (who plays Geoffrey in the rebooted series) confirmed to the outlet that he was shooting Season 2 in L.A.
Bel-Air Season 2 Trailer
Along with the release date announcement, Peacock also unveiled the official teaser trailer for Season 2.
Then, on Jan. 19, Peacock dropped the full trailer for Bel-Air Season 2 — which includes the surprise reveal that Tatyana Ali will be joining the show. Three decades after playing the original Ashley Banks, Ali will portray English literature teacher Mrs. Hughes.
Bel-Air Season 2 Plot
Bel-Air Season 2 will see "Will and Carlton's brotherhood start to evolve as they grow closer, but still challenge each other about their differences," per the official Peacock synopsis. "We'll also see Hilary evolve as she becomes more of a boss in her influencer world and how that spills over into her relationship with Jazz, and also highlight the relatable struggles around Viv and Phil balancing marriage and family while trying to forge their own career paths and reconnect to the things that are important to them."
How To Watch Bel-Air Season 2 In The UK
Across the pond, fans can likely expect Bel-Air Series 2 to be released on the streaming service Peacock, which is currently available on both Sky and NOW.
Bel-Air Season 2 Cast
Peacock confirmed that Banks will reprise his leading role alongside other main cast actors, including Adrian Holmes (Philip Banks), Cassandra Freeman (Vivian Banks), Olly Sholotan (Carlton Banks), Coco Jones (Hilary Banks), Akira Akbar (Ashley Banks), Jimmy Akingbola (Geoffrey), Jordan L. Jones (Jazz), and Simone Joy Jones (Lisa). There were also cameos from original Fresh Prince cast members Daphne Maxwell Reid (Aunt Viv) and Vernee Watson-Johnson (Viola "Vy" Smith) in Episode 9 — and with the confirmation of Ali's return, it seems like anything is possible.
"Lot of different ideas are in the cooker right now, and so myself and our fantastic showrunners and our fantastic producers team, we're all huddled up and mapping out the story," Cooper teased to the Philly Voice of writing Season 2. "Just know that it's full of twists and turns. It's gonna be a wild ride and the potential of this show is immense and a big part of that is because of how incredible this cast is. They can do anything we throw at them. They're ready to do it. It's just the beginning, so stay tuned."
As far as behind-the-scenes talent is concerned, Carla Banks Waddles is Bel-Air's new showrunner for Season 2. Banks Waddles shared in a statement from Peacock that she loves how the Banks family is not just aspirational but "accessible and grounded," as well. "This entire cast brings so much of themselves to this show —talent and enthusiasm, but also a real respect, genuine love and thoughtfulness for these characters and their relationships," she said. "I love talking with them and hearing how they see and experience these characters. It all leads to a very collaborative and rich storytelling process that feels authentic."
Deadline also reported that former Queen Sugar showrunner Anthony Sparks will be joining Season 2 as an executive producer. He'll be producing the series alongside TJ Brady, Rasheed Newson, and, of course, Will Smith.
This post will be updated as more details about Bel-Air Season 2 become available.
This article was originally published on