Everything To Know About Ben Affleck & Matt Damon's Nike Movie Air
The dramedy hits theaters on April 5.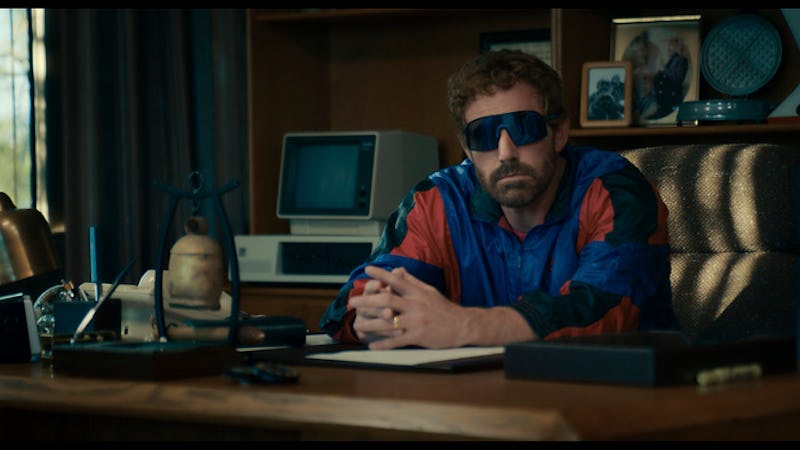 Amazon Studios
Ben Affleck and Matt Damon are teaming up again to tell the story of Nike's historic Michael Jordan endorsement deal, which led to the iconic Air Jordan sneakers. The screenplay for Air hails from a 2021 Black List script (an annual list of the best-unproduced screenplays in Hollywood) by Alex Convery, which was originally titled Air Jordan. Affleck is a triple threat this time around, as he directed, executive-produced, and stars in the origin story of the now ubiquitous footwear. The Amazon Prime movie's trailer dropped on Feb. 9, but there will also be a $7 million trailer played during the 2023 Super Bowl.
Here's everything to know about Air, including the plot, cast, and when fans can see it.
Air Trailer
The trailer for Air was released on Feb. 9. Affleck and Damon are finally revealed in their '80s best for the dramedy about sneakers. After the 2-minute clip premiered online, fans are already excited about the movie. "This looks great! Ben Affleck about to make another classic!" one user commented on the YouTube trailer's page. "Ben Affleck, Matt Damon, Chris Tucker, Jason Bateman, Marlon Wayans and Viola Davis... this has got to be one of the most interesting ensemble cast in recent years!" another person wrote.
Air Plot
The script centers primarily on the sneaker salesman Sonny Vaccaro, who ran Nike — at the time, a middling shoe company — along with co-founder Phil Knight, and led a historic endorsement deal with the number one sportsman of the time: Michael Jordan. Focusing on Vaccaro's relentless pursuit of Jordan during a time in which Nike was a third-place shoe company, the film will also showcase Jordan's family and close friends as they advise him on the deal.
The movie's official logline reads: "This moving story follows the career-defining gamble of an unconventional team with everything on the line, the uncompromising vision of a mother who knows the worth of her son's immense talent, and the basketball phenom who would become the greatest of all time."
Air Cast
Matt Damon and Ben Affleck are taking on the main roles of Vaccaro and Knight, respectively. This will mark the first time that Affleck has directed his long-time BFF, though they have worked together extensively throughout their Hollywood careers.
Viola Davis, Jason Bateman, Chris Messina, Chris Tucker, and Marlon Wayons will join Damon and Affleck, Deadline exclusively revealed in June 2022. Davis will play Jordan's mom Deloris, who was influential in her son's endorsement deal. Bateman will be Rob Strasser, Vaccaro's boss that played a large role in signing Jordan to Nike, while Messina will be David Falk, Jordan's longtime agent. Tucker and Wayons round out the recently announced cast as former college basketball players Howard White and George Raveling, respectively. White joined Nike's basketball department post-graduation and was instrumental in connecting the company to the NBA, while Raveling — a close friend of Vaccaro's — became an iconic basketball coach who coached in the Atlantic Coast Conference and the Pacific-10, and was an assistant on the U.S. Men's Olympic basketball team where he first met Jordan.
Based on initial reports the character of Michael Jordan will not appear in the film, serving instead as a "mythic figure hovering above the movie and never seen."
Air Release Date
Fans won't have to wait long to see Air. The movie premieres in 3,000 theaters on April 5, which will be Amazon's largest theatrical release in history. It is expected to release on Amazon Prime for streaming at a later date,
This post will be updated as more details about Ben Affleck's untitled Nike drama are released.
This article was originally published on