Ben Affleck Responds To *That* Viral Grammys Meme Of Him & Jennifer Lopez
The Oscar winner reflected on attending his "wife's work event."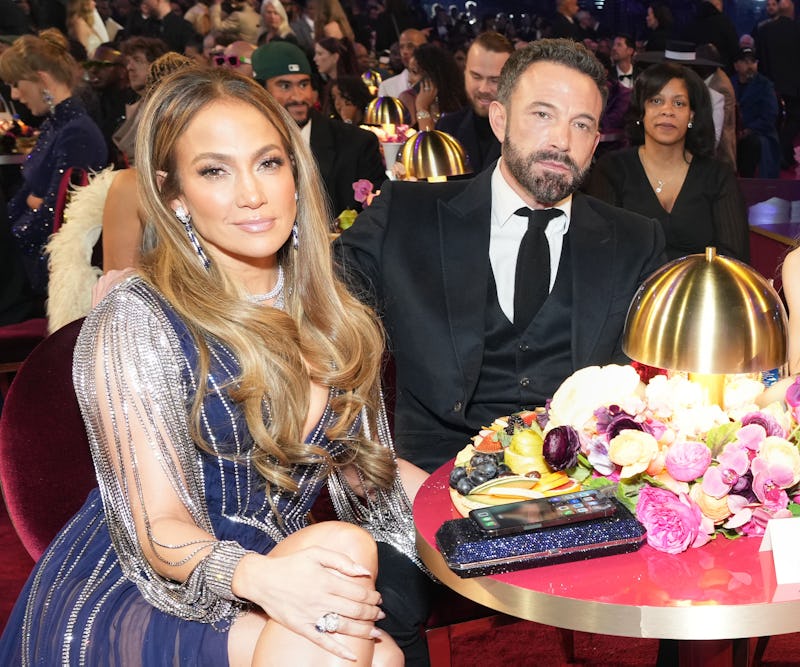 Kevin Mazur/Getty Images Entertainment/Getty Images
Ben Affleck didn't hate everyone dragging him for looking bored at the 2023 Grammys. In a March 16 cover story in The Hollywood Reporter, Affleck finally reacted to the viral "Ben Affleck having a bad time at the Grammys" moment that became a meme during the Feb. 5 awards show. ICYMI, Affleck appeared bored during the Grammys, and viewers joked that he just wanted to grab a cigarette and an iced coffee at Dunkin'. Despite him looking like he was just told Dunkin' was discontinuing his favorite donut, he told THR that he had a "good time" at the Grammys: "My wife was going, and I thought, 'Well, there'll be good music. It might be fun.' At movie award shows, it's speeches and, like, sound-mixing webinars. But I thought this would be fun."
However, when Grammys host Trevor Noah came by to do a bit for the broadcast, Affleck wanted to GTFO. "I saw [Noah] and I was like, 'Oh, God.' They were framing us in this shot, but I didn't know they were rolling," he recalled. His facial expression also appeared to grab the attention of his wife, Jennifer Lopez. "I leaned into her and I was like, 'As soon they start rolling, I'm going to slide away from you and leave you sitting next to Trevor.' She goes, 'You better f*cking not leave.' That's a husband-and-wife thing."
Affleck did admit to not being totally aware of — or entertained by — everything going on at his "wife's work event." He added, "I mean, some of it is, I'm like, 'All right, who is this act?' Like, I don't keep up. My wife does, obviously. And yeah, it is your wife's work event. And I've gone to events and been pissed off. I've gone and been bored."
Affleck also noted that people thought he was drinking at the awards show. The Oscar winner, who has been vocal about his journey to sobriety, admitted that the comments were "interesting." "I've gone to award shows and been drunk, a bunch. Nobody ever once said I'm drunk. [But at the Grammys] they were like, 'He's drunk.' And I thought, that's interesting. That raises a whole other thing about whether or not it's wise to acknowledge addiction because there's a lot of compassion, but there is still a tremendous stigma, which is often quite inhibiting. I do think it disincentivizes people from making their lives better."
Affleck told The New York Times in 2020 that he drank "relatively normally for a long time." "What happened was that I started drinking more and more when my marriage was falling apart. This was 2015, 2016. My drinking, of course, created more marital problems," he revealed. Affleck was married to Jennifer Garner from 2005 to 2018, and they share three children.
Now, Affleck told THR that people will reach out to him when they need help. "The big trick of 12-step is the reason they want you to help other people is because it actually helps you more," he said.
If you or someone you know is seeking help for substance use, call the SAMHSA National Helpline at 1-800-662-HELP(4357).