20 Of Miley Cyrus' Very Best Covers You Should Listen To Again, Ranked
The "Flowers" hitmaker is just as known for her spot-on covers as she is for her own No. 1 hits.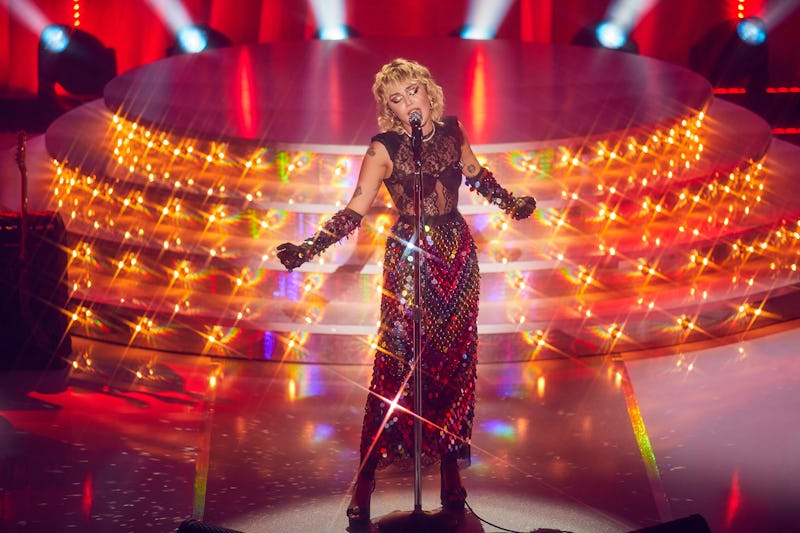 Peacock/NBCUniversal/Getty Images
Kelly Clarkson has some competition for the title of Queen of Covers. During the past decade, Miley Cyrus has impressed music lovers all over the world with her No. 1 hits — 2013's "Wrecking Ball" and 2023's "Flowers" — and with other fan-favorite songs. Just as impressive is how the "Party In the U.S.A." singer has also become known for her spot-on covers, so much so that some of her most-beloved renditions have made regular appearances on her concert setlists.
Cyrus started paying tribute to her favorite artists during her Disney Channel days, giving a spirited take of Cyndi Lauper's "Girls Just Wanna Have Fun" on her sophomore album Breakout and covering Poison's "Every Rose Has Its Thorn" on 2010's Can't Be Tamed. But much like her voice, her covers have only gotten better and more refined over time. More recent covers like Blondie's "Heart of Glass" have gone viral, prompting her to add some onto streaming services.
Now, the 30-year-old's love for the classics has carried over to her eighth studio album Endless Summer Vacation, which samples Christina Aguilera's debut single "Genie In A Bottle" on the Sia collaboration "Muddy Feet," according to credits from Genius.
Altogether, Cyrus has performed nearly 120 covers since the start of her career, both live and in the studio. If she goes on tour with Endless Summer Vacation, the list is only bound to get longer. In celebration of the new album, we're ranking her 20 best covers, from cult classics like Dolly Parton's "Jolene" to some of the latest additions to her oeuvre.
20. "Stars Are Blind" — Paris Hilton
Cyrus covering Hilton's hit was not on anyone's 2022 bingo card, but her solo first verse is smooth and effortless, adding surprising emotion to the millennial classic. Chaos ensues when Sia joins in, before Hilton jumps onstage for the climax, but that's exactly what makes it so fun.
19. "Head Like A Hole" — Nine Inch Nails
In Black Mirror, Cyrus flipped this song on its head for Ashley O's hit "On A Roll," turning it into a money-hungry bubblegum banger. Unsurprisingly, she does the original justice as well, digging so deep into her lower range that her voice is almost unrecognizable.
18. "The B*tch Is Back" — Elton John
Whoever made the decision to turn this into a down-home bluegrass stormer, thank you. Cyrus' twang completely transforms John's fierce classic without sacrificing his attitude, making you believe the b*tch really is back (not sure from what though).
17. "Believe" — Cher
Further cementing her gay icon status, Cyrus opened her Peacock Pride special Stand By You with Cher's dancefloor anthem, sans the iconic vocoder effects but with tons of drag queens in tow. It's just as gloriously fun as you imagine.
16. "My Future" — Billie Eilish
"My Future" is already affecting as a 19-year-old Eilish's optimistic, wise-beyond-her-years outlook on life, but Cyrus gives it a sense of weariness and defiance only an artist just a little older and experienced can provide.
15. "Nothing Else Matters" — Metallica
After performing the hard rock ballad at Glastonbury, Cyrus recorded it for Metallica's cover album with producer WATT, Red Hot Chili Peppers drummer Chad Smith, Metallica bassist Robert Trujillo, cellist Yo-Yo Ma, and Elton John on piano. It's just as chaotic as it sounds, but there's a reason why all of these rock icons flocked to Cyrus to join her rendition.
Bonus listen: Cyrus even performed the song with Metallica in 2021 on The Howard Stern Show, where she explained why she covered it it at Glastonbury. "It was right before the world knew I was getting a divorce, but I knew I was about two weeks before Glastonbury," she said. "I was so heartbroken, and my purpose was coming from this performance. I got sober at that time, I really pulled my f*cking sh*t together, and this song was what drove me to that place because I knew that nothing else mattered. My life in regards to love was kind of falling apart, but I had my love for music, so this is my love letter to music."
14. "Jolene" — Dolly Parton
Cyrus has sung her godmother Dolly Parton's "Jolene" more times live than half of her own catalog, and for good reason. Her sassy yet heartfelt rendition fits her like a glove no matter which musical era she's in. Parton should just leave the copyrights to "Jolene" to Cyrus in her will.
13. "Nothing Compares 2 U" — Sinead O'Connor
On its own, Cyrus performing the Prince-penned ballad is stunning. But what makes it hit even harder is the seamless transition from her own "Wrecking Ball," carrying over the same loss and devastation to a song that makes those feelings permanent.
12. "You're Gonna Make Me Lonesome When You Go" — Bob Dylan
Released in 2012, then-19-year-old Cyrus' take on Dylan's mournful folk ballad was one of the first times people realized that she's actually damn good at making classics her own. She sounds well beyond her Hannah Montana years, just as restless, weary, and desperate as the song asks for.
11. "Communication" — The Cardigans
In October 2020, Cyrus' choice to cover a song about struggling to connect was scarily prescient, given how no one could connect how they wanted to IRL. Her vocal is pristine yet restrained, and that subtle key change is just heavenly. Cyrus taking on The Cardigans' signature hit "Lovefool" next would be an absolute blast, let's be honest.
10. "The First Time Ever I Saw Your Face" — Roberta Flack
Cyrus' twangy cover of Flack's eternal love song just might be her most subtle vocal showcase to date, showing immense restraint to honor the song's delicacy. Even her big finish sounds more angelic than commanding, proving she can be just as powerful without letting it all out.
9. "Summertime Sadness" — Lana Del Rey
Cyrus was ahead of her time covering "Summertime Sadness" in late 2013. She adds a touch of levity and optimism in the face of the titular sadness, perhaps becoming the first sign that Del Rey's torch ballad was about to break through to radio airwaves.
8. "No Freedom" — Dido
Dido's defiant statement of "there's no love without freedom" made this the perfect song for Cyrus to cover for her Happy Hippie Foundation, which focuses on youth homelessness and LGBTQ+ causes. When she performed it once again with Adam Sandler in tribute to the 2017 Las Vegas shooting victims, the sentiment rang even truer, sounding more pure and hopeful coming from Cyrus' voice.
7. "Lilac Wine" — James Shelton
Does this one even need any explanation? Just listen.
6. "Don't Dream It's Over" — Crowded House With Ariana Grande
Cyrus first sang with Grande for her original Backyard Sessions in 2015, with her gentle harmonies pairing with Grande's soaring vocals. But when they reprised this cover two years later at One Love Manchester, held for the shooting victims of Grande's 2017 Manchester concert, it took on a much-needed tone of healing and optimism.
5. "Gimme More" — Britney Spears
Only Cyrus would think of turning an electro hip-hop banger like "Gimme More" into a country hoedown, and only she could make the bizarro combo somehow work. And true to the song's title, she made us say "Gimme More" by cutting it after the second verse. The cover's timing, arriving as Spears was battling for freedom from her 13-year conservatorship, made it all the more sweeter.
4. "Maybe" — Janis Joplin
When she started covering "Maybe" at her 2021 festival shows, Cyrus proved she could do more than just sing: she can yelp, yell, grovel, and belt like the best of 'em. Much like Joplin herself, Cyrus unleashes notes that fans never even knew she was capable of, rapidly changing pace and going through her entire range without missing a beat. That's the sign of a true rockstar.
3. "Heart of Glass" — Blondie
Cyrus strutted onto her iHeartRadio Music Festival stage to the opening notes of "Heart Of Glass" with a mission, and aced the assignment. Her no-holds-barred take on Blondie's electro-rock jam adds more passion and sheer volume than the perennially cool Debbie Harry probably wanted, but neither she nor TikTok could deny just how powerful it was, making it Cyrus' new setlist staple.
2. "I Will Always Love You" — Dolly Parton With Dolly Parton
Nothing proves Cyrus is the best Dolly Parton tribute artist more than when she sings with her. The duo ended 2022 by mashing up Cyrus' breakup song "Wrecking Ball" with Parton's classic tearjerker, joined by the most spine-tingling transition. Cyrus adds just as much pathos and emotion as Parton intended, digging deep into her higher vocal range and performing as if she was holding back tears before letting it all out harmonizing with her godmother. Nobody watching rang in 2023 with a dry eye.
1. "Music" / "Express Yourself" / "Like A Prayer" — Madonna
Cyrus is the Disney generation's closest successor to Madonna, and when she covers the Queen of Pop, there's no opposing argument to be made. She gifted us with three classics for her Pride special, slaying them effortlessly. Cyrus' renditions of "Music" and "Express Yourself" are true to form, bringing out the husky tones of Madge's voice that are rarely heard.
But it's her knockout cover of "Like A Prayer" that truly earns the top spot, bringing just as much energy and vocal power as Madge but with her own rough rock edge, turning it into a relentless and awe-inspiring church service.