Bethenny Frankel's Net Worth: She Made Only $7,250 For RHONY Season 1
Now a multi-millionaire, the entrepreneur's latest venture is Forever Young, a premium rosé wine.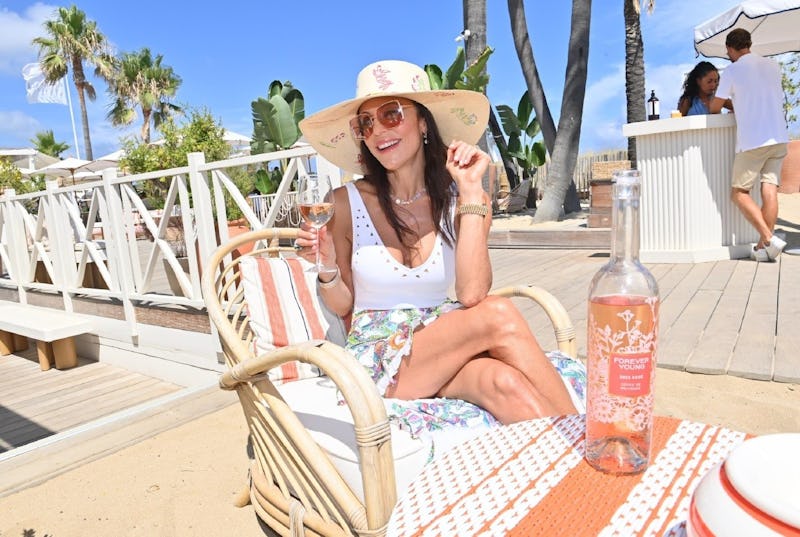 Courtesy Of Forever Young Wines
Bethenny Frankel worked hard as an actor and entrepreneur for many years to make a name for herself. She experienced many stops and stops in her career — which included nannying for Paris Hilton and working as a personal assistant to Jerry and Linda Bruckheimer — before she hit it big by landing a spot on the inaugural season of The Real Housewives of New York City. Since RHONY premiered in 2008, she has not only become one of the most popular stars from the Bravo franchise — but also one of the richest in Housewives history.
Though she exited the Real Housewives world in August 2019, she's kept plenty busy. Frankel built more businesses, including her Skinnygirl brand, and her latest attempt at serious fortune has worked out brilliantly. She's still a fixture on television shows, appearing on CNBC's Money Court and with The Big Shot With Bethenny reality series. In 2023, she launched a new line of premium rosé wine called Forever Young with French vineyard owner Valérie Rousselle, which is bound to be a staple, along with her Skinnygirl drinks (the company from which she continues to profit from). The entrepreneur also has a knack for buying and flipping real estate.
Read on to learn how much she's made from her reality TV stints and what she's earned from Skinnygirl.
5 Ways Bethenny Frankel Makes Her Millions
1. TV & Film
Reality TV made Frankel a household name, but it didn't make her rich, especially not at first. She has admitted several times that for the first season of The Real Housewives of New York City, she was paid just $7,250, but that sum quickly increased every season. Celebrity Net Worth estimates that at one point, she was earning $40,000 per episode, while Forbes suggests she may have made at least $1 million for her final season (possibly the final few seasons).
After she amassed a sizable fan base, Frankel was able to launch other TV shows that cemented her as a headliner, as opposed to a member of an ensemble cast. Bravo brought her back for three seasons of Bethenny Getting Married (later renamed Bethenny Ever After), which focused on her wedding and marriage. She also scored deals for follow-up reality series Bethenny & Fredrik and The Big Shot with Bethenny, the latter of which she seeks a second-in-command for her Skinnygirl company. Frankel even ventured into daytime TV with Bethenny, which lasted one season and brought her to the network world for the first time.
Frankel also guest-starred or appeared as a recurring personality or character in TV shows such as The Apprentice: Martha Stewart, Skating with the Stars, The Real Housewives of Beverly Hills, and Shark Tank. What she was paid for any of these non-Housewives efforts isn't clear, but she continues to return to TV regularly.
Her most recent television appearance is on Money Court with Shark Tank personality Kevin O'Leary. The show sees the entrepreneurs moderating financial disputes small businesses undergo between former colleagues. The participants must agree with the final decisions from Frankel and O'Leary, which is likely a safe bet considering how successful both are.
2. Businesses
Early in her life, Frankel founded a number of businesses involving event planning, or selling pashminas, or even a healthy dessert and meal delivery in New York City called BethennyBakes. That last venture lasted a few years, but perhaps more importantly, it put her on TV for the first time in a major way, as it landed her in second place on The Apprentice: Martha Stewart.
In 2009, a year after she began starring on The Real Housewives of New York City, Frankel launched Skinnygirl Cocktails, her brand of low-calorie alcoholic beverages and mixes. The line became very popular, and two years after it became available for fans to purchase, she sold the brand to Beam Global for $100 million, according to Forbes. Included in her deal are financial incentives if sales continue to rise.
One of the smartest things Frankel has done in her business career is altering her Real Housewives contract. Before she signed it, she insisted that a clause be removed that stipulated that Bravo has some control or receives some cut of whatever products or businesses the women launch while on the show. "I said, 'You can pay me seventy-two hundred and fifty dollars, but you're not taking any of my business'," Frankel told New York magazine.
In another business move, Frankel held on to control of the Skinnygirl brand when she sold the cocktail line, and after she was no longer in charge of the alcohol as she had been, she expanded the line into other items. Throughout the years, Skinnygirl has also sold coffee and tea (and flavored syrup for them), popcorn, salad dressing, preserves, apparel, supplements, cookware and glassware, eyewear, lunch meat, skin care, sparkling water, and more.
3. Books
Frankel is also a bestselling author, and to date, she has published at least 11 books, with almost all of them tying back to Skinnygirl. To date, four of them are New York Times best-selling books.
Here's a rundown of the books she's released:
Naturally Thin: Unleash Your SkinnyGirl and Free Yourself from a Lifetime of Dieting
The Skinnygirl Dish: Easy Recipes for Your Naturally Thin Life
Body by Bethenny: Body-sculpting Workouts to Unleash Your SkinnyGirl
A Place of Yes: 10 Rules for Getting Everything You Want Out of Life
Skinnydipping: A Novel
Skinnygirl Solutions: Simple Ideas, Extraordinary Results
Skinnygirl Solutions: Your Straight-Up Guide to Home, Health, Family, Career, Style, and Sex
Cookie Meets Peanut
Skinnygirl Cocktails: 100 Fabulous and Flirty Cocktail Recipes and Party Foods for Any Occasion, Without the Guilt
I Suck at Relationships So You Don't Have To: 10 Rules for Not Screwing Up Your Happily Ever After
Business is Personal: The Truth About What it Takes to Be Successful While Staying True to Yourself
Details regarding publishing royalties or upfront payments for these books aren't publicly available, but with nearly a dozen titles to her credit, there is clearly a reason why she continues to write.
4. Social Media
Frankel has more than 2.5 million followers on Instagram, and like many celebrities who have gathered huge followings online, she sometimes posts ads for which she is likely paid well. Forbes estimates that at one time, she may have been paid between $10,000 and $30,000 per upload. She regularly uses her social media profiles to promote her Just B podcast, which is sometimes just her, while in other instances, she recruits famous friends to join her. What she's paid for the program hasn't been shared, but it's another part of her income stream.
5. Real Estate
For over a decade, Frankel has also invested her time and money in real estate, often purchasing properties to fix up, renovate, and resell. According to Architectural Digest, she is a serial buyer, and sometimes she makes a profit, while in other instances, it appears she may have lost money.
In 2016, Frankel sold an apartment in NYC's Tribeca neighborhood for just under $7 million after snapping it up for a little less than $5 million and pouring an estimated half million dollars into the home. In the Hamptons, she bought a home for $2 million, which she planned on renting out for $150,000 a month, per AD, though she later sold it for $2.28 million. In 2020, she grabbed a house in Greenwich, CT for $2.1 million, and less than a year later (after several renovating projects), she turned around and sold it for $3.3 million, reports Yahoo.
What Is Bethenny Frankel's Net Worth?
Frankel's net worth is estimated to be $80 million in 2023, according to Celebrity Net Worth. In 2011, she graced the cover of Forbes, which at the time claimed she had made $55 million in the previous year. In 2016, she came in sixth on the publication's ranking of the highest-paid reality stars, managing to be the only non-Kardashian or Jenner on the list.
This article was originally published on