Beyoncé's "Insect" Tour Outfit Sparks Viral Lady Gaga Fan Theory
The Beyhive is buzzing over the singer's Renaissance tour attire.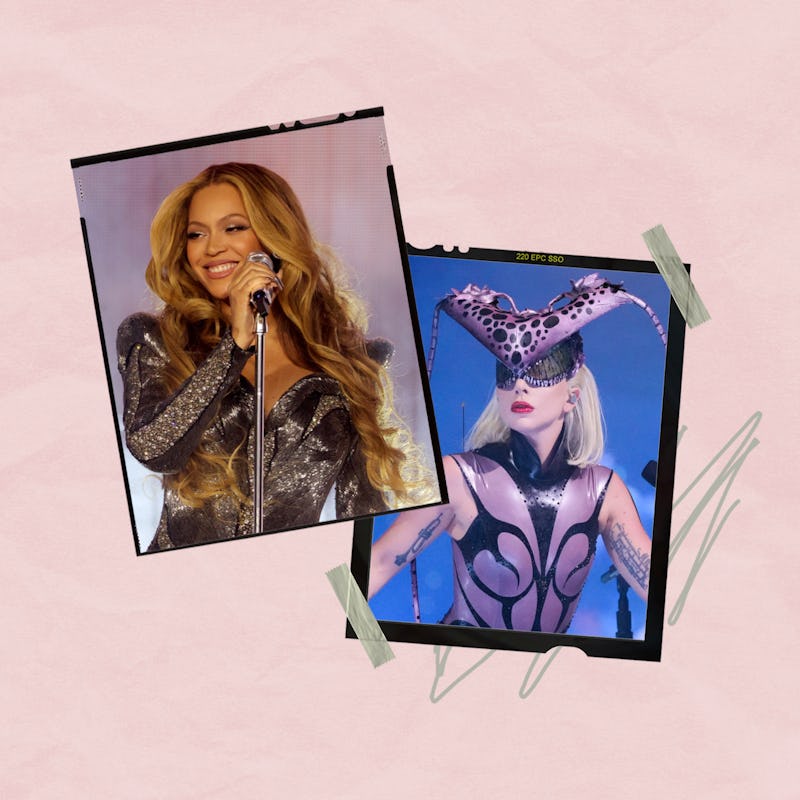 Kevin Mazur/Getty Images for Parkwood / Kevin Mazur/Getty Images for Live Nation
Along with her powerhouse vocals and spectacular 35-song setlist, Beyoncé's ongoing Renaissance World Tour has also seen the hitmaker serve up some eye-popping onstage looks, including a Death Becomes Her-reminiscent "stomach hole" outfit and Queen Bey's custom Mugler insect-inspired costume — the latter of which has inspired a viral fan theory involving "Mother Monster" herself, Lady Gaga.
Seemingly referencing her adoring "Beyhive," Beyoncé's chrome black and yellow costume in question is a standout among her Renaissance tour looks, which many fans have compared to a strikingly similar alien-like costume worn by Lady Gaga during her Chromatica Ball tour in 2022.
The outfit comparisons have prompted many in the Beyhive and Little Monster fanbase to call for a follow-up track to the pair's 2010 smash hit "Telephone" — the music video of which famously ends with the phrase "To be continued..."
As PinkNews notes, other fans have also begun speculating that Bey and Gaga's matching onstage attire was an intentional move on their part, and a long-awaited "Telephone: Part Two" might finally be on the horizon 13 years after the original song's release.
"I low-key hope this a sign that something will happen, or at least the online reaction motivates them to reach out to each other and make something happen," one hopeful fan wrote on Twitter, while another user said the Grammy winners "need to give us the part two they promised us."
"Telephone Part Two confirmed," one fan also commented, while another user joked: "If Lady Gaga and Beyoncé finish 'Telephone: Part Two' then I'll be able to die in peace."
Released in 2010 as the second single from Gaga's EP The Fame Monster, "Telephone" went on to storm the charts globally, shifting 7.4 million copies in a single year. The song's accompanying music video also dominated the 2010 MTV Video Music Awards, winning the Best Collaboration trophy and also bagging nominations for Best Choreography and Video of the Year. Meanwhile, NME also placed "Telephone" at No. 17 on their list of the 100 best music videos of all-time.