Beyoncé Is Bringing The Renaissance World Tour To Movie Theaters
"Be careful what you ask for, 'cause I just might comply."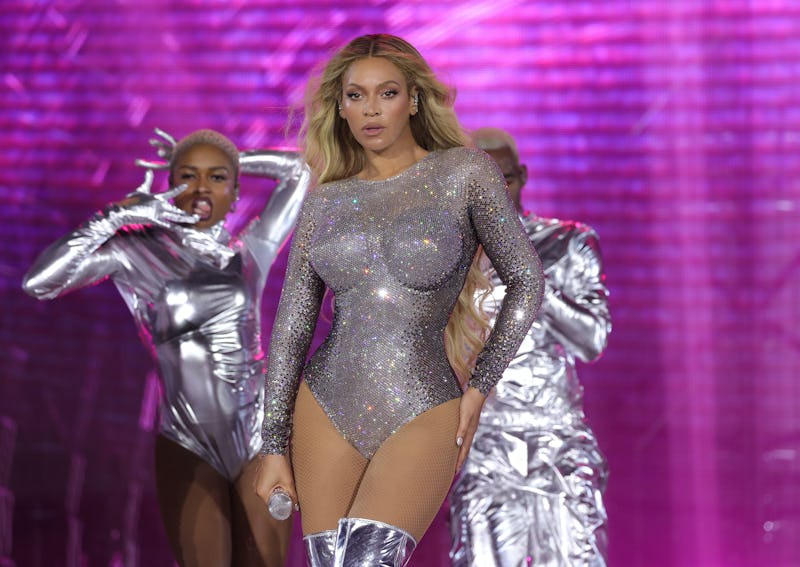 Kevin Mazur/WireImage/Getty Images
Please do not be alarmed, remain calm — Beyoncé is bringing her Renaissance World Tour to the big screen.
The Beyhive was abuzz on Oct. 1, after Queen Bey's production company Parkwood Entertainment teased that a major announcement was imminent. Sure enough, just hours later, the 32-time Grammy winner dropped the trailer for Renaissance: A Film by Beyoncé on Instagram with the caption, "Be careful what you ask for, 'cause I just might comply."
The teaser includes footage from her record-breaking world tour and rehearsals, as well as backstage moments featuring the singer with her nearest and dearest. "When I am performing, I am nothing but free," Beyoncé narrates in the two-minute clip. "My goal for this tour was to create a place where everyone is free, and no one is judged."
Per Variety, the documentary-style film will also incorporate the much-anticipated Renaissance visuals, and illustrate how the album and subsequent tour came to life.
Below, find everything you need to know about Renaissance: A Film by Beyoncé, including how to secure tickets.
What's The Premiere Date For Renaissance: A Film By Beyoncé?
Beyoncé's concert movie will hit theaters in the United States on Friday, Dec. 1. It's not yet clear if the film will have an international theatrical release — but fellow pop icon Taylor Swift plans to go global with her forthcoming Eras Tour film, so the Beyhive should watch this space.
Are Tickets Available For Renaissance: A Film By Beyoncé?
Tickets for Renaissance: A Film by Beyoncé are currently available to purchase from AMC Theatres, Cinemark, and Regal Cinemas, as well as through the movie ticketing website Fandango.
Can You Stream Renaissance: A Film By Beyoncé?
As it stands, only a theatrical release has been announced. Fans will have to wait to hear more about when (and where) the film will become available to stream.
This post will be updated as more details are announced.