Everything To Know About Netflix's Big Mouth Spinoff
The animated series combines the best of Big Mouth and The Office.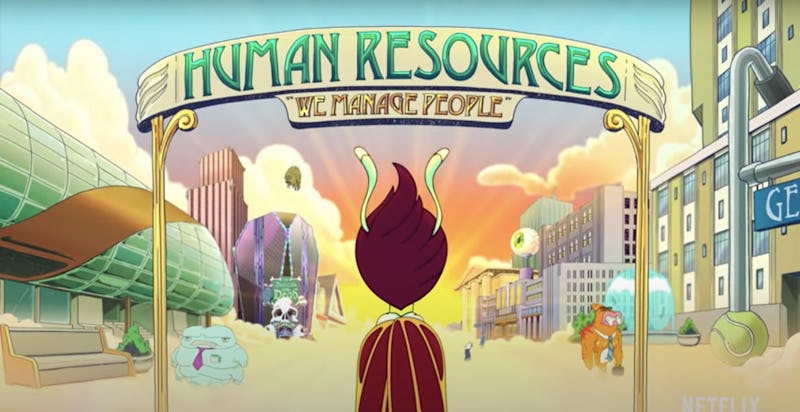 Netflix
If you love the raunchy humor of Big Mouth, chances are you'll appreciate the forthcoming new series, Human Resources. However, don't be fooled by the show's title. The Big Mouth spinoff will take a look at the "daily lives of creatures that help humans journey through life." With character names such as "Hormone Monsters" and "Depression Kitties," Human Resources clearly won't be afraid to peel back the layers of universal issues human beings face.
Collider noted Human Resources would be a more "adult series" compared to its predecessor, focusing on the hormone monsters characterized in Big Mouth. Though considering the series it's based on has been described by the National Decency Coalition as "harmful to children" for its graphic sexual content, it's hard to imagine how its creators will up the ante this time around. In December 2021, executive producer Mark Levin told Inverse there was a wish to "expand the Big Mouth universe," which Human Resources pitched as "Big Mouth meets The Office." Here's everything you need to know about your next animated obsession.
The Human Resources Voice Cast & Plot
Big Mouth actors Maya Rudolph and Nick Kroll are lending their voice talents to the animated series, reprising their roles as Connie the Hormone Monstress and Maury the Hormone Monster, respectively. Other actors set to voice their Big Mouth characters in Human Resources include David Thewlis (Fargo) as The Shame Wizard, Brandon Kyle Goodman (Feel The Beat) as Walter the Lovebug, Pamela Adlon (King of the Hill) as Sonya the Lovebug, Thandiwe Newton (Westworld) as Mona the Hormone Monstress, Jemaine Clement (Moana) as Simon Sex, Maria Bamford (Arrested Development) as Tito the Anxiety Mosquito, and Bobby Cannavale (Homecoming) as Gavin the Hormone Monster. Additionally, Aidy Bryant (Saturday Night Live) will appear as Emmy the Lovebug, and Keke Palmer (Hustlers) will play Rochelle the Lovebug.
On Jan. 12, Netflix revealed Rosie Perez (In Living Color and The Flight Attendant) and Henry Winkler (Happy Days) are set to voice brand-new characters Petra the Ambition Gremlin and Keith From Grief, respectively. Thandiwe Newton and Bobby Cannavale will also lend their voices as guest stars.
Later, on March 1, Netflix announced a slew of new creatures and humans. When it comes to the monsters, you can expect to hear Helen Mirren as the Shame Wizard Rita St. Swithens, Hugh Jackman as the seductive Addiction Angel Dante, Lupita Nyong'o as Asha the Shame Wizard, Chris O'Dowd as Flanny the Lovebug, and Harvey Guillen as Jose the Spider Receptionist. On the human side of things, Ali Wong stars as Becca, Janelle Monáe as Claudia, Mike Birbiglia as Barry, and Tim Robinson as Doug.
While Big Mouth focuses on its human characters and how they navigate life with the Hormone Monsters, Depression Kitties, Shame Wizards, etc. that dictate their every mood, thought, and feeling, Human Resources will let viewers into the world of the mythical creatures to see how they operate.
Randall Park (Fresh Off The Boat), who plays a "Logic Rock" named Pete, talked briefly about his newfound role at a panel for 2021's Annecy International Animation Film Festival. He declared, via Variety, that he's "very much a logic rock." Park added, "I felt like this part was written for me ... I'm very logical, organized, clean. Pete does everything by the book, like me. He has rock-hard abs."
At the same event, Kroll, who co-created Big Mouth and Human Resources, established the differences between the two series and the characters within each show. "You have these characters that represent a major force in the human condition," he began. "The challenge has been that these characters don't only function according to the one thing they do professionally. The Logic Rock is filled with a lot of emotion and love that defies his nature. Building out the characters in that complex way has been a joy."
Amid the announcement of Human Resources in June 2021, Kroll tweeted his excitement for the series, adding, "This. Show. Is. Bonkers."
Human Resources Trailer & Release Date
Ahead of the Human Resources trailer debut, the Season 5 trailer for Big Mouth featured some characters from the spinoff. In the NSFW video clip, lovebugs Walter (Goodman) and Sonya (Adlon), along with hate worm Rochelle (Palmer), make an appearance. Walter is introduced as Nick's lovebug, with Sonya as Jessi's (Jessi Klein) to help navigate her feelings for Ali (Wong). Rochelle stays true to her persona as she briefly shows her distaste for another character's dance moves with an "Oh, stop it" remark.
Per TVLine, Goodman encourages Nick to "pursue his feelings for Jessi until she publicly rejects him," which becomes the reason for Walter eventually turning into a hate worm. In turn, Rochelle fuels Missy's "hate spiral" within Jessi and Ali's storyline.
Netflix released the first official teaser clip for Human Resources on Jan. 12, which introduces viewers to the fantastical members of the titular department, who each watch over the humans whose lives they guide. Along with the clip's debut, the streaming platform announced Human Resources would debut March 18.
On March 1, Netflix revealed the first full trailer for the new series, and it already looks chaotic and includes more adult themes, just as promised.
This article was originally published on