Billie Eilish's Swarm Character Was Inspired By The NXIVM Cult
The Grammy winner makes her acting debut on Donald Glover's new series as the leader of a cult.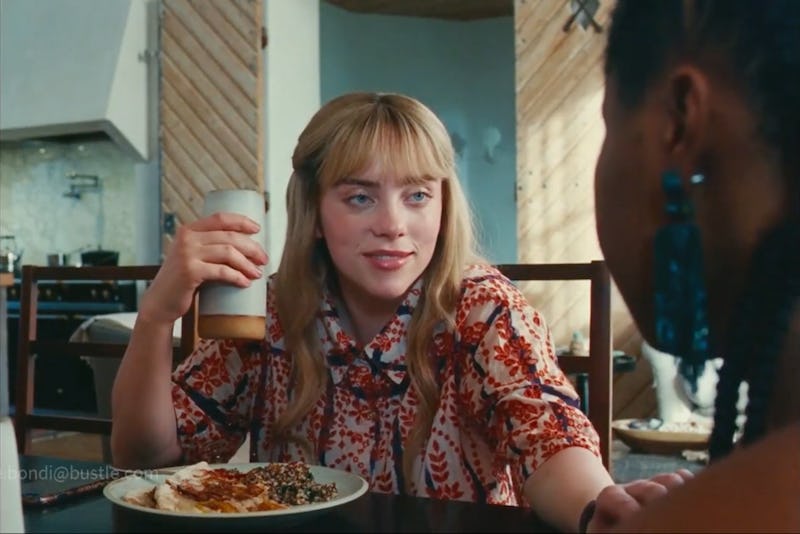 Amazon Prime Video
Spoilers ahead for Swarm Episode 4. Billie Eilish is an actor now, which probably wasn't on your 2023 bingo card. The "Happier Than Ever" singer makes her surprise acting debut in Donald Glover's new series Swarm, which stars Dominique Fishback as Dre, a fan of R&B icon Ni'Jah, who's heavily inspired by Beyoncé, and proud member of The Swarm (a riff on the Beyhive). Dre's obsession with Ni'Jah quickly grows too sinister, endangering the "goddess" she claims to idolize. Eilish appears in the show's fourth episode and gets involved in Dre's journey in ways that you would never see coming.
Eilish plays Eva, a seemingly soft-spoken and welcoming young woman who turns out to be the leader of a NXIVM-inspired sex cult, and the references are uncanny. NXIVM came to public attention after founder Keith Raniere was arrested on charges of federal sex trafficking, racketeering, and possession of child pornography, with accusations that he ran a group within NXIVM that kept women as sex prisoners. Docuseries like HBO's The Vow and Starz' Seduced featured former members of the so-called self-help organization talking about the alleged abuse they suffered as part of what they now believe to have been a cult. In October 2020, Raniere was sentenced to 120 years in prison.
Similar to NXIVM's reported subgroup DOS, Eva's group DecaWin advertises itself as a "women's empowerment group," aimed at "unlocking female potential by teaching, learning, training, and most of all, healing," as Eva described it. Like some former DOS members have similarly reported, the women of DecaWin have been branded with symbols of spirituality and fulfillment that indicate their eternal commitment to the group.
Eva offers Dre "therapy sessions" that quickly turn into hypnosis exercises, which enables Dre to spill dark secrets about her past and true love of murder that she had never admitted to anyone before. Just like former NXIVM members have reported, Eva and her minions used this information and Dre's phone as "collateral" to use against her if she doesn't follow protocol.
However, unlike many cult victims, Dre quickly discovers what was being done to her after realizing they knowingly let her miss Ni'Jah's headlining set at Bonnaroo (yes, they're nodding to Beychella). What Eva failed to realize is that Dre's commitment to the twisted DecaWin would never be as strong as her twisted devotion to Ni'Jah, as proven when she escapes by running over Eva with her car without a second thought.
According to Entertainment Tonight, casting director Carmen Cuba had the idea to have Eilish appear in the Amazon series, knowing that the 7-time Grammy winner wanted to foray into acting. Eilish's silver screen debut is small but mighty, winning rave reviews from critics who couldn't even identify her in their reviews due to Amazon's embargo, with Rolling Stone saying it was "outstanding work" and The Hollywood Reporter writing that her cameo "is so perfect that anybody who ruins it beforehand should be cursed by an unfortunate run-in with Dre." Eilish is already halfway to an EGOT, and if the praise continues, an Emmy could be her next step.