Black Mirror Season 6 Is Coming Soon & Here's What To Expect
It's been almost four years since the last installment.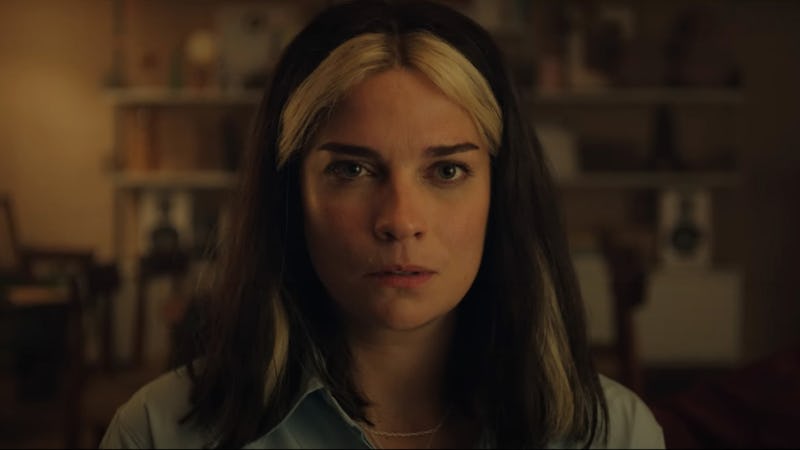 Netflix/screenshot
If you're an OG Netflix subscriber, then you'll probably know that Black Mirror is one of the streaming platform's earliest hits. From Miley Cyrus to Daniel Kaluuya, Black Mirror has had some major guest stars throughout its seasons. With plotlines that look at technology and politics through a dystopian lens, it has also proved eerily prescient over the years. Never forget when creator and writer Charlie Brooker appeared to predict *that* Prime Minister pig scandal.
Season 5 of Black Mirror was released on June 5, 2019, meaning fans have been waiting for new episodes for nearly four years. At one point, it even seemed like Brooker might be done with Black Mirror for good when he told Radio Times magazine in 2020 at the height of the pandemic. "At the moment, I don't know what stomach there would be for stories about societies falling apart, so I'm not working away on one of those. I'm sort of keen to revisit my comic skill set, so I've been writing scripts aimed at making myself laugh."
Luckily for fans of the show, he's decided the time is right for more dystopian drama, as Netflix announced on April 26 that Season 6 is premiering in summer 2023. So here's everything we know about new Black Mirror episodes.
Who's In The Black Mirror Season 6 Cast?
The Black Mirror Season 6 cast includes several notable actors, including Aaron Paul, Annie Murphy, Ben Barnes, Himesh Patel, Josh Hartnett, Kate Mara, Michael Cera, Salma Hayek Pinault, and Zazie Beetz. The rest of the cast features: Anjana Vasan, Auden Thornton, Clara Rugaard, Daniel Portman, Danny Ramirez, John Hannah, Monica Dolan, Myha'la Herrold, Paapa Essiedu, Rob Delaney, Rory Culkin, and Samuel Blenkin.
"Bringing it all to life we've got an incredible roster of disgustingly skillful, smart directors working with a cast of actors so talented they frankly have no right to exist," Brooker told Netflix's Tudum in April.
Is There A Black Mirror Season 6 Trailer?
Netflix dropped an official Black Mirror sneak peek on April 26, showing fans quick glimpses of the drama ahead. "You've been wondering. You've been waiting. You've been warned," the streamer teased, billing Season 6 as the "most unpredictable, unclassifiable and unexpected season yet."
More than a month later, the streamer released the official full-length Season 6 trailer on May 31, previewing five new films, worlds, realities, nightmares, revelations, hallucinations, rabbit holes, mindf*cks, and so on.
What's The Plot Of Black Mirror Season 6?
Netflix also released the following new Black Mirror Season 6 episode descriptions:
Episode 1: "Joan Is Awful"
An average woman is stunned to discover a global streaming platform has launched a prestige TV drama adaptation of her life -- in which she is portrayed by Hollywood A-lister Salma Hayek.
Cast: Annie Murphy, Ben Barnes, Himesh Patel, Michael Cera, Rob Delaney, Salma Hayek Pinault
Episode 2: "Loch Henry"
A young couple travel to a sleepy Scottish town to start work on a genteel nature documentary - but find themselves drawn to a juicy local story involving shocking events of the past.
Cast: Daniel Portman, John Hannah, Monica Dolan, Myha'la Herrold, Samuel Blenkin
Episode 3: "Beyond the Sea"
In an alternative 1969, two men on a perilous high-tech mission wrestle with the consequences of an unimaginable tragedy.
Cast: Aaron Paul, Auden Thornton, Josh Hartnett, Kate Mara, Rory Culkin
Episode 4: "Mazey Day"
A troubled starlet is dogged by invasive paparazzi while dealing with the consequences of a hit-and-run incident.
Cast: Clara Rugaard, Danny Ramirez, Zazie Beetz
Episode 5: "Demon 79"
Northern England, 1979. A meek sales assistant is told she must commit terrible acts to prevent disaster.
Cast: Anjana Vasan, Paapa Essiedu
Prior to the reveal, Brooker offered a few hints at some new twists. "Partly as a challenge, and partly to keep things fresh for both me and the viewer, I began this season by deliberately upending some of my own core assumptions about what to expect," the creator revealed to Tudum. "Consequently, this time, alongside some of the more familiar Black Mirror tropes we've also got a few new elements, including some I've previously sworn blind the show would never do, to stretch the parameters of what 'a Black Mirror episode' even is. The stories are all still tonally Black Mirror through-and-through — but with some crazy swings and more variety than ever before."
When Is The Black Mirror Season 6 Release Date?
Netflix confirmed that all five of Black Mirror's Season 6 episodes premiere on June 15.
This post will be updated as more Black Mirror Season 6 details become available.
This article was originally published on