The Blixunami From MerPeople Says Their Grandpa Once Rescued A Real Mermaid
The Netflix subject wants to be a role model for other Black aquatic performers.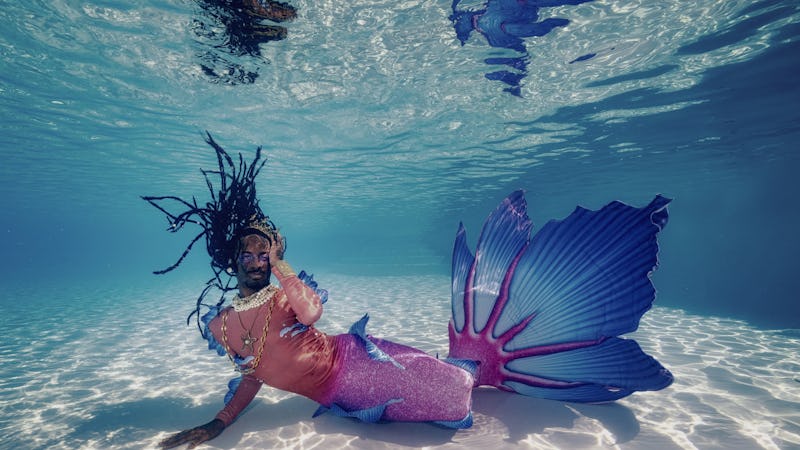 Netflix
Netflix's MerPeople is a deep dive into the lives of underwater performers who have turned their love for the mystical sea creatures into real-world careers in the half-billion-dollar industry. Covering the world of mermaid and merman competitions, conventions, auditions, and shows, the four-episode docuseries culminates with the crowning of the 2022 Kings and Queens of the Seas competition in the Bahamas. Though Top 10 finisher The Blixunami (Blix), who was representing as Sea King of South Carolina, didn't ultimately win the crown, they did swim away with a congeniality prize (and another Virgin Voyages cruise).
The Blixunami (aka Eric Milligan) has loved mermaids since they were a kid and always drew them on their tests in school. But role models were hard to come by, and that's why they decided to help represent Black aquatic entertainers. "I didn't have anybody to look up to when I was younger, so my main reason is because I want to show other people that look like me that they can do it, too," Blix explained to Various Artists in April 2022. "That's the big picture; it is to show people that have never seen a Black mermaid that they can do it, too."
They also believe they have a family history with merpeople. Blix says their father told them a story about how their great-grandfather once nursed an injured mermaid back to health in coastal South Carolina. "He tried to keep her, but the sea kept crying, and it caused storms and hurricanes to hit South Carolina," they added. "So he brought her back to the seashore during a storm one day, and he said while she swam off, the storm swam away, like went away with her, and the sun came. I was like, 'Daddy, are you serious? My great, great grandad was blessed by a mermaid?' Isn't it insane?"
Here's everything else to know about Blix.
The Blixunami's Job
Blix describes themself as a "mermaid doll influencer and an aquatic entertainer specializing in pool parties and dry events." They explained that their paid gigs sometimes involve appearing at pool parties. "Last party I did, I just swam on my tail back and forth the whole time, spoke to people," they added. "There were people smoking weed, so I was smoking seaweed and everybody was like, you're a cool mermaid. Yes, mermaids smoke seaweed. It was super fun."
They also sometimes donate their time "just to get exposure, photos, and the experience." As Blix shared with Various Artists, "I've done a lot of things for free just to get myself out there because it's hard for me, even to this day, even with everything I've done so far, it's still hard to get a paid gig. A lot of the times I'll be like, 'Yes, I'll do it. Just let me get some free food.'"
Blix has also ventured into the mermaid music (or mersic) world and released a music video for their first song, "Splish Splash on Em," in February 2023.
Blixunami's Instagram
Unsurprisingly, Blix, who is now based in New York City, also largely devotes their Instagram to merpeople content, wanting to remind kids that "mermaids are Black too." They even started a GoFundMe to help them get to The Little Mermaid's London premiere to see Halle Bailey as the first Black Ariel on the big screen. "Soo grateful for this movie and it's FANDOM!!" Blix captioned an April 23 post.