Everything To Know About BMF Season 3
2 Chainz and Ne-Yo are joining the Starz crime drama.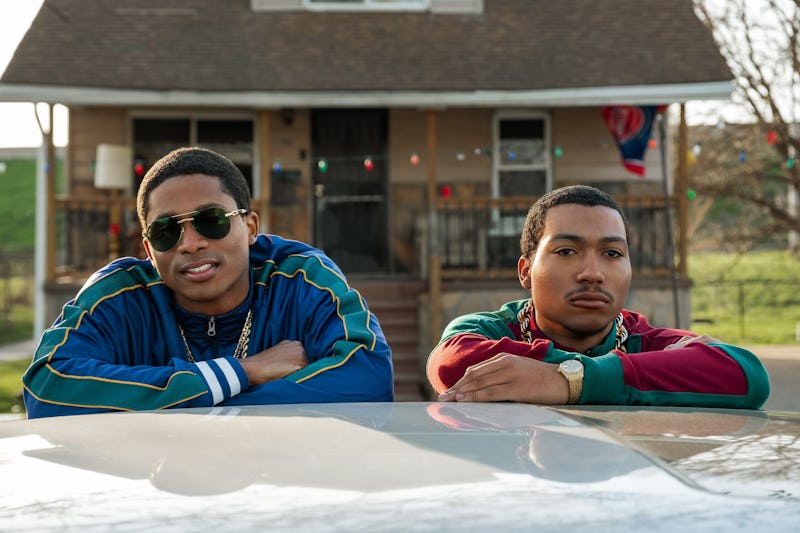 Starz
Starz crime drama BMF follows real-life brothers Demetrius "Big Meech" and Terry "Southwest T" Flenory's late '80s upbringing in Detroit to them becoming one of the country's most prolific criminal organizations, Black Mafia Family (aka BMF). Shortly after the second season premiered in January, the network had already announced that the brothers will be back in action for Season 3.
"BMF captures the essence of Detroit through elevated, gritty storytelling and our fans have passionately responded to this show more than ever before," Starz president Kathryn Busby said in a statement, noting that the series ranked as the most socially engaged drama across all networks over premiere weekend with 4.1 million multiplatform viewers. "Following such a strong debut with season two, we're thrilled to continue to expand on the incredible story of the Flenory brothers as they change the game by writing their own rules. We can't wait to see what our extraordinary producers and cast deliver next."
Meanwhile, producer Curtis "50 Cent" Jackson tweeted on Jan. 18, "BMF is on fire . . . Season 3, here we go," adding that fans have some spinoffs to look forward to as well. "You'll get a chance to see three spinoff shows from BMF. It's BMF immortal," 50 Cent told that audience at the Season 2 Hollywood premiere, per Variety.
In the meantime, here's everything to know about BMF Season 3.
The BMF Season 3 Cast
Starz has yet to release a full Season 3 cast list, but returning Season 2 actors included main stars Demetrius "Lil' Meech" Flenory Jr. (Demetrius "Meech" Flenory) and Da'Vinchi (Terry "Southwest T" Flenory) alongside Myles Truitt (B-Mickie), Russell Hornsby (Charles Flenory), Steve Harris (Detective Bryant), Eric Kofi-Abrefa (Lamar Sally), Michole Briana White (Lucille Flenory), Laila Pruitt (Nicole Flenory), and La La Anthony (Markaisha Taylor), among others. Among the guest stars were Mo'Nique, Leslie Jones, and Caresha "Yung Miami" Brownlee, and Kash Doll.
On Feb. 21, the network announced that 2 Chainz and Ne-Yo will star as recurring characters in Season 3. Rapper 2 Chainz (aka Tauheed K. Epps) will play Stacks, "an Atlanta-born and bred distributor whose wisdom and stature command respect wherever he goes," according to Starz. "Fiercely loyal and determined to provide for his family no matter the cost, Stacks lives by the street code and challenges Meech's leadership style." Ne-Yo (aka Shaffer Chimere Smith), for his part, will play Rodney "Greeny" Green, "a local Atlanta player who's all about making the bag. Filled with swagger and an entrepreneurial spirit, there's more than meets the eye to Greeny."
The BMF Season 3 Plot
Though BMF executive producer Heather Zuhlke will take over as interim showrunner for Season 3 amid series creator Randy Huggins' health complications, the latter will remain involved to ensure the drama's vision remains the same, per Deadline. A tease for the BMF Season 2 finale, which drops on March 17, revealed that Meech and Terry "finally handle Detective Bryant, Lamar, and B-Mickie before charting the next big step for BMF's expansion, which will change the course of their relationship forever."
Fans might see how moving their operation to Atlanta will take a toll on the Flenory brothers. "What's really interesting about Demetrius and Terry is they really didn't blow up in Detroit," Huggins previously teased to the Detroit Free Press about future seasons.
The BMF Season 3 Potential Premiere Date
Though a Season 3 premiere date is yet to be announced, there was about a 16-month gap between the first two seasons. If production follows the same pattern, fans can expect an early 2024 drop, but stay tuned for an official announcement.
This post will be updated as more BMF Season 3 details become available.