Read These Books If You Want More WandaVision
Here are 10 stories of grief, loss, and confusing circumstances.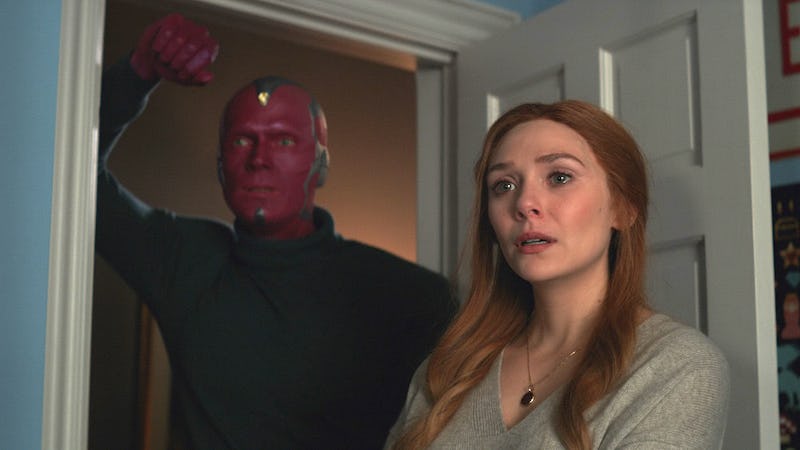 Disney+
With its upcoming slate of series offerings, Disney+ is giving Marvel fans the chance to tune into their favorite characters' post-Endgame adventures. The first of the bunch, WandaVision, has taken the Internet by storm since its Jan. 15 premiere. We don't know when Scarlet Witch's story will return to Disney's streaming service after the Mar. 5 season finale, so now's the time to stock up on great books to read if you want more WandaVision.
Set after the events of Avengers: Endgame, WandaVision centers on Wanda Maximoff and Vision, who are now living in domestic bliss in Westview, New Jersey. There's just one problem: Thanos killed Vision to get the Mind Stone — the Infinity Stone that powers Vision's vibranium body — so that he could kill half of all life in the Universe. That was five years ago, but for Wanda, who was killed in the Snap, just three weeks have passed since she destroyed the Mind Stone — killing Vision — only to have Thanos rewind time to murder Vision and take the orange crystal for himself. So why is Vision alive, and why isn't anyone acknowledging recent events?
WandaVision has plenty of classic sitcom references that fans of black-and-white television will love, but the real story here is about grief, loss, magic, and redemption. With that in mind, here are 10 books to read if you can't get enough of WandaVision.
We only include products that have been independently selected by Bustle's editorial team. However, we may receive a portion of sales if you purchase a product through a link in this article.