The Red-Blooded Charms Of Brandon Sklenar
The 1923 actor, and soon-to-be It Ends with Us star, is bringing a Boy Scout meets Bruce Springsteen sensibility back to the screen.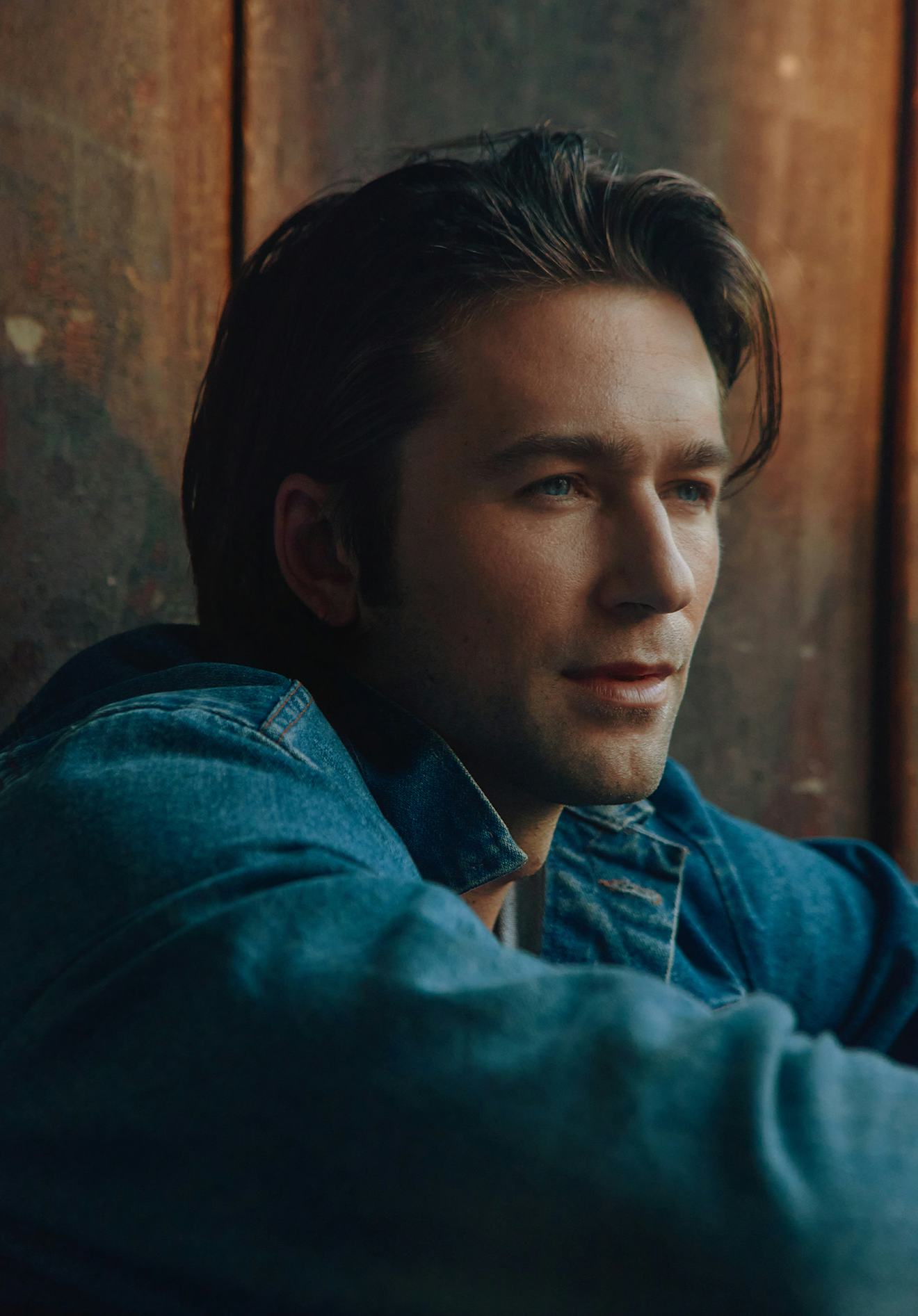 Brandon Sklenar asks if I can see the scar on his forehead. It's faded and off-white, slanted down toward his left eyebrow. As far as scars go, it's a good one. He says it's from the first day of shooting 1923, the Yellowstone prequel on Paramount+, in which he plays big-game hunter Spencer Dutton. The scene is a flashback to the World War I trenches in which Spencer, after dodging fire from the opposition, bludgeons an enemy soldier to death with his helmet. (The camera is focused on Spencer's face, so viewers don't see his ill-fated adversary. Still ick, but less ick.)
"We had the real steel helmet," says the actor, 32. "And Ben [Richardson], our director, was like, 'Just go feral on it. We have one take, so just go for it.' And I was losing my sh*t, screaming, slamming this helmet down. I was so into it that one time, I literally hit myself between the eyes with [it]. We probably had 600 people on set that day, and everyone is wondering if I'm concussed, if I'm going to keep filming."
The medic told him he would need stitches; Sklenar asked whether they could superglue the wound closed instead so they could get on with filming as quickly as possible.
The story encapsulates the sort of red-blooded appeal that likely helped make Yellowstone — a series in which masculinity is defined at its most simple and least examined, think masculinity by way of a Boy Scout handbook or Chuck Norris joke — the most-watched program on television with the exception of NFL football. The metrics are so exemplar that they've earned the show the nickname, if overly simplistic, "red-state Game of Thrones" and a reported $200 million multiyear development deal for its creator, Taylor Sheridan, to produce more shows both within the Yellowstone cinematic universe along with other original content. So far, 1923 has proven to be the most popular of Sheridan's spinoffs, with Variety noting that its pilot brought in 7.4 million viewers — the largest Paramount+ premiere to date.
1923 is a high-emotion, big-stakes soapy drama, centered on the Prohibition-era generation of Yellowstone's Dutton dynasty. While the show stars boldface names like Harrison Ford and Helen Mirren, it's Sklenar's Spencer who serves as the beating heart of the series. On the surface, Spencer is a prototype of the horse-riding, punch-throwing men who populate the Yellowstone ranch. But he also has a more tender underbelly, which is explored in his Season 1 romance with Alexandra (Julia Schlaepfer), a plucky English aristocrat he whisks away after a chance encounter in Kenya. It's more Bridgerton than The Good, the Bad, and the Ugly: a seemingly old-fashioned yet super sexed-up relationship that's keeping viewers (especially, it seems, female viewers) deeply invested. "As a viewer, it just feels nice to see a character who's so masculine who also is just so nice," says Sklenar. One of his biggest inspirations for Spencer was Jimmy Stewart. "He's just so lovely. He has a good heart."
And for the second time in his career, Sklenar is about to take on the mantle of an incredibly important piece of IP with a rabid fanbase. This spring, he begins shooting the highly anticipated film adaptation of Colleen Hoover's BookTok sensation It Ends With Us — which has a hashtag with more than 2 billion views on TikTok and in 2022 alone sold more than 2 million copies. In the film, Sklenar and co-star Blake Lively play first-love sweethearts. Sklenar's character, Atlas, is the type of boy straight out of, well, Yellowstone: He's a boy from the wrong-side of the tracks with a violent protective streak and a heart of gold.
Many fans had dream-cast actors like Dylan O'Brien, Chase Stokes, and Logan Lerman for the role. But over lunch at Superba Food + Bread on Hollywood's Sunset Boulevard, the naturally rugged charms that make Sklenar the perfect Atlas begin to crystallize. His hair is long, in a sandy brown color that could be referred to as "Gosling"; sideburns overgrown like a Jane Austen hero. If you didn't know he'd already played a cowboy-type on television, you could probably guess by his garb: a button-down with a deep V and a geometric jacquard pattern, with a phone case made of burnished leather. He's in town briefly before returning to his dog and house about 100 miles northwest in Santa Barbara. It's his respite away from the chaotic clout-chasing and careerism of Los Angeles. In case it's not obvious, he's not from here.
Thirteen years ago, when Sklenar was 19, he put everything he owned in garbage bags and drove with his then-girlfriend from their New Jersey hometown to begin a new life in California. With neither money nor a job, he bounced from a cheap apartment in Hollywood to sleeping on an acquaintance's floor to living in his car. ("It was a Jeep Grand Wagoneer, which has the most visibility out of any production car in America to date, just all glass windows, probably the worst car you could live in.") He got an agent when he asked a stranger at Mel's Drive-In for a cigarette and the man told him he had a "great look."
"As a viewer, it just feels nice to see a character who's so masculine who also is just so nice."
It's the type of anecdote that feels out of another era, the fake backstory some cigar-chomping studio head in the 1950s would invent for a new heartthrob, equal parts gritty and aspirational. "It's like a Bruce Springsteen song," Sklenar says, agreeing. "But it's very much true." When he speaks, he's earnest and serious, appearing proud of the fact that he answers every question thoroughly and transparently.
This earnestness is also likely what endeared him to his A-list co-stars, Ford and Mirren. For Season 1, Sklenar filmed on location in Africa and didn't shoot with the two venerated actors, but he had plenty of time to get to know them at the "cowboy camp." (A month before filming, the show's creator scheduled time for actors to learn to ride horses, shoot guns, use a lasso, and walk convincingly with spurs and chaps.) "Helen was out there with us, learned how to drive a carriage. Harrison brought his own saddle," says Sklenar. "When you meet him, you can't help but have that initial moment where you allow yourself to kind of fanboy, [but] once you get through that, that guy genuinely could not be a more chill, kind, humble... He's just a guy. He's just like your uncle."
Though Sklenar has been working as an actor for more than a decade (Mapplethorpe, Vice), his 1923 role has been both the biggest in his career and also the most physically challenging. Scenes that could have been shot over weeks were filmed in days. "You've got a sea of 400 background actors and explosives and stunts, and you're running out of daylight," says Sklenar. "We'd shoot three to six cameras at a time, which is really interesting as an actor because your relationship with the lens changes completely. It's almost like you're on stage."
Season 1 left Spencer on a cliffhanger, separated from his star-crossed love, Alex, but determined to make it home to Montana. "I genuinely don't know anything," he says regarding their fate. "She could never make it back. We could, she could, I couldn't!" He says he hasn't gotten scripts for the next season yet.
We hug goodbye, and I ask what he's doing for the rest of the day: dinner plans at Fogo de Chão, the all-you-can-eat Brazilian steakhouse. Following an afternoon of discussing the brand of tender yet traditional masculinity he brings to the screen, the idea of Sklenar eating his weight in red meat feels a bit on the nose. But if the appeal of the Yellowstone universe has taught us anything, subtlety is overrated.
Photographs by Raul Romo
Talent Bookings: Special Projects
Photo Director: Alex Pollack
SVP Fashion: Tiffany Reid
SVP Creative: Karen Hibbert