Bre Tiesi Discusses Her "Open Relationship" With Nick Cannon On Selling Sunset Season 6
Here's everything to know about the Oppenheim Group's new model turned realtor.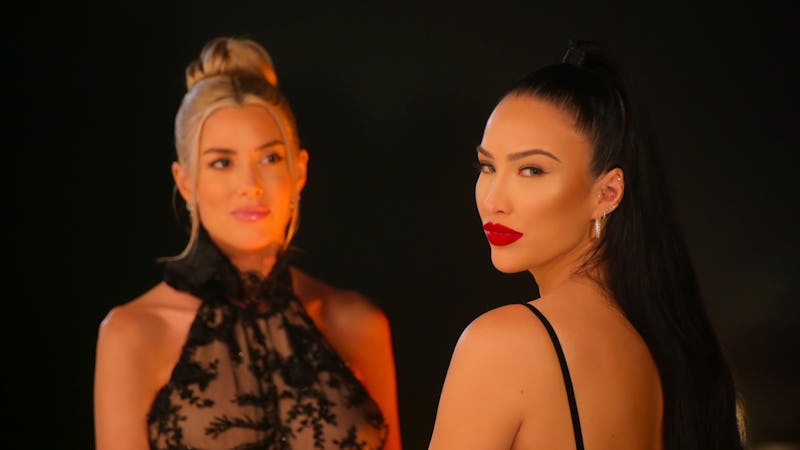 Upon joining the cast of Selling Sunset Season 6, Bre Tiesi predicted, "I don't think the O Group is ready for me." As the agency's newest realtor associate, she boasts a roster of "top clientele," including athletes and other billionaire "money dudes," but be warned, Bre doesn't come to work for any listing under $15 million. "I'm kind of a mirror: Whatever you give me is what you're gonna get," the 32-year-old Los Angeles native says in the Selling Sunset trailer. "I mean business. I'm about my business. I'm here to f*ck this sh*t up."
So, it didn't take long before Bre clashed with co-worker Chelsea Lazkani while filming. As the trailer previewed, Chelsea said that she finds Bre's relationship with Nick Cannon "rather off-putting." Bre's response? "Who I have children with is my business," she fired back. "I don't need a judge and a jury."
Prior to making her Selling Sunset debut, Bre teased what viewers can expect. "For anyone that's followed me, they know I'm a hate it or love it kind of gal. I'm definitely bringing my full personality. It's gonna be a whole show, from fashion to drama," she told People in August 2022. "I've just grown up in the industry. I'm a people person. I can fit in in any situation and I can be in any room. So I'm not intimidated at all."
As she continues to shake things up at The Oppenheim Group, here's everything to know about Bre.
Bre Tiessi's Job
The Selling Sunset newcomer "fell into modeling" as a teenager. "I had never in a million years even considered or thought about it," Bre explained to E! in June 2022. "I actually started dating somebody and he was in the industry. He had a show at the time, him and his family, and I was 16, and his mom was like, 'You should model,'" she recalled. "I was like, 'Oh, I don't know. I think I actually want to be a surgical technician.' And she's like, 'No! There's not enough money in that.' So she kind of introduced me to everything and then, my first modeling job, I became the spokesmodel of Rockstar Energy for two years."
Before taking on her current role as a realtor associate at The Oppenheim Group in 2022, Bre began her real estate career at Keller Williams Beverly Hills. "I wanted to transition out of modeling and start setting myself up for a long-term career," she told People. "I started taking it more seriously and tapping into my network, and that's when I started making some high-figure sales." While with Keller Williams, Bre represented NBA star Ben Simmons when he bought a $17.5 million Los Angeles mansion in July 2021.
In addition to her Body by Bre fitness program, she's also appeared on MTV's Wild 'n Out, E!'s WAGS, and VH1's Love & Listings.
Bre Tiesi's Family & Relationships
Born and raised in Calabasas, California, Bre previously said that her dad was an MMA fighter and her mom is a nutritionist. After nearly a year and a half of dating, she married former NFL quarterback Johnny Manziel in a California courthouse in March 2018. Amid accusations that the athlete cheated on her, Bre filed for divorce in December 2019. The divorce was finalized in November 2021.
On June 28, 2022, Bre welcomed son Legendary Love Cannon — her first child and Nick's eighth — via an unmedicated home birth, just six weeks before she began filming Selling Sunset. Months before she gave birth, Bre told E! that she and Nick "have a beautiful relationship," explaining, "Him and I have had our on-and-off for years. And I just respect and love who he is so much as a person, that when I thought about, 'Do I want my son to be this person? Look at your characteristics, look at your personality, look at how you treat people...' That's what is so much more important to me than anything. And he treats me amazing, so that's all I look at."
On Selling Sunset, Bre described Nick, whom she met at a Wild 'N Out taping, as her "baby daddy and best friend," and also insisted she's not sweating the haters — Chelsea included. "I'm going to do what works for me, and I don't really care what anyone else thinks about it," she said, characterizing her situation as an "open relationship." In her August 2022 People interview, Bre also noted that she won't "necessarily hide [Legendary] from anything" either. "It is what it is between his dad and I," she added. "He's still obviously so little, so I will protect him from the majority of it for a little while."
Bre Tiesi's Instagram
In her Netflix debut, Bre insisted she's "not just some girl in L.A. who's looking cute posting on Instagram," but she still gives her social media channels plenty of attention. In addition to producing fitness content and running a separate real estate page, as well as Legendary's Instagram account, she also dabbles in comedy with various TikTok sketches and dance and lip-sync videos. Her Selling Sunset castmates even get in on the fun sometimes, too. Bre has also partnered with brands such as Ciroc, Revolve, Postmates, Ethika, and Kevin Hart's Vita Hustle supplement company, among others.
Bre frequently praises Nick's parenting and shares glimpses of their life together. When she turned 32 on May 4, he even sent her a Lamborghini as a birthday gift. "I was firm in not celebrating this year, but daddy had other plans, even from Ireland ... I still can't believe what I woke up to!!!" she captioned a May 5 post, tagging Nick. "I have no words. I had to just sit here and stare at it, and cry with [Legendary]. You go above and beyond! We love you so much!!! If I didn't already feel like a bad bitch, I definitely do now!"
In the comments section, Nick replied, "Happy Born Day my love! You deserve it all and more!!! Lamborghini looks fly on you!! Now just be careful!!!"