Brianna Revealed Why The Bachelor Premiere Was Tougher For Her Than You Saw On TV
The 24-year-old beauty brand owner explained what really happened on a recent podcast.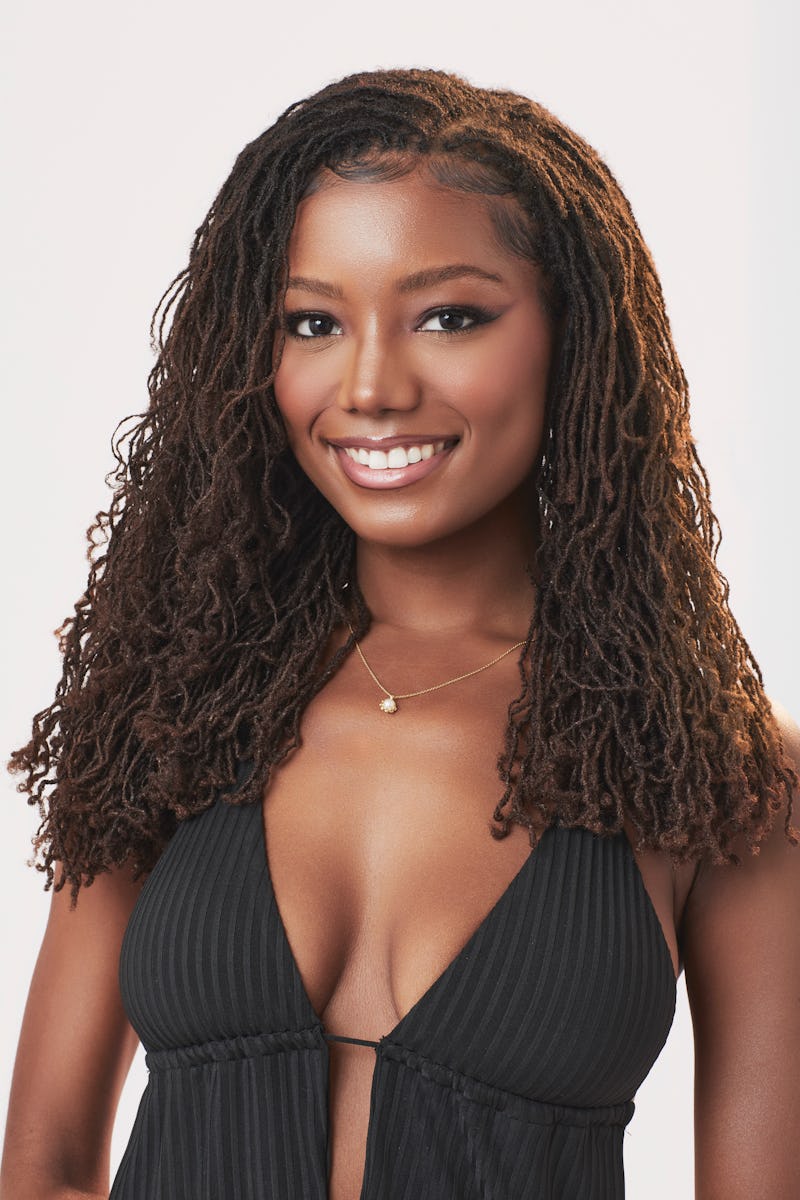 Ricky Middlesworth/Disney General Entertainment Content/Getty Images
Just in case Bachelor Zach Shallcross didn't have a photographic memory, Season 27 contestant Brianna Thorbourne brought a Polaroid camera to their first meeting and snapped a selfie for him to keep in his pocket. As one of the five women Zach met during The Bachelorette's After the Final Rose special in September, her bold move paid off, earning her the inaugural America's First Impression Rose over castmates Christina Mandrell, Brooklyn Willie, Bailey Brown, and Kat Wong. Though the newly announced lead didn't choose Brianna himself, he told Entertainment Tonight afterward that the gesture was "very smooth" and that viewers "absolutely" made the right choice.
Still, Zach's first rose of the season didn't exactly end up being the prize Brianna thought it would be. Entering the mansion on Night 1, she realized that the win put a target on her back before she even walked through the door. "Having to come in with a rose and not only have it, but walk around with it all night, I know that that can be kind of an anxiety point for other people," the 24-year-old from Jersey City, New Jersey, explained on the Bachelor Happy Hour podcast. So she tried to make her rose as inconspicuous as possible so the other women didn't think she was "showing it off."
Because she already had a rose, Brianna said several of the women didn't think she needed one-on-one time with Zach, though she'd only met him briefly on ATFR. One thing she said fans didn't see on TV was that some of the women even tried to physically block her from approaching him. "I think what people didn't understand about the situation was that, despite the fact that, yes, I am "safe," this is also my first opportunity to get to know Zach as well," she told co-hosts Michelle Young and Becca Kufrin. "So it was really tough for me because all night I was getting comments like, 'Oh, you don't need to talk to him, you're safe,' or, like, 'Oh, why'd you come wearing that dress? . . . You could have worn sweatpants.' I'm like, no, guys, I'm here for the same experience as you."
Nevertheless, Brianna couldn't forget that her first rose came from America, not Zach, causing her to have some lingering doubts about whether her feelings are reciprocated. As she navigates those insecurities on The Bachelor, here's everything else to know about Brianna.
Brianna's Business
While the network lists Brianna's job as "entrepreneur," her Bachelorette bio notes that she is "giving She-E-O vibes" as the owner of a successful beauty company. Indeed, Brianna is the founder of Bourne Beauty, which she launched in July 2021 "with a vision to provide a clean and empowering beauty brand, which encourages people to love and accentuate the beauty they are born with," according to the company's website. Her brand's best-selling product is an electronic makeup brush called the Beauty rEvolver. Outside of owning her business, Brianna also models under the name Brianna Kay and is represented by State Management. She's appeared in campaigns for such brands as Chlorophyll Water, Sarah Flint, Color Street, Kiss Products, and was featured in MVIBE Magazine.
Brianna's Instagram
Her official show bio mentions that the "woman of the world" once "lived in Paris for a few years growing up." In a February 2021 Instagram caption, she shared a fun fact about her experiences abroad. "The PowerPuff Girls was my favorite show as a kid growing up in Paris and it was one of the cartoons that helped me learn French," she wrote, adding, "I was also nicknamed Buttercup by my aunt."
In addition to posting makeup tutorials, she also previously shared another accomplishment: competing in the 2020 Miss New Jersey pageant. "So thankful for this moment!" she captioned a November 2019 post. "While standing among 100 beautiful, confident queens in Atlantic City at the Miss New Jersey 2020 pageant, I heard my name selected for the top 20. I took another step forward towards fulfilling one of my dreams . . . It was a magical moment!"
Brianna's Bachelor Spoilers
Spoilers ahead! According to Reality Steve, Brianna self-eliminates ahead of Season 27's third rose ceremony, citing Christina as the apparent "ring leader" behind the drama leading her to make that decision. The historically spot-on Bachelor blogger reported that Christina was "sort of the instigator" at a pre-rose-ceremony pool party and was "telling Brianna that the first impression rose she got was from America (at the live ATFR), and not from Zach." This is when things escalate to the point Brianna decides to quit the show.