Bridgerton Fans Predict Dramatic Changes To The Show's Format
Reddit is convinced Season 5 will divert from the original books.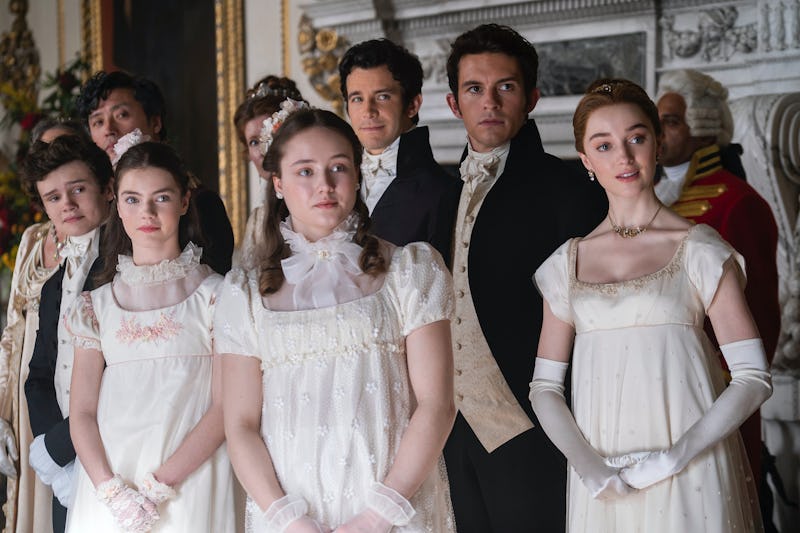 Netflix / 'Bridgerton'
As fans sit tight for the much-anticipated third chapter of Netflix's Bridgerton, many have been busy sharing predictions and theories regarding "unhinged" future storylines, Lady Whistledown's fate, potential character deaths, and more. Meanwhile, viewers have also been contemplating Bridgerton's future beyond Season 3, and one fan theory predicts some major changes to the show's current format.
On Reddit, one user shared their thoughts on how Netflix might adapt the rest of Julia Quinn's Bridgerton novel series, on which the drama is based. "I think that if Bridgerton makes it to Season 5, that series and any subsequent ones will combine the characters' love stories instead of dedicating one whole season for each sibling."
The Redditor added that, given the Bridgerton cast's increasingly busy schedules and desires to pursue other projects, the current series format will be "too hard to keep going" as it is. The user concluded: "Actors will want to move on at some point and you don't want too many leaving because the stories will be incomplete."
Other fans appear to agree with this latest theory, with one user noting that many of the main character stories "happen very close together" in the original books — meaning a combination of those in one season could be likely. "I think we will get Benedict's story in Season 4 and Eloise's story in Season 5," another fan theorized. "Then I believe the show will get canceled... I wish I could say I'm kidding, but I'm not."
However, other Bridgerton enthusiasts are confident Netflix will grant each love story from the original books their own, dedicated season.
"They are going right to the end of this series," another Redditor commented. "Netflix has no issue having a series run long if it's well-liked and well-received. Plus, the show will never have to deal with actors wanting higher pay because the leads get switched out anyway."