Fans Praise Brie Larson's Perfect" Response To Johnny Depp Question
The Oscar winner made the comments at this year's Cannes Film Festival.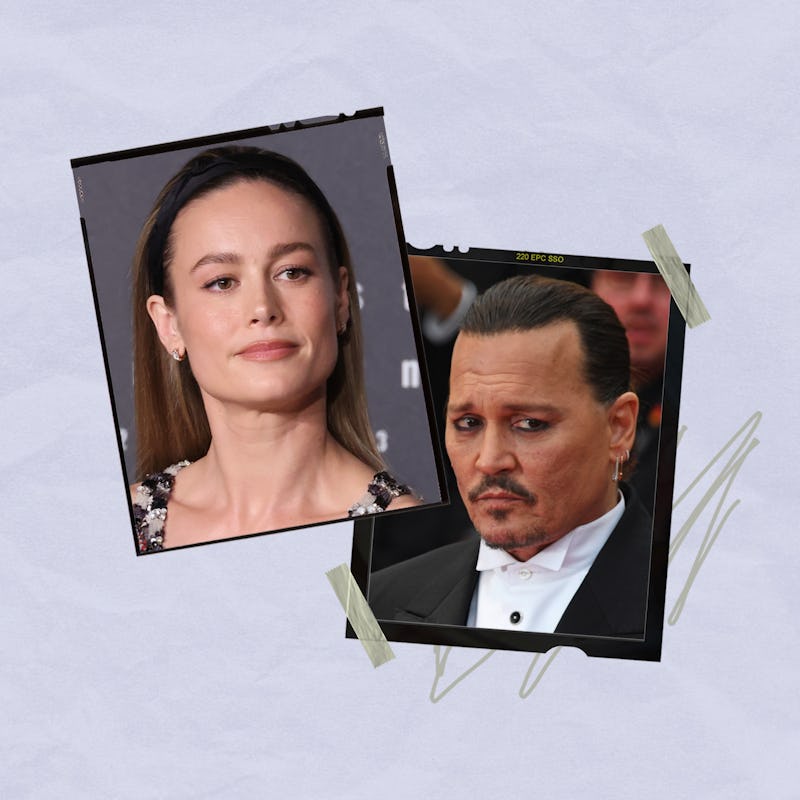 Mike Coppola/Getty Images / Jed Cullen/Dave Benett/Getty Images
Almost one year after his controversial trial with ex-wife Amber Heard, Johnny Depp's new film Jeanne Du Barry opened the 2023 Cannes Film Festival. During a panel at this year's event on May 16, Oscar winner Brie Larson was quizzed about her thoughts on Depp's presence at the 76th annual festival — and her "perfect" response is being praised by many online.
As per Deadline, Larson, who is a juror for the 2023 festival in France, was asked as an "outspoken advocate for Time's Up" how she felt about the Pirates of the Caribbean star's controversial Cannes comeback. "You're asking me that?" the actor responded. "I'm sorry, I don't understand the correlation of why me specifically."
The Room star was then asked if she had any plans to watch Depp's latest movie Jeanne Du Barry, to which she replied: "I'll see it when I see it. I don't know how I feel about it, frankly."
As mentioned, Larson's response garnered praise from many fans on social media, some of whom claimed that, although the actor has "been vocal about misogyny in Hollywood" in the past, the reporter's question was intended as a "gotcha" moment.
Another fan described Larson's response as the "perfect answer to an unnecessary question," while one user also commented: "Say what you want about Brie, but that was the right response to have given the circumstances."
As Deadline notes, Larson wasn't the only attendee to be asked about Depp's appearance at this year's event — during which his first leading role in three years received a seven-minute standing ovation. Speaking at another press conference, festival director Thierry Fremaux told reporters that he doesn't know "about the image of Johnny Depp in the U.S."
"In my life, I only have one rule: it's the freedom of thinking, and the freedom of speech and act within a legal framework," he added. "If there is one person in the world who is not interested in this very mediatized process, it's me. I am interested in Johnny Depp as an actor."
As mentioned, Depp's appearance at this year's Cannes Film Festival comes almost a year after he won $15 million in damages for his libel lawsuit in the high-profile defamation case against his ex-wife Heard. In December 2022, Heard revealed via Instagram that she had reached a settlement in the defamation lawsuit with her ex-husband, but maintained her innocence. "I have made no admission. This is not an act of concession," she wrote in a statement.