Where Are Andrew & Tracy Riddel From Britain's Tiger Kings Now?
The couple feature alongside Ross Kemp in ITV's big cat documentary.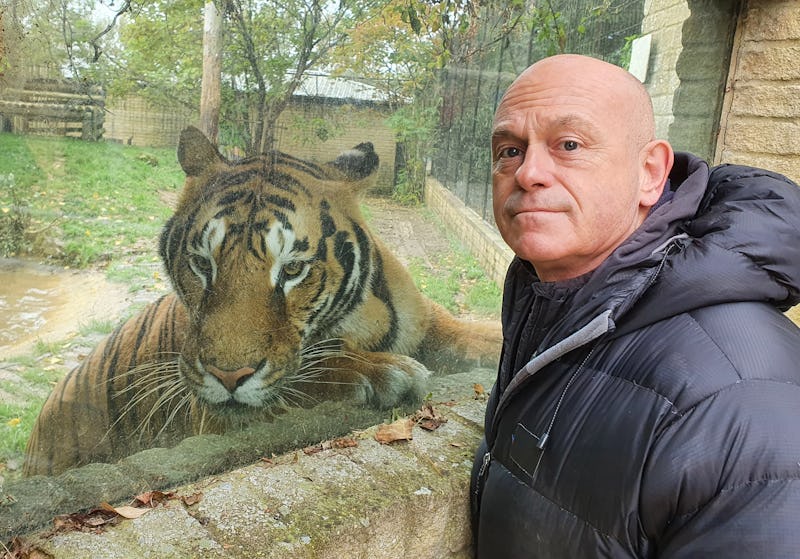 ITV
Back in 2020, Netflix's Tiger King took the world by storm, and quickly became the streaming obsession of many during the early days of lockdown. The docuseries centred on the eccentric zookeeper Joe Exotic, and delved into the controversial world of big cat ownership in the U.S.. However, there are plenty of fascinating Joe Exotic equivalents here in the UK, too – including Andrew and Tracy Riddel from Lincolnshire, who star in ITV's brand new documentary Britain's Tiger Kings: On The Trail With Ross Kemp. So, where are Andrew and Tracy Riddel from Britain's Tiger Kings now?
Per Radio Times, Andrew and Tracy Riddel are the owners and founders of the Wolds Wildlife Park in Lincolnshire, which is home to around 200 wild animals including monkeys, lions, emus, bears, wild cats, and more. The couple's love for animals stepped up a notch in 2013 when Andrew gifted Tracy her very own zebra for her birthday. The Riddel's later transformed their own home into a wildlife park that can now be visited by the public.
The Wolds Wildlife Park first opened its doors to visitors back in 2018. However, speaking previously to Lincolnshire Live, Tracy made clear the mission of the park is not to make a profit. "The animals are part of our family... It's not a money-making project." She continued, "It's a passion of both of ours to keep animals. It's for our own enjoyment."
As of 2021, the Riddels' Wolds Wildlife Park is still very much in operation, and currently taking bookings for a grand post-lockdown reopening on April 12.
As mentioned, the couple feature in ITV's brand new two-part documentary Britain's Tiger Kings: On The Trail With Ross Kemp. The series follows former Eastenders bad boy and award-winning documentary maker Ross Kemp as he meets with big cat owners across the UK, and investigates whether or not the private acquisition of wild animals is really in the best interests of the animals themselves.
In a recent Instagram post, Andrew and Tracy Riddel shared a statement regarding their appearance on the ITV docuseries. "We are fully confident in the standard of animal welfare we provide, and feel we have nothing to hide so decided to go ahead with the documentary." The post continued, "We hope the love and care Tracy and Andrew have for these animals shows in the documentary."
Britain's Tiger Kings: On The Trail With Ross Kemp begins on Tuesday, March 30 at 9 p.m. on ITV.