Britney Spears Recalls Being "Scared" About Her Iconic VMAs Performance
The singer promised to give more details in her upcoming memoir The Woman In Me.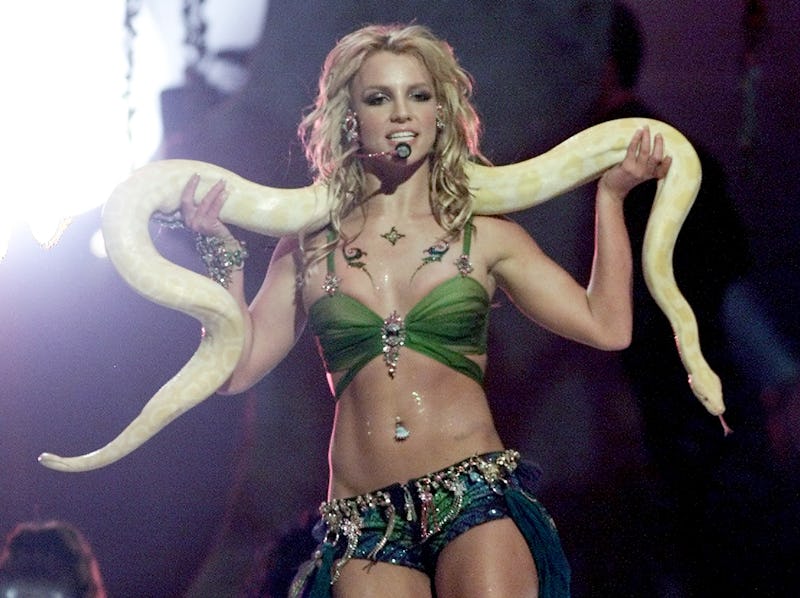 TIMOTHY A. CLARY/AFP/Getty Images
Britney Spears is looking back at one of the most jaw-dropping moments of her career over two decades later. On Sept. 6, the Grammy winner shared a clip from her iconic performance at the 2001 MTV Video Music Awards on Instagram, in which she performed her hit "I'm A Slave 4 U" with some very special guests, most notably a python.
Spears began her performance in a cage, surrounded by actual lions and tigers. However, the scariest moment came when she wrapped a 7-foot python (who she named Banana) around her neck and continued to strut around the catwalk, even letting some of the audience members touch him. The singer expressed feelings of both excitement and fear looking back on the risky moment. "One of my favorite performances was with an albino python 😳🐍💃🏼," she wrote. "I still remember how scared I felt when I was handed this snake and took the stage !!!"
Spears teased that she'll be opening up further about her most memorable performances, including the snake, in her upcoming memoir. "I talked more about this performance and other favorites in my book #TheWomanInMe," she added. "I can't wait for you to read it on October 24th." The clip ends with her book cover cleverly wrapped with the python, telling fans they can pre-order it now.
In 2016, Spears joked about the VMAs performance 15 years after it happened, shaking her head and calling the stunt "so dumb" in an interview with E!. "Oh, goodness. It's insane. Why did I do that?" she wondered. Needless to say, she's not open to an encore. "Hell no," she said when asked if she'd ever do it again. "No. Never."
The superstar's first memoir was first teased back in February 2022, when it was reported that she signed a "record-breaking" book deal with Simon & Schuster worth upwards of $15 million, making it "one of the biggest of all time, behind the Obamas." Spears officially announced The Woman In Me in July, with a press release calling it "a brave and astonishingly moving story about freedom, fame, motherhood, survival, faith, and hope." The 2001 VMAs will be just a small part of the book, which is expected to cover her entire life and career, most notably her controversial 13-year conservatorship that she fought to end in court, which happened in November 2021.