The New Class
They're starring in your favorite Netflix show (or three). They're doing game-changing work behind the scenes. You won't be forgetting them anytime soon.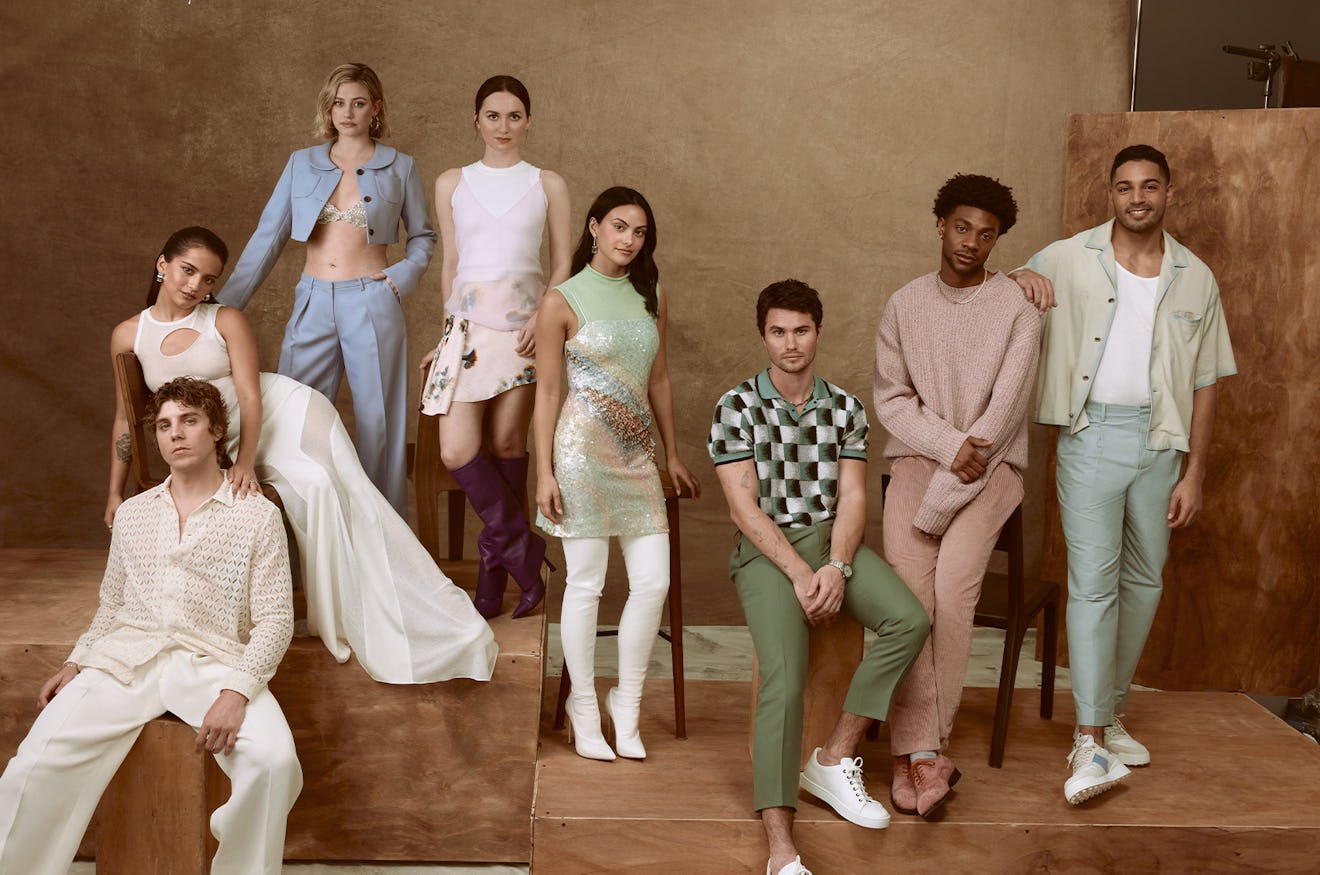 Hollywood is back, baby! After two years of straight-to-streaming film releases and socially distanced premieres, the blockbuster has returned — and so has the box office. Thanks to movies like Top Gun: Maverick, Black Panther: Wakanda Forever, and Doctor Strange in the Multiverse of Madness, the box office's earnings rose 70% from the prior year, and 2023 shows no signs of slowing down. Especially with movies like Barbie, John Wick: Chapter 4, and Mission Impossible: Dead Reckoning Part One on the horizon.
But here at Bustle, it's not the films (or television shows) that we're most excited for in 2023. It's this generation's energizing, electrifying young stars who have caught our attention — and that of Armani Beauty, too. Launching today, the brand's new cohort of ambassadors represent a bold and thoughtful collective of Hollywood trailblazers. Aptly titled "Gen A," there's Maude Apatow, the breakout of Euphoria's much-lauded second season, together with Camila Mendes and Lili Reinhart, who after six seasons of Riverdale will say goodbye to their beloved characters later this year. Then there's Isabela Merced, the 21-year-old starring in the long-awaited adaptation of John Green's Turtles All The Way Down, and Lukas Gage, a fellow Euphoria star, who will premiere Down Low — the film he both co-wrote and starred in — at this year's South by Southwest festival. Finally, there's Outer Banks' fan favorites Chase Stokes and Jonathan Daviss, and All American heartthrob Michael Evans Behling.
Below, get to know more about these rising Hollywood stars.
Maude Apatow, 25
Though Maude Apatow has been in the public eye ever since appearing in her father Judd Apatow's blockbuster Knocked Up, it's her work on HBO's Euphoria that has cemented her place in front of the camera. Starring as Lexi Howard — the straight-laced younger sister of Sydney Sweeney's Cassie and the opposites-attract love interest to Angus Cloud's Fezco — fans have come to covet everything from Apatow's nostalgic-preppy on-screen looks to her bold lips and winged eyeliner. "I remember the first time I wore mascara. My mom put it on me for Halloween. I was the bride of Frankenstein," Apatow recalls. "I must have been really young, I'd never worn it and didn't wear it again for years." She's made up for lost time since, and this month will step to center stage as Audrey in the off-Broadway revival of Little Shop of Horrors.
Lukas Gage, 27
Lukas Gage knows how to steal a scene, whether he's getting beaten up by Jacob Elordi's Nate Jacobs in Euphoria, having his salad tossed by Murray Bartlett's disgruntled hotel manager in The White Lotus, or going toe-to-toe with Penn Badgley's Joe Goldberg on the new season of You. But in 2023, Gage is ready to step into a new role entirely: multihyphenate. At South by Southwest, he will premiere the film Down Low, the story of a repressed gay man and the masseuse who gives him a happy ending, a picture he co-wrote with Euphoria producer Phoebe Fisher and stars in alongside Zachary Quinto. Outside of work, Gage is focused on his more irreverent interests when considering what's "in" for the year ahead. "[The Real Housewives of New York City] Alex McCord, professional framing, [and] coffee coolattas," he says. And for what's "out?" "Quarter-zip sweaters, cardamom, real estate agents." Plus: "In and out lists."
Chase Stokes, 30
As the sun-kissed leading man John B. in the Netflix series Outer Banks, Chase Stokes is already well acquainted with being a heartthrob to hordes of fans. And when Season 3 drops on Feb. 23, they should expect things to get even more emotional. "John B. always is on a journey, but I think that this year in particular, the journey itself is going to be one that touches a lot of people," Stokes teases. Outer Banks Season 3 isn't the only Netflix project Stokes has in the works. He'll also be starring in the upcoming adaptation of the popular dystopian YA novel Uglies. As for how he plans to keep himself sane while balancing everything? "More time with my therapist, honestly."
Camila Mendes, 28
After seven seasons, Camila Mendes' long-running show Riverdale is set to come to an end this summer — but while fans will have to say goodbye to Veronica Lodge, Mendes isn't going anywhere. The actor has been building a film career on the side, recently starring in Netflix's teen comedy Do Revenge and Hulu's time-loop rom-com Palm Springs. Next, she'll appear in Rudy Mancuso's Música, a coming-of-age film about a young man with a love of music.
Isabela Merced, 21
Singer and actor Isabela Merced may only be 21, but she's wise beyond her years — maybe because she's already been in the business for a decade, starting out as a Nickelodeon star on 100 Things to Do Before High School before pivoting to film, landing roles in this year's Rosaline, Marvel's upcoming Madame Web, and the long-awaited adaptation of John Green's Turtles All The Way Down. "I've stopped making as many excuses and taking responsibility for my participation in any toxic relationships in my life," Merced says. This year, she also vows to ignore trends — particularly with regard to "the whole skinny girl era allegedly coming back," she says. "I just don't think that that is healthy and I'm going out of my way to take care of myself … No matter what, you'll never be able to keep up with the trends, so why bother?"
Lili Reinhart, 26
Though she may be best known for playing iconic good girl Betty Cooper on The CW's Riverdale, Lili Reinhart always has multiple projects cooking. From appearing in the 2019 drama Hustlers, to snagging a production deal with Amazon, to releasing a book of poetry and being an outspoken advocate for mental health and body positivity, keeping busy via multiple creative outlets is simply what Reinhart does. So as she prepares to close a chapter when Riverdale's seventh and final season airs this spring, there's no doubt we'll be hearing from her soon.
Michael Evans Behling, 26
Sports were Michael Evans Behling's first love, and even after he left his track and field days at Indiana State University behind to pursue acting, he still finds plenty of time to be active. "My cleats stay in my car," the actor says of his hobby. "I'm always ready." Of course, it helps that his current gig — starring on The CW's football-centric hit All American — keeps him close to his roots. As the series finishes its fifth season, Behling says that fans can expect his character, Jordan Baker, to grow a lot in Season 6, stepping into a new role and doing his best to "bolster the people around him, the family."
Jonathan Daviss, 23
Between Outer Banks and the dark comedy Do Revenge, Jonathan Daviss is carving out a niche for himself in the Netflix extended universe of teen shows and movies. Like his smart and sensible Outer Banks character Pope Hayward, Daviss' goals for his next year in Hollywood are results-driven. "For 2023, completion. More finishing things," he vows. But what he does next is anybody's guess, and that's on purpose: He's particularly inspired by LaKeith Stanfield's unpredictable personal style and career trajectory. "I like the idea of doing your own thing. Even if it's weird and doesn't seem like it's going to work at first. There's always a way to make something work."
Photographer: Austin Hargrave
Stylists: Tiffany Reid & EJ Briones
Set Designer: Kelly Fondry
Talent Bookings: Special Projects
Video: Samuel Schultz, Samuel Miron
Director: Alex Pollack
SVP Fashion: Tiffany Reid
SVP Creative: Karen Hibbert
Top Image, from left to right:
Lukas Gage
Groomer: Mira Chai Hyde for Armani Beauty
Manicurist: Zola
Isabela Merced
Hair: Sami Knight
Makeup: Allan Avendaño for Armani Beauty
Manicurist: Zola
Lili Reinhart
Hair: Ericka Verrett
Makeup: Emily Cheng for Armani Beauty
Manicurist: Erin Moffett
Maude Apatow
Hair: Jenny Cho
Makeup: Melanie Inglessis for Armani Beauty
Manicurists: Olivia de Montagnac, Erin Moffett
Camila Mendes
Hair: Owen Gould
Makeup: Carolina Gonzalez for Armani Beauty
Manicurist: Thuy Nguyen
Chase Stokes
Groomer: Marissa Machado for Armani Beauty
Manicurist: Erin Moffett
Jonathan Daviss
Groomer: Christine Nelli for Armani Beauty
Manicurist: Erin Moffett
Michael Evans Behling
Hair: Eric Gonzalez
Makeup: Kelly Cappocia for Armani Beauty
Manicurist: Erin Moffett