That '90s Show Star Callie Haverda Got Advice From Mila Kunis & Ashton Kutcher
The actor leads a new teen cast in Netflix's spinoff of That '70s Show.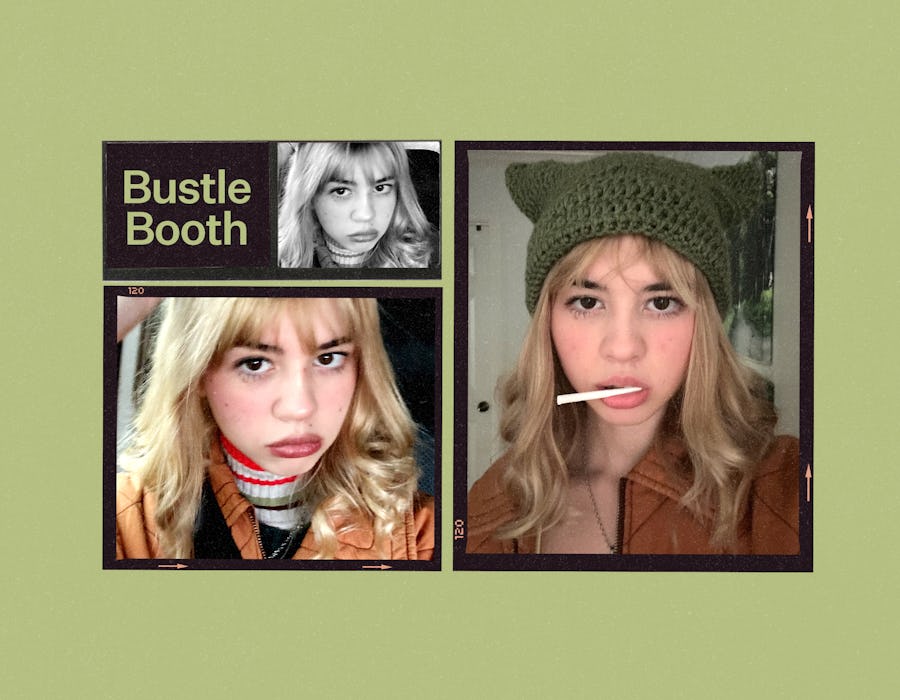 When Callie Haverda was six years old, the Austin, Texas native had her very first audition for a Ryan Reynolds movie. She sent in a self-tape, and then her mom drove her to Louisiana when she was invited for a callback. "I didn't end up booking it, but it was then that I realized how much hard work it was," she tells Bustle. "I realized that even though this is a really difficult thing that I'm going to have to do, I still wanted to do it."
That early rejection didn't deter Haverda: The 15-year-old actor has racked up nearly a dozen credits since alongside stars like Josh Duhamel and Isabella Rossellini. Now, Haverda is poised for a breakout moment in Hollywood, starring as Leia Forman in Netflix's That '90s Show, a spinoff of the classic Fox sitcom That '70s Show. As the daughter of Eric Forman (Topher Grace) and Donna Pinciotti (Laura Prepon), it's Haverda's character Leia who is the conduit to a whole new generation of Wisconsin teens, whom she meets while spending the summer with grandparents Kitty (Debra Jo Rupp) and Red (Kurtwood Smith) in Point Place in 1995.
Carrying on the legacy of a beloved series isn't easy, but Haverda has leaned on her TV parents Grace and Prepon, as well as OG stars Ashton Kutcher, Mila Kunis, and Wilmer Valderrama, for advice on how to navigate teen stardom. "I remember Mila and Ashton were specifically talking about how we, as a cast, all really need to love each other, and if we have problems, to be honest about them and talk about it, because that's what helped them with the original show," Haverda recalls. "If you don't just live in the moment and enjoy it right now, it could be over before your eyes."
On-screen, Haverda didn't need much guidance to channel her inner Leia. "When I was reading the character description, it literally sounded like I was reading about myself," she says. "She has such dry humor. She's a very snarky person, but she's also pretty awkward and trying to find herself, which I could totally relate to."
Naturally, the teen has some ideas for where she'd like to see her character go next — and how she might navigate that finale love triangle with Jay (Mace Coronel) and Nate (Maxwell Acee Donovan). So is she Team Jay or Team Nate? "If I had to choose, I'd say Team Nate, because I want to see what type of relationship they'd have. But I also feel bad for Nikki," she says. In a feel-good show like this one, she wouldn't want there to be bad blood between Leia and her friends. "I don't want to ruin that friendship."
Get to know more about Haverda — including her Taylor Swift karaoke song of choice — in her Bustle Booth questionnaire below.
In The Bustle Booth
What's your coffee order?
Salted caramel cream cold brew with an extra pump of caramel
What are the saved weather locations on your phone?
Burbank, Los Angeles, Austin, Park City (I'm going for Sundance!), Puntarenas, and Madrid
What's your sign?
Pisces
Favorite overused movie quote?
"Do or do not, there is no try." —Yoda
What was your favorite cartoon as a kid?
Max & Ruby when I was a baby, but I grew up with Adventure Time, Totally Spies!, and Scooby-Doo.
What's one movie or TV show you're currently obsessed with?
I just saw Babylon and can't stop listening to the score; I need to go see it again!
Who is your celeb idol?
Anya Taylor-Joy, but Brittany Murphy is also a huge inspiration.
If you had to be on a reality TV show, what would it be?
My mom and I have been watching a lot of shows like Buying Beverly Hills and Selling Sunset (I grew up with HGTV), and we also love to just go look at open houses on Sundays. So one of those I'd be a perfect fit for. I love houses.
Go-to karaoke song?
Anything by Taylor Swift, like "Love Story," or something from the Tangled soundtrack
What's something that's inspiring you lately?
I think ingesting media I'd like to put out in the world always inspires me. I recently was gifted The Little Friend by Donna Tartt and reading that inspires me to write more. Also reading poems and watching films inspires me.
What is something you would want people to say about you?
I think for friends and strangers alike, I'd want people to say that I make them feel comfortable with the things we do and talk about.