At 14, Caroline Calloway Sent A Very Embarrassing Email
The internet personality reflects on her first two years of high school — a period she "redacted" from her memoir, Scammer.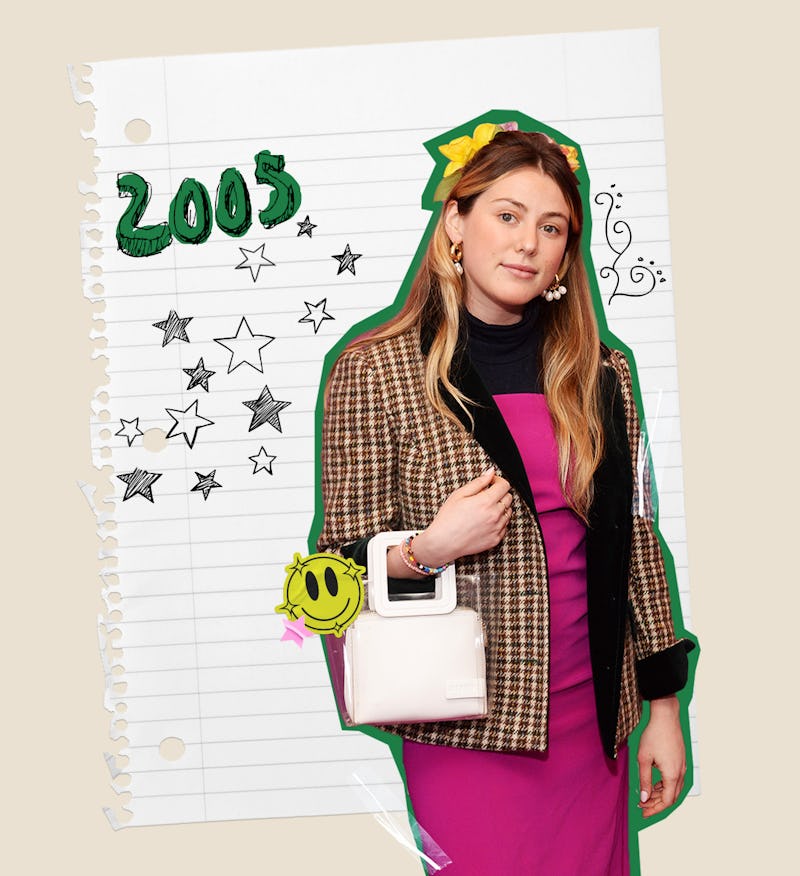 Caroline Wurtzel/Bustle; Noam Galai / Stringer / Getty Images
Caroline Calloway is many things — an influencer-enfant terrible, an erstwhile OnlyFans star, and, depending on who you ask, a scam artist — but the title that fits her best is "confessionalist": one who lays herself bare everywhere from her lengthy Instagram captions to the pages of her much-lauded, self-published memoir, Scammer. Still, even the woman who opened her book by writing, "I f*ck to be f*cked over. I've never had an orgasm, but I fake them all the time," has some limitations on what she's comfortable sharing, and Calloway has thus far kept the details of her early teen years close to the vest. "It's incredibly redacted from Scammer," Calloway tells Bustle of her life at her high school at age 14, circa 2003. "I was so deeply bullied there, and it just made me truly the worst version of myself."
Calloway describes the period as a time of deep insecurity, which saw her try to blend in with her "deep Southern peers" by wearing Lilly Pulitzer sundresses with cowboy boots. But underneath the preppy facade was still the same imaginative, flight of fancy-prone Calloway the internet would later come to both revile and revere. "I had a million journals that were started and never finished. I'd make elaborate scrapbooks for friends' birthdays or write these really flowery emails between classes," says Calloway, now 31. And so what if she struggled to channel this penchant for letters into her school assignments? "In the same way that my writing on Instagram supplemented my [absence of formal] writing education as I got older, I always felt like I overwrote in unconventional ways to supplement my lack of writing [for school]."
At the time, Calloway's singular sensibility didn't always jive with her peers (especially after she accidentally sent a love letter to an upperclassman boy, but more on that later). Now, however, she sees it as a superpower. "It's that same eye for noticing romantic details and writing them down that made [me] successful doing the whole Cambridge fairytale thing," she says, referring to the first iteration of her Instagram persona. "Using those skills later on would be what brought me to my first wave of viral internet fame." Along with all the other good, bad, and ugly waves that were to come.
Below, Calloway reflects on getting her braces removed, loving Artemis Fowl, and what her 14-year-old self would think of her now.
Take me back to 2005, when you were 14. How were you feeling about life?
On one hand Episcopal High School was very much a fresh start for me. I had been at the same school from first grade through eighth, and everyone there knew me as the girl with no kneecaps because I had so many leg problems over the years. [Editor's note: Calloway had a double patellectomy at 8 years old.] When I got to Episcopal, not only was I finally starting a school where no one had seen me with casts, but I'd just gotten my braces off. So I very much felt like the lead in every politically incorrect '90s high school movie where she takes off the glasses and suddenly she's pretty. I was like, "It's all going to happen for me!"
Then I wasn't the only person from my elementary school who went to Episcopal, and they definitely told people about my casts. But I also didn't know enough about how to fit in to hide it. It never occurred to me that people who hadn't seen my casts, my crutches, and that one time I had a wheelchair would [think it was] such a freaky fact. I sort of thought if it was just a fact in the air, it wouldn't stick so hard, because how could it? But the answer is it could, and it stuck.
Were you ultimately able to make friends at the school?
Well, one of the most embarrassing things happened to me when I was 14. Email was really big at the school, and people would use it almost like Instant Messenger. I wrote this e-mail where I described, in loving detail, [to borrow that] phrase Olivia Rodrigo uses in her new album, "Some weird, second-string loser who's not worth mentioning." I described the crush I had on him and how I liked the way he rolled up his sleeves of his pastel-colored button-down and how sexy his forearms looked. Then I typed in my friend's last name, spelled it wrong, and I sent it to a random upperclassman boy. I was ridiculed for this.
Over the years, you've opened up about the many difficulties in your home life — particularly in regard to your father's depression, which would later lead to his death by suicide. How aware were you at the time that things weren't "normal"?
It was more like the little things that I would notice at boarding school. For example, something that blew my mind were people's T-shirt collections. These girls just had all these f*cking T-shirts from extracurricular activities that they did, vintage T-shirts from their parents' 5Ks that they ran, or their parents' sororities. They had this rich life communicated in T-shirt merch, but I only had the fitted cotton T-shirts that you can buy at Target because we didn't run 5Ks, we didn't have family traditions, I wasn't part of teams. It's not even like my parents wouldn't let me do extracurricular things, they just didn't suggest it because they didn't do it themselves, and I was a child so I didn't know to enroll myself in these things. I felt like a first-generation immigrant to having friends.
In Scammer you detail your love for "pulpy books." What were you reading at the time?
First and foremost, Artemis Fowl. I would've done unspeakable things to have had a YA novel with a young girl evil mastermind, but I had to settle for a castle in Ireland with fairies. I really loved the Ender's Shadow series, which is more like sci-fi. I'm just getting into Percy Jackson now as a 31-year-old. My 14-year-old self would've loved Percy Jackson.
What were you like in English class?
It was very hard for teachers to like me, because I was always late to class. I often didn't finish assignments or turn them in on time. To make it even more fraught between me and the English teachers, I think they saw a potential in me and they felt like I was squandering it.
But here's what I know for sure. I thought that I was incredibly gifted at English and I thought that I would be a famous writer someday. The confidence in my own English abilities was off the charts.
Where does that undercurrent of confidence come from?
It's less confidence, and I would describe it more as a sense of purpose. I just feel this deep conviction that the greatest way that I will ever be of service to society is through making books.
What would your 14-year-old self think about how your life turned out?
Well, it depends. If she accidentally got off the time machine too early in 2019, I think she might actually have a g*d*mn panic attack. But turned out in 2023? She'd be ecstatic.
This interview has been edited and condensed for clarity.