Inside The Wild World Of Hollywood's Serial Daters
A guide to Tinseltown's most infamous monogamists and their many, many paramours.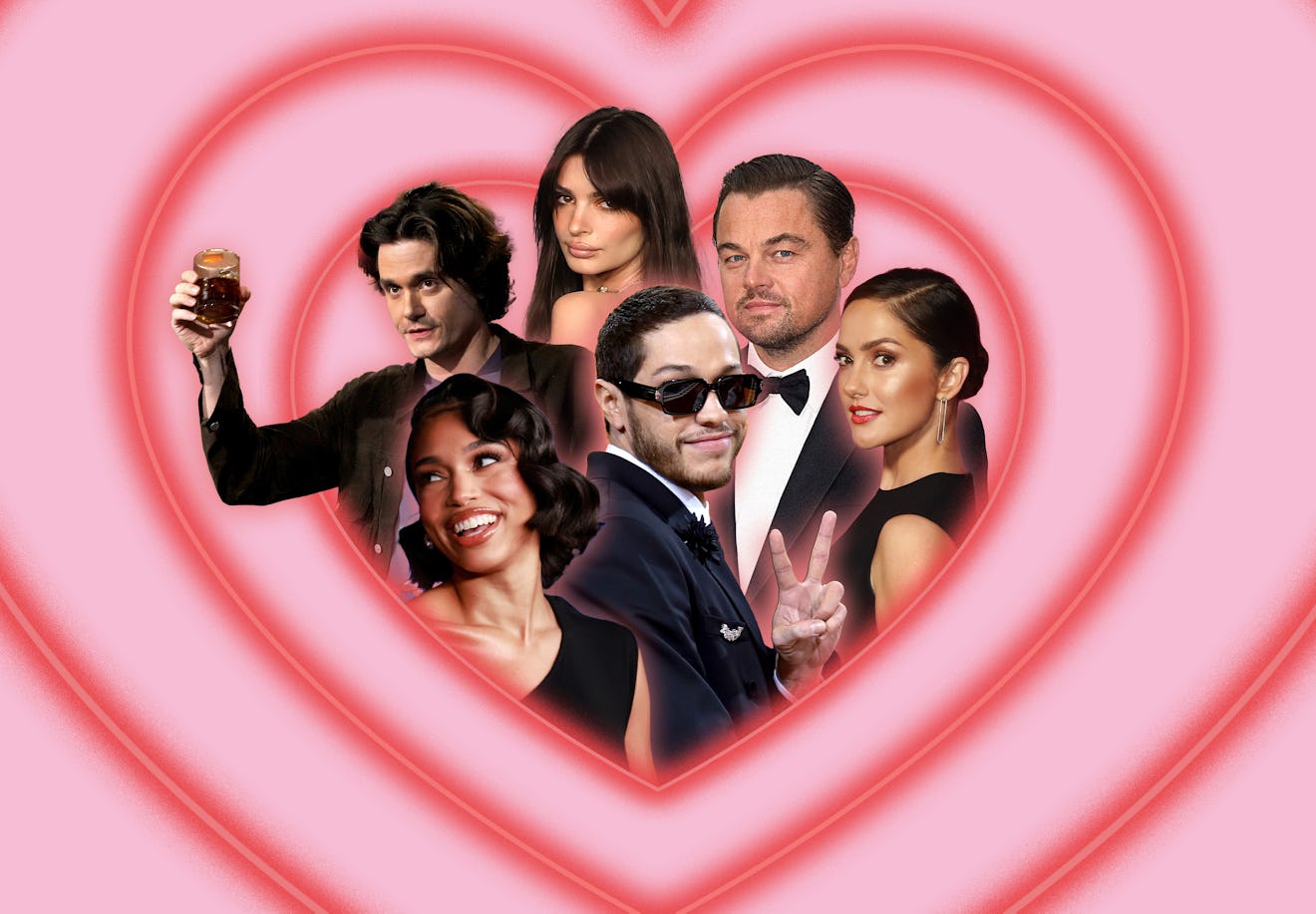 Caroline Wurtzel / Bustle; Leon Bennett/Stringer, Jeff Kravitz, Bravo, Michael Tran, Dimitrios Kambouris, Taylor Hill / Getty Images
While most stars profess a desire to keep their personal life private, a special few have no problem going pap-walk official with a new love every few months. Whether it's Pete Davidson publicly making out with Kate Beckinsale, Margaret Qualley, and Kaia Gerber all in the same year, or Emily Ratajkowski testing out a new fling nearly every two weeks since her divorce (including Pete), these celebrities keep the tabloids running, and we must salute them for their service.
Maybe they're going public at a Knicks game — the preferred "hard launch" spot of many a New York celeb — or TMZ cameras just so happen to catch them walking arm-in-arm with a new love in their "private" neighborhood, like Minka Kelly and her new BF, the guy from Imagine Dragons. Either way, Hollywood's serial daters are always available to share their romantic encounters with their fans, even if they pretend they don't really want to by wearing baseball caps pulled over their eyes in public. (Looking at you, Leonardo DiCaprio.) In case you missed some of their (very special) boyfriends and girlfriends over the years, we have compiled them for the official record.
Emily Ratajkowski: The Newly Single One
The 31-year-old model and author is new to the world of serial dating, but she's making up for lost time. After separating from her movie producer husband Sebastian Bear-McClard last fall, Ratajkowski has been photographed making out with the DJ Orazio Rispo and the artist Jack Greer (at separate times, of course). She also maybe briefly "dated" Pete Davidson (they were spotted hanging out at his Brooklyn apartment on his birthday), and she was rumored to be canoodling with Brad Pitt. (Pitt has also become a serial dater in the wake of his divorce from Angelina Jolie, but most of his "relationships" seem to be more about positive PR than true love.) Most recently, she has been spotted nuzzling noses with the comedian Eric Andre; he posted their nudie pics to Instagram on Valentine's Day. It's possible, however, that Ratajkowski is already on to the next: Last week, she posted a TikTok asking, "What should you do when a situationship ends?"
Pete Davidson: The Millennial David Spade
In addition to attending Knicks games with Ratajkowski, Davidson, 28, has proudly pap-walked with several pop stars, models, and actresses in recent years. He is, essentially, the millennial David Spade. (In case you forgot, Spade had a crazy run in the early 2000s: Heather Locklear, Carmen Electra, Pamela Anderson… the list goes on.) Davidson started his public romantic career in 2015, dating the comedian Carly Aquilino and Larry David's eldest daughter Cazzie David in quick succession. Then he got engaged to Ariana Grande, and when that ended, he dated Kate Beckinsale, Margaret Qualley, Kaia Gerber, Phoebe Dynevor, and Kim Kardashian (in that order). Apparently he's got a thing against blondes. Lately, he's been spotted making out with his Bodies Bodies Bodies co-star Chase Sui Wonders, but I have to assume he's not ready to settle down yet.
Lori Harvey: The Low-Key Serial Girlfriend
The 26-year-old model and daughter of Steve Harvey recently went public with her new boyfriend, the British actor Damson Idris. Before that, she was linked to Michael B. Jordan, Future, Trey Songz, and the soccer player Memphis Depay. There is also a long-simmering rumor that she dated both Diddy and his son Justin Combs, but she recently denied it, as you do. Even though she's been linked to some of the biggest names in the business, she is surprisingly low-key when it comes to the media. Last week, after fans accused her of having "no chemistry" with Idris in photos from his TV premiere, she commented, "Or maybe I just had on body makeup and told him don't stand too close to me because I didn't want to get it on his suit lol."
John Mayer: The One Who Cries to TMZ
Though the 45-year-old musician has been a bit more subtle about his dating life in recent years, he had an incredible run of tabloid-friendly relationships in the 2000s. He dated Jennifer Love Hewitt, Jessica Simpson (please read her memoir Open Book for crucial context on that relationship), Minka Kelly, Jennifer Aniston, Taylor Swift, and Katy Perry. Back in the Aniston days, he was known for walking right up to TMZ cameras to discuss their relationship issues. These days, Mayer is slightly more reserved, but he's been rumored to be dating the 23-year-old actress Kiernan Shipka on and off for the last two years. Hopefully, he'll philosophize about that on Instagram Live soon, just for old times' sake.
Minka Kelly: The Under-the-Radar One
Yes, Kelly briefly dated Mayer in the mid-2000s, but he is just one of her many famous ex-boyfriends. The 42-year-old actress has dated Brian White, Donald Faison, Chris Evans (twice!), Derek Jeter, Wilmer Valderrama (even though he dated her supposed best friend Mandy Moore first), Josh Radnor, Jesse Williams, and Trever Noah. In November, she went public with yet another BF, the recently divorced lead singer of Imagine Dragons, Dan Reynolds. (I would have gone back to Evans for a third time.) Despite the fact that she has dated all these guys, she rarely discusses her personal life and her dating history tends to fly under the radar. Personally, I'm really looking forward to her memoir out in May — hopefully she'll explain what really went down with Valderrama and Moore.
Leonardo DiCaprio: The Mid-2000s Original
This guide would not be complete without mentioning Hollywood's premier serial monogamist. DiCaprio, 48, has gone public with a new model girlfriend about once a year since the mid-2000s, and as many have noted, even though he gets older, the girls stay the same age. His romantic partners, in order: Gisele Bundchen, Bar Refaeli, Anne V, Blake Lively (please note their relationship involved dolls), Erin Heatherton, Toni Garrn, Kelly Rohrbach, Nina Agdal, and Camila Morrone. Since DiCaprio and Morrone broke things off last year (around the time she turned 25, incidentally), the actor has been spotted with Gigi Hadid and one of Lorenzo Lamas' twenty-something daughters. We can only hope that he will still be out at the clubs finding new model girlfriends at 50.
Furthermore, if any one of these stars settles down for good in the near future, rest assured that there are more celebs ready to take on the serial-dating mantle. Personally, I have my eye on Megan Fox, who, in the wake of her apparent breakup with Machine Gun Kelly, followed three men on Instagram: Eminem, Harry Styles, and Timothée Chalamet. My best to her as she pursues any or all of them.