Charlotte Ritchie Breaks Down Her You Character's Icy Demeanor
The actor also reveals the surprising reason she joined the Netflix drama.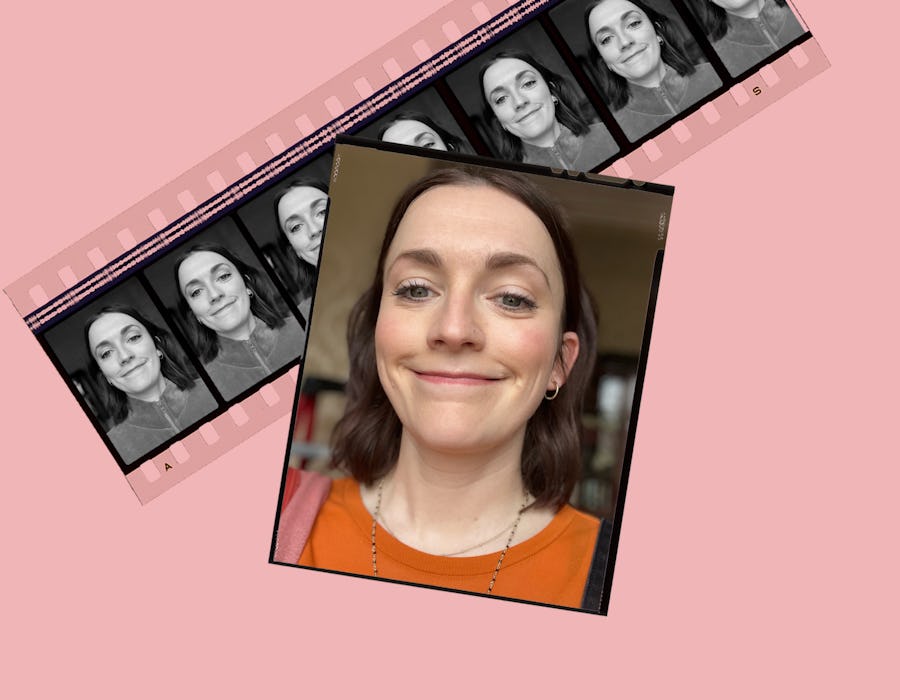 Charlotte Ritchie's You character doesn't care if you think she's an icy bitch. In fact, she hugely prefers it. To play steely art gallerist Kate Galvin in You Season 4, the affable 33-year-old Londoner had to put on her armor — and a great pair of high heels. "I don't really feel like I have a load in common with her," Ritchie tells Bustle, explaining that she had to shed any feeling of likability and fight the urge to smile too much. "Even just the fact she's so turned out all the time, I knew her physicality would be different from mine. She wears high heels every day, and I have like 20 pairs of Vans."
The actor wasn't sure exactly how long she'd walk in Kate's shoes. As the love interest of Penn Badgley's murderous Joe Goldberg, she assumed Kate would meet her demise by Episode 4. Up until You, Ritchie had only acted across the pond, beginning with her role as an extra in 2005's Harry Potter and the Goblet of Fire, followed by starring roles in series like Fresh Meat, Call the Midwife, Feel Good, and Ghosts. Because You was her first major American show, she kept her expectations of Kate's fate low.
"I basically don't ever believe I'm going to get the job or keep it. So when I do, I'm like, 'Wow,'" she jokes. "Let me tell you, it's a good way to live because you're constantly pleased and surprised. Who, me?"
When Netflix dropped Part 2 of the campy psychological thriller on March 9, her job seemed safe. Despite Kate believing she'd worked tirelessly to create her own success, she learns that her influential, uber-wealthy father had been pulling the strings all along. When she eventually inherits the family empire, Kate embraces Joe's dark side and uses her newfound influence to give him a second shot at his old life. It seems You's anti-hero has met a match he might actually keep alive — for now.
Like their characters, Ritchie and Badgley didn't find their rhythm immediately. Well over a month into filming, she asked her co-star to go for a drink, and they realized that it was the first time they'd hung out. "His only real contact with me was me telling him to f*ck off all the time," the actor says, referencing the duo's initial onscreen dynamic. Once they broke the ice, she could admit that she'd researched Badgley by listening to his podcast before filming. "He was a big reason why I was so excited to do the job. I was so impressed with how thoughtful he is with the way he sees the world," she adds. "So it was nice just to get to talk to him about all that stuff that I think we have in common. We laughed a lot."
Should Netflix renew You for Season 5, Ritchie will reprise her role — and she already has predictions about what's ahead for Kate and Joe. "I feel like they have all the resources at their disposal now," Ritchie teases. "Assuming he's told her everything, including the cage and everything, they have that very scary thing of having nowhere else to discover. They are fully in each other's knowledge, and that's quite powerful. As a connection, that's quite rare, to be totally no-holds-barred with someone. So anything could happen really."
Learn more about Ritchie in her Bustle Booth questionnaire below.
In The Bustle Booth
What's your coffee order?
Oat flat white
What are the saved weather locations on your phone?
London, Margate, Montreal, Toronto, Oaxaca, Rome, and Colombo
What's your sign?
Virgo
Favorite overused movie quote?
"She doesn't even go here!" —Mean Girls
What was your favorite cartoon as a kid?
Hey Arnold!
What's one movie or TV show you're currently obsessed with?
Drive My Car
Who is your celeb idol?
I can't choose.
If you had to be on a reality TV show, what would it be?
Strictly Come Dancing, but I'd want to do it secretly and just learn how to dance and kick my leg up high.
Go-to karaoke song?
"That's Life" by Frank Sinatra (Try it — it's so good to sing loud.)
What's something that's inspiring you lately?
My two friends are doing psychotherapy courses, and they are so kind and are learning so many interesting things.
What is something you would want people to say about you?
She sounds so much like Frank Sinatra when she does karaoke.