Chrishell Stause & G Flip's Relationship Timeline May Include Annual Weddings
"Why would you just do it once?"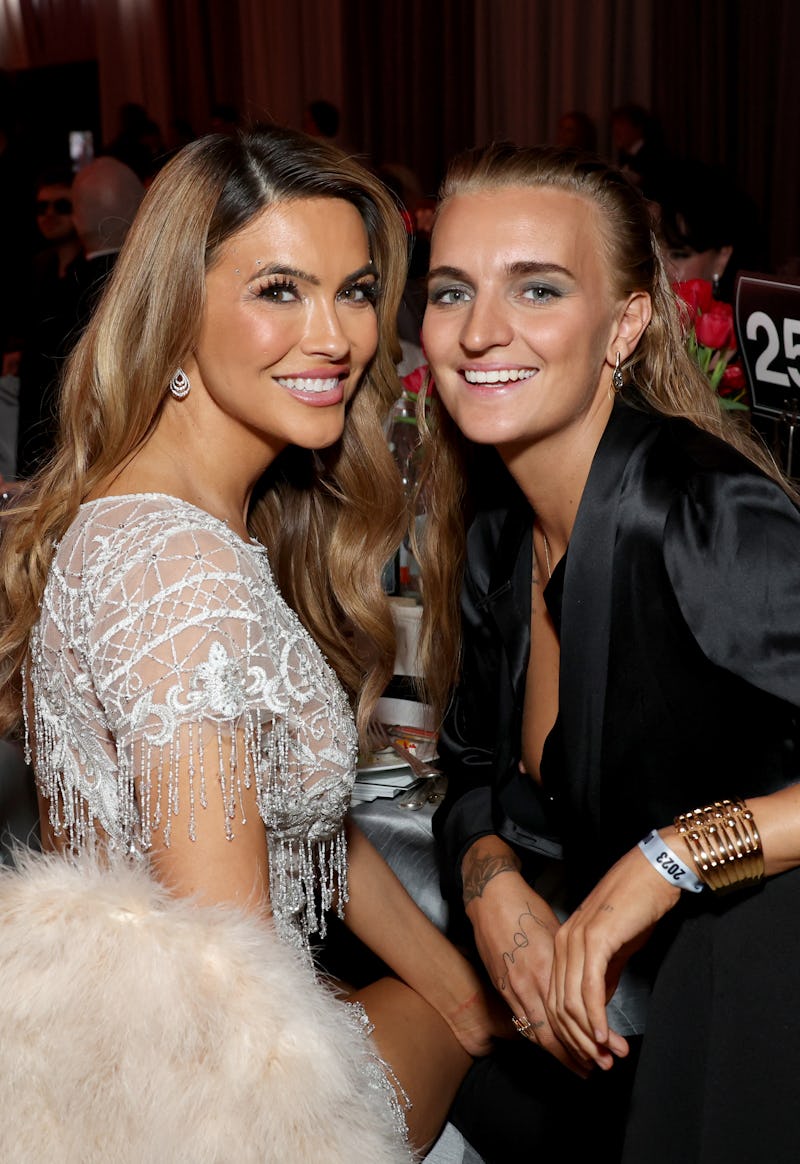 Monica Schipper/Getty Images Entertainment/Getty Images
When Selling Sunset Season 6 began filming in late summer 2022, Chrishell Stause and G Flip were about five months into their relationship, and their romance was burning hot. Going through what she referred to as an "awakening," Chrishell had an exciting proposition on the table: to pause her work at The Oppenheim Group and join G Flip on tour in Australia for two months while they played the summer music festival circuit. Though Season 6 ended without the reality star revealing her decision, the Australian musician hinted Chrishell would be hitting the road with her — at least for a little while.
"I think she might make an appearance if she's available. She loves coming to festivals. She grew up around music, dancing, playing in a band — she loves music," G Flip told Rolling Stone Australia in November. "So if we work out our schedules, she'll definitely be there." Indeed, Chrishell was in Australia soon afterward and captioned a series of photos and videos, "Aussie vibes" in early January. One clip even showed the Selling Sunset star assembling a disguise so she could watch her partner's set from the audience unnoticed. "Looking good," G Flip joked.
Within months, Chrishell and G Flip revealed their wedding ceremony on Instagram. Below, follow the timeline of the couple's love story.
October 2021: Chrishell And G Flip Meet At A Halloween Bash
The pair first met at a Halloween party in October 2021, but neither was single at the time. (Chrishell was still dating Jason Oppenheim at that point.) "We were both with our ex-partners then. ... And then, we obviously separated from our partners, and we just started talking and stuff," G Flip later shared with PEOPLE. "We just found a lot of similarities, even though people would think we are from, like, different corners of the world. We find ourselves so similar sometimes."
March 2022: They Go Instagram Official — Sort Of
Though they had yet to confirm a romantic relationship, Chrishell and G Flip were largely hiding in plain sight. The pair sparked dating rumors after they hung out together at a Los Angeles concert in March and attended the Bridgerton Season 2 premiere together later in the month. Meanwhile, on social media, Chrishell posted her first Instagram photo with G Flip buried in a carousel of images that originally appeared on her Instagram stories. They also both shared social content from Chrishell's home, and G Flip began leaving flirty comments on her posts.
May 2022: Relationship Confirmed
When Netflix aired the Selling Sunset Season 5 reunion on May 6, Chrishell, who had already been photographed kissing G Flip at The Abbey in West Hollywood, confirmed their relationship to host Tan France. "I recently have been spending a lot of time with someone that's very important to me. Their name is G Flip. They're non-binary, so they go by they/them, and they are an extremely talented musician," she said at the special, which actually filmed on April 24, revealing that G "definitely" made the first move. "It started because I was just going to be in their video. And it's about this chaotic love story. I come from soaps, I love acting. And with the job that we have, I don't always get to do it. At first, of course, I was like yes, let's do that."
In a May 10 Instagram video, Chrishell also discussed the "deep connection" she has with G Flip. "Like I said on the show, you don't get to choose when you come into someone's life," the real estate agent shared. "As much as I wish what I wanted in my last relationship aligned [with] the same things it didn't. And that's okay. That doesn't diminish how much love we have for each other — Jason and I — and how much we want each other to genuinely be happy."
Days later, the music video (for G Flip's "Get Me Outta Here") dropped on May 12 and showed the pair making out in a convenience store, among other places. "Sorry everyone, I was confused and thought this was how babies were made," Stause captioned a clip on Instagram. "Back to the drawing board!"
G Flip, for their part, shared an Instagram photo of Chrishell giving them a tattoo, and in a May interview with PEOPLE gushed, "I'm very fortunate to have her in my life. We both feel like we'll be in each other's life forever. We have like a very strong connection that you don't find every day."
June 2022: Awards Show Debut
Before accepting her fan-voted award for Best Reality Star at the 2022 MTV Movie & TV Awards in June, Chrishell kissed G Flip on camera. Though she didn't mention her new love by name, during her speech, the O Group realtor addressed her sexuality. "I knew about this nomination before I had said anything about my sexuality," Chrishell told the crowd. "I'm not trying to get really deep with you guys, but the fact that this was voted on after means so much to me because I wasn't sure how that was gonna go. Thank you so much, guys."
December 2022: Chrishell Calls Out The PCAs
In a December 2022 tweet, Chrishell claimed that the People's Choice Awards stopped her from bringing G Flip as her date to the ceremony. "I am on the sauce a bit so I will prob regret this later. BUT people's choice didn't allow me to bring my partner to the awards," she wrote on Dec. 7. "I could ONLY bring a plus 1 if it was a cast member. Wtf Sure this means I will never be nominated again but honestly fu." Representatives for the PCAs did not return Bustle's request for comment at the time.
March 2023: Anniversary Celebrations
To mark their first anniversary in March 2023, G Flip penned a song about Chrishell called "Be Your Man," and shared her reaction to the track on TikTok, writing, "sweetest angel having a cry at the end 😢 an amazing 1 year with [Chrishell]." They captioned another post, "We started dating 1 year ago today. So I wanted to show her the first song I ever wrote about her. I'm not what you planned. I'll be your man."
Chrishell, meanwhile, also posted an anniversary tribute on Instagram. "Our first year is gonna be hard to beat, but here's to trying! I love you babyyyyy. Happy anniversary," she wrote alongside a photo of G Flip holding a bouquet of red roses, in her Instagram stories.
May 2023: Wedding Bells
On May 10, Chrishell revealed that they are married by sharing a glimpse of their wedding day on her Instagram. The montage — which was set to G Flip's "Be Your Man" — showed them tying the knot in front of an Elvis impersonator and sharing a kiss. "Love doesn't always go as planned…Sometimes it's immeasurably better," Chrishell captioned the post, prompting G Flip to comment, "My darling, I adore and love you with all my heart. You make me so happy."
Even though both Chrishell and her rep confirmed the ceremony took place "a little bit ago," Entertainment Tonight reported on May 20 that Chrishell and G Flip are not legally married, as the Clark County, Nevada Recorder's Office reportedly does not have any marriage records for the couple. Still, the Selling Sunset star reflected fondly on their "perfect" Las Vegas nuptials. "It was nice to kind of keep things private and to ourselves so that we could really enjoy it," Chrishell told ET earlier in May. "It just really meant a lot for us. And it was... the best day of all time."
June 2023: Chrishell & G Flip Reveal Yearly Wedding Plans
While appearing on The Viall Files podcast, G Flip looked back on their Las Vegas wedding to Chrishell, and revealed that they plan "to do a ceremony every single year." Asking why married couples decide to "just do it once," G Flip went on to suggest that an annual wedding ceremony could be held "in different locations with different amounts of people." They continued: "You celebrate your birthday once a year and when you're married you're with this person every day, so why don't you celebrate that once a year?"
G Flip went on to describe their Vegas nuptials as "the most fun and beautiful day" of their life, before admitting that they were nervous about writing their vows ahead of the ceremony. "I wanted to say how I was feeling, so I had to tap into my songwriter brain and think of the words of how to describe what I'm feeling," they explained. "It was all a little bit nerve-wracking, but it was just so beautiful. And it was just so fun, and it was just so us."
This article was originally published on