Chrissy Teigen Normalizes Breastfeeding Again In A New Photo With Esti
The model and mom is candid about both breastfeeding and formula feeding.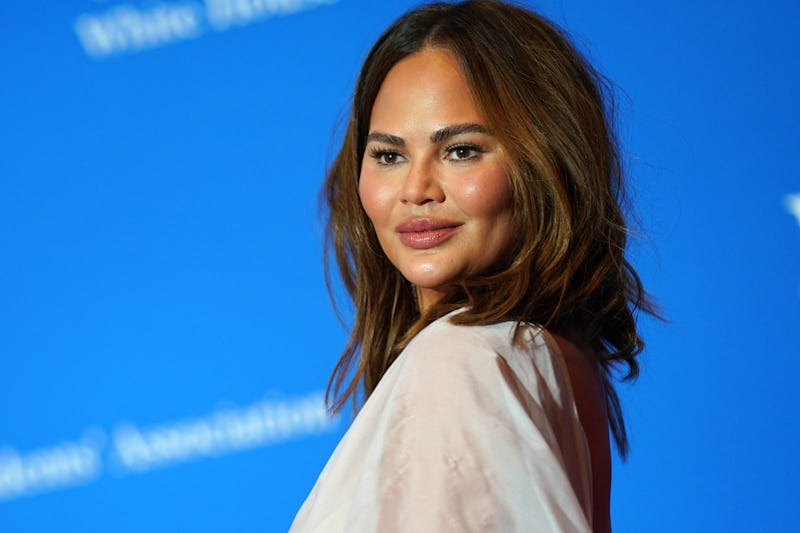 STEFANI REYNOLDS/AFP/Getty Images
Chrissy Teigen is continuing her journey to normalize breastfeeding — and offering fellow moms a few tips along the way. Sharing a photo of herself breastfeeding her 4-month-old daughter, Esti, for a May 19 sponsored Instagram post, she wrote, "Esti has another bestie," shouting out her Haakaa Ladybug Silicone Breast Milk Collector and highlighting how the breast pads save leakage and letdown.
Shortly after Teigen welcomed Esti with husband John Legend — with whom she also shares children Luna, 7, Miles, 5, and a late son, Jack — on Jan. 13, Teigen posted an Instagram video of herself attempting to breastfeed the newborn. Meanwhile, Miles showed off his counting skills in the background, though he quickly lost his audience. Sitting next to his mom, the then-4-year-old began at number 91 and eventually made it all the way past 170. As the counting dragged on, though, Teigen relatably seemed to be on the verge of succumbing to the exhaustion of mothering a weeks-old baby, as she appeared to be nodding off to sleep.
As always, she's been candid about her latest breastfeeding journey, too. "I was so lucky because Luna and Miles latched immediately. Esti latched immediately. If anything, it was like me that was like, 'I need to produce this,'" she shared with People in March. "I love pumping and I love trying to make as much milk as possible."
However, the Cravings by Chrissy Teigen author noted she also "supplemented with all three children," adding that she hopes other moms "don't drive [themselves] crazy" if they use formula. "I'm surprised I have a drop of milk. I've done the lift augmentation twice. The fact that my nipple came off and was sewn back on, and I still have milk is incredible to me," she continued. "I mean, Luna and Miles are thriving, and they're great, and they were fed, and the most important thing is a fed baby. I used to be so scared, like, 'Oh, my God, they're not getting milk.' I used to try to order donor milk online and freak myself out about everything. Not this time."
The model's candor in the breastfeeding discussion is hardly new. In November 2020, for example, Teigen posted a Twitter thread about normalizing formula usage. "Normalize breastfeeding is such a huge, wonderful thing. but I absolutely felt way more shame having to use formula because of lack of milk from depression and whatnot," she wrote. "People have surrogates, people have trouble breastfeeding and all you hear as a new, anxious mom is how breast is best."
She continued, "I remember pumping my ASS OFF, highest mode, so often, because I didn't trust milk was going into their [mouths] if I breastfed. it drove me mad to the point I could only get an ounce. an ounce! ... The stress of it, combined with the guilt that you cannot do nature's most natural thing for your own baby is too much. I dunno why this is my crusade now. I just remember the sadness I felt and want you to know you are doing it right if your baby is fed, mama."