Chrissy Teigen Celebrates Her Family & Strength In People's "Beautiful Issue"
Teigen, of course, made it known how she felt about the honor.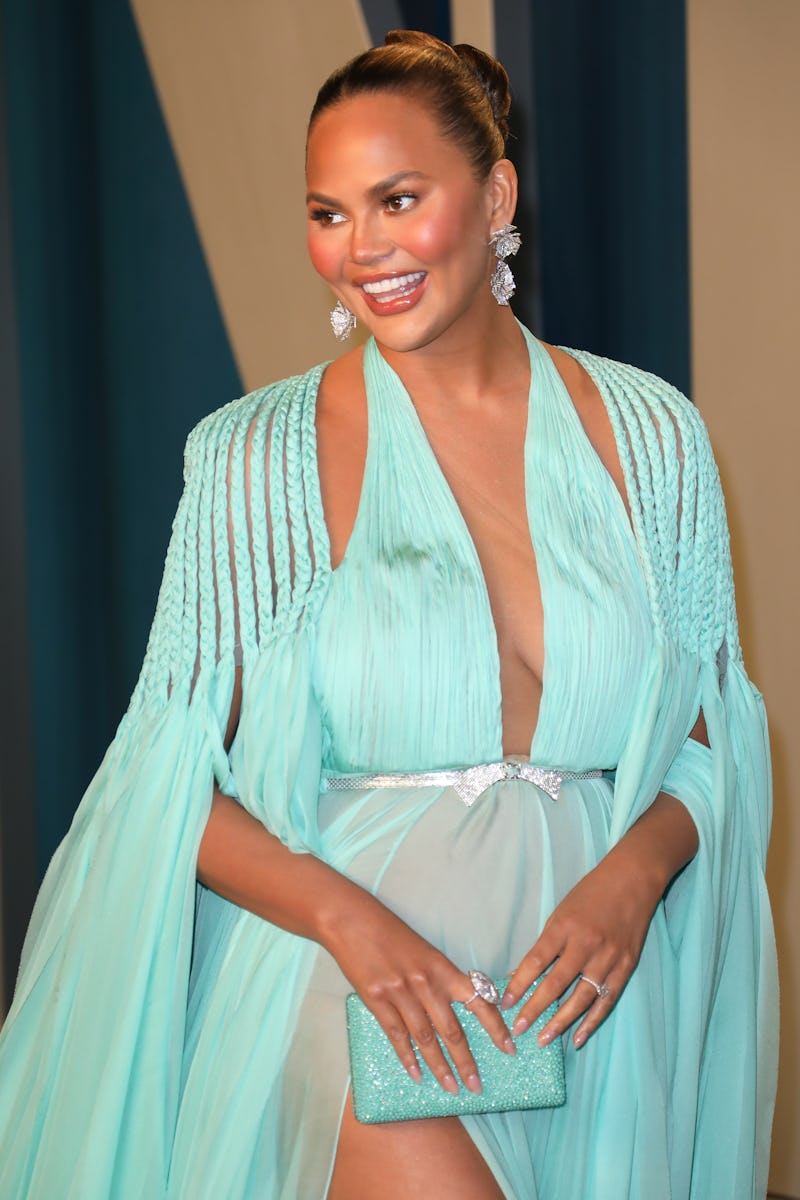 Toni Anne Barson/WireImage/Getty Images
Joining the ranks of numerous storied celebrities, Chrissy Teigen is the cover of People's annual "Beautiful Issue," unveiled on Wednesday, March 31. The model-turned-entrepreneur did a gorgeous photo shoot with her children, Luna and Miles, as well as her mom, Vilailuck "Pepper Thai" Teigen, and discussed the "roller coaster" of a year they've had in her interview. The cover story delves into their family's challenges and heartbreak in 2020, including losing son Jack when Teigen was 20 weeks pregnant, and how she's uncovered her strength along the way.
Teigen shared three versions of the cover — one with her kids, one of her alone, and one with her mom — via Instagram and made sure to show how excited she was. "Wowowowowow," she wrote in part. "An absolute honor to follow so many women that have inspired me along the way." The Cravings author also shared a photo from the spread, showing yet another adorable photo of her and her kids, along with a chicken. Her caption acknowledged how much they've been through together and thanked all those who were there to support them. In particular, she shouted out her musician husband John Legend, calling him "the rock of our tribe."
"It's been a year. For us all, but for my little family, too," she wrote in part. "I am so appreciative of the people who helped us get through it all. Boy do I have a story to share someday. And @johnlegend for being the rock of our tribe. I mean I'm the heart and the fun and quite frankly the brains but you are the rock. I love you and the babies toooooo much."
While Legend didn't get to appear on the People cover himself, he was thrilled to see his family celebrated. Commenting on Teigen's post, he wrote, "I LOVE YOU!!!!!" Later, the Grammy winner posted the image on his own Instagram, captioning it, "My love, my joy, my beauties." He also added three heart emojis, and then went back to share another photo again. In the second post, he stood alongside an enlarged version of the cover, which mentions him in the text. "I didn't get to be in the photo shoot but I found my way on to this @people cover!" he wrote.
Of course, Legend wasn't the only one enthusing about Teigen's cover. Across her multiple Instagram posts, famous friends and fans had glowing reactions. Model Tess Holliday responded to a pull quote from Teigen's cover story — "I don't know how I got so lucky" — writing, "I don't know if it's luck, or just the universe sending you exactly what you needed." On another of the posts, poet Amanda Gorman wrote, "You make the world more beautiful." Fittingly, "beautiful" was a common response, and the images warranted it.
As the latest cover, Teigen follows in the footsteps of entertainment industry greats like Goldie Hawn, Jennifer Aniston, Lupita Nyong'o, Beyoncé, and many others. Some of the others joining her in the 2021 "Beautiful Issue" include Zendaya, Catherine O'Hara, and Taylor Swift. Basically, she's in great — and yes, beautiful — company.
People's "Beautiful" issue hits newsstands on Friday, April 2.