The Bachelor's Christina Mandrell Comes From One Of Country Music's Most Famous Families
She's even worked with Miley Cyrus and Taylor Swift.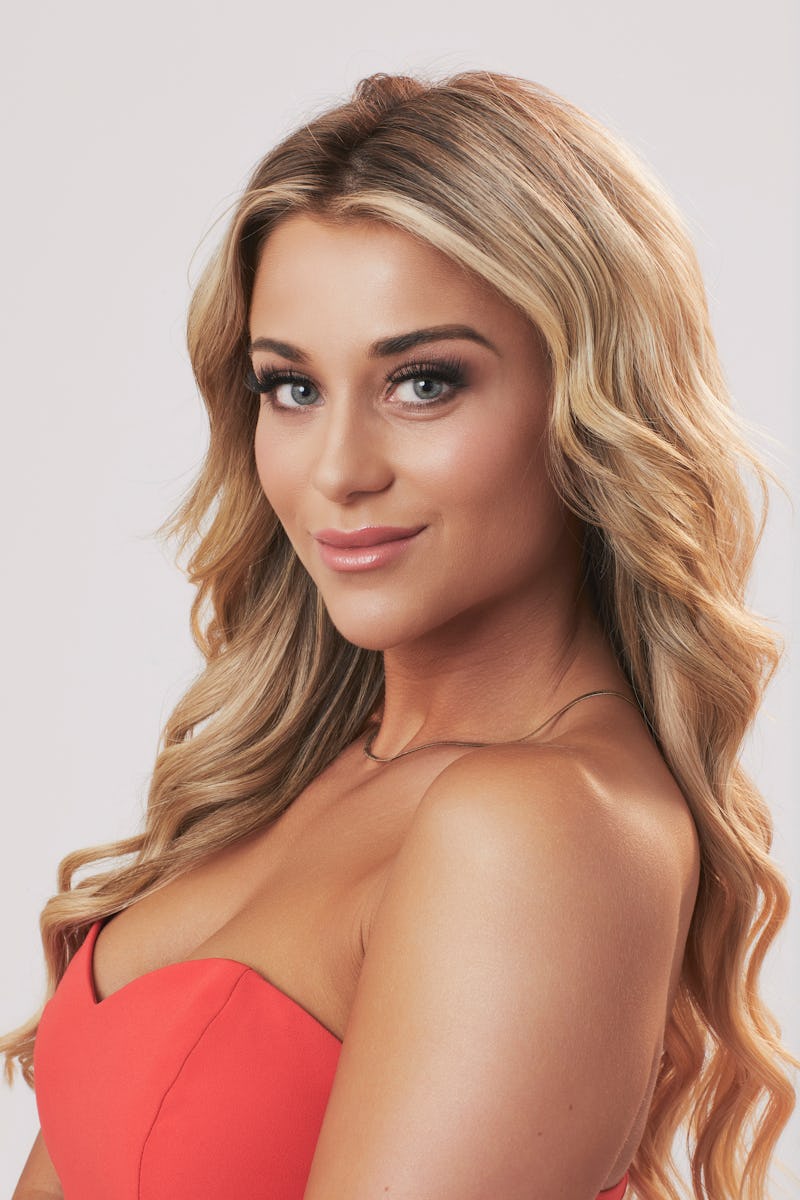 Ricky Middlesworth/ABC
When ABC announced Zach Shallcross as their newest Bachelor during September 2022's After the Final Rose special, the incoming Season 27 lead got to meet five of his contestants along with the rest of America. Among the women was Christina Mandrell, a 27-year-old content creator from Nashville, Tennessee, who brought two mini liquor bottles to toast their impending journey to find love together. The next time Bachelor Nation saw Christina was in the trailer for Zach's season of The Bachelor, and ahead of the reality show's Jan. 23 premiere, she solved one mystery the sneak peek presented by confirming she was the woman with her face buried in the mansion's stairs.
"Name a better duo than me and a mosaic stair case..I'll wait," she captioned a Jan. 21 Instagram which included a voiceover noting that this is "not a coping skill."
In Christina's Bachelor bio, she describes herself as a single mom who's "ready for her perfect, fairytale love story." Since getting divorced, she has been selective while searching for her perfect man because "she and her daughter are in this together." Here's everything to know about Christina before she officially gets the party started on The Bachelor.
Christina Mandrell's Family
It turns out that Zach — whose uncle is Seinfeld actor Patrick Warburton — isn't the only one with a famous family member. Christina is the daughter of country music singer Irlene Mandrell and gun rights activist Rob Pincus. Irlene is the youngest of the three Mandrell sisters who also include Grammy-winning Country Music Hall of Famer and actor Barbara Mandrell. Irlene appeared alongside her siblings on NBC's Barbara Mandrell & the Mandrell Sisters variety show in the early 1980s.
Christina's daughter, Blakely, was born early in December 2016, weighing a "whopping 4lbs 14oz," as she announced via social media at the time. Having a baby at an age in my life where I was really just figuring out who I even was, has really shaped me into the woman I am today," she wrote two years later. Blakely's father is Christina's ex-husband Blake Dennis whom she started dating in 2012 and married in 2015 at her aunt Barbara's Fontanel Mansion in Nashville. Shortly before their wedding, Christina miscarried twins and has been candid about the experience.
It's unclear exactly when she and Blake divorced, but she posted "date night" photos with him as recently as August 2020. Though her ex has moved on, Christina seems to have a good relationship with Blake's girlfriend, Sydney, with whom she's wished a happy birthday on Instagram and posted videos of their co-parenting slumber parties.
Christina Mandrell's Job
In 2008, Christina was signed by The Block Agency and began to pursue her "dream of being an actor." Her first gig was as an extra in The Hannah Montana Movie with Miley Cyrus. "I was so excited but then sadly realized once the movie premiered, you could see me precisely 0 times!" she wrote on Instagram. Christina, who also works as a model, landed a role in Taylor Swift's "Fifteen" music video in 2009, and went on to appear in several more music videos for such acts as Florida Georgia Line and was most recently in Cole Swindell's 2022 clip for "She Had Me At Heads Carolina." Her other acting credits include a role alongside Haylie Duff and Dean Cain in 2014's A Belle For Christmas.
After The Bachelor premiered, Christina joked about a "conspiracy theory" that her cameo at the end of Swift's music video mirrored her time on the ABC series. "Apparently I look at Zach the same way I look at Taylor Swift," she captioned a Jan. 25 Instagram montage. "New Conspiracy theory, first I stared at Taylor, then stared at Zach, which inevitably leads to me crying on the STAIRs."
In 2018, Christina began blogging "to be able to share my life from mommy-hood, owning a business, being a wife, beauty, fashion, and designing my new home." She parlayed that into her current career as a content creator and social media influencer and frequently shares spon-con discount codes for her followers, in addition to co-running a wedding planning business called It Takes Two.
Christina Mandrell's Instagram
On Instagram, Christina has posted about experiencing "daily" mom-shaming on social media. "I've heard it all. But guess what, it doesn't change a thing," she wrote after posting TikTok dances with Blakely. "No one knows the whole story. No one has the right to shame other parents on the internet or have them question whether they should be posting a completely innocent video or not. My daughter is my world, and I will never tell her to stop dancing. Let's be nice to each other, people!"
In addition to sharing her workouts and fitness journey, she's also supported her dad's Second Amendment activism. In the past, she's used gun advocacy and NRA hashtags and shared photos of herself shooting her dad's guns and matching her nails to her ammunition.
Christina's Instagram also makes it seem that she's been manifesting her Bachelor casting for years. In February 2019, she captioned a "Galentine's Day" celebration, "Tonight on the Bachelor... the most dramatic episode yet," and, just less than a year later, captioned another post, "Can I steal you for a second?" with a red rose. She continued to post about and pose with roses in February 2020, and months later, she even filmed a workout video with Luke Pell from JoJo Fletcher's Bachelorette season.
This article was originally published on