Everything We Know About Cobra Kai Season 4 So Far
Netflix gave fans the premiere date in a new teaser.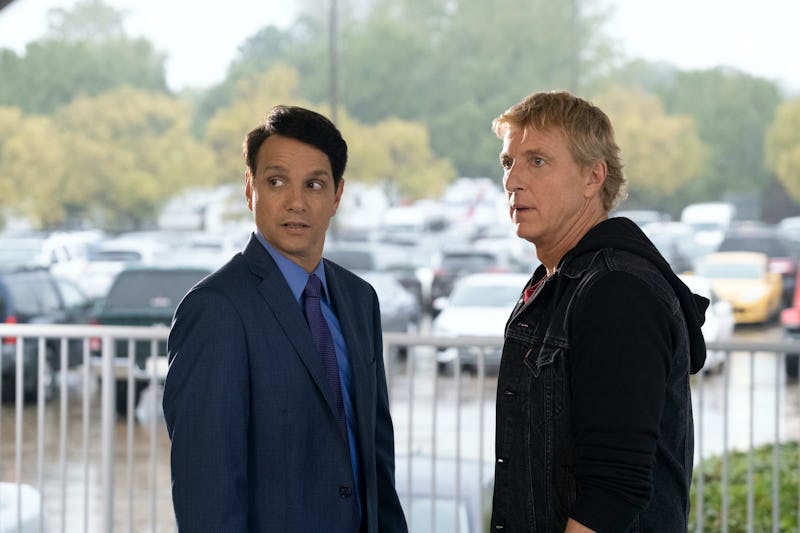 CURTIS BONDS BAKER/NETFLIX
If you've already finished the latest season of Cobra Kai and are eagerly anticipating new episodes, get out your calendar. Season 4 will premiere on Dec. 31. Netflix made the announcement on Sept. 25, while also gifting fans with a new minute-long teaser trailer of the upcoming fourth installment. In the sneak peak, fans see famed enemies Johnny (William Zabka) and Daniel (Ralph Macchio) team up for a high-stakes "battle for the soul of the Valley," though there's still some comedy, too.
Netflix originally renewed Cobra Kai for Season 4 last October. At the time, creators Jon Hurwitz, Hayden Schlossberg, and Josh Heald told GamesRadar+ that the whole season had already "been planned out in great detail" and eight of the 10 scripts had already been written. In November 2020, they were hoping to start filming in early 2021. By April, Netflix's Chief Content Officer Ted Sarandos revealed Cobra Kai Season 4 would premiere in the fourth quarter of 2021, putting it slightly ahead of the projected January 2022 date, as Deadline reported at the time.
The Cobra Kai Season 4 Premiere Date Announcement And Plot
The date announcement video came with a look at the plot of Season 4, and it centers on the ongoing "battle for the soul of the Valley." Netflix's description hinted there would be "new alliances" and stakes that are "higher than ever."
The All Valley Tournament is going to be a major focus of the upcoming installment. In the Sept. 25 teaser, Daniel gives a rousing speech to his pupils, telling them, "Many of us used to be enemies, but rivalries don't need to last forever." He also warns that Cobra Kai is going to "use every dirty trick in the book" at the big event. The tone soon shifts, however, when Johnny interjects that the only way to beat them is by "kicking their asses so hard they sh*t themselves." It appears that their vastly different teaching styles will play out to comedic effect, though Daniel's wife, Amanda (Courtney Henggeler), also warns that their family's safety depends on the karate tournament's outcome.
As villainous Cobra Kai leader John Kreese (Martin Kove) also cryptically notes in the preview, Daniel and Johnny "aren't the only ones teaming up," though. Cut to the sensei recruiting original Cobra Kai owner Terry Silver (Thomas Ian Griffith), who ties his hair back and takes on a punching bag.
Will Cobra Kai Season 4 Be The Last?
The creative team has been mapping out other seasons as well, though Netflix has not yet committed to anything beyond Season 4. "We have an endgame in our heads. We've had one for quite some time, and it's not in Season 4. It's well beyond that," Heald told TVLine in January. "In our minds, we have seasons' worth of story that is necessary to tell before we get to that endgame."
The showrunners also told Pop Culture that they're prepared if Netflix pulls the plug earlier than they'd like. But Hurwitz said that they're "confident" they can "continue to tell the story and have it come to an ending that is fulfilling" in several more seasons.
This post will be updated with the trailer and additional details as more information on Cobra Kai Season 4 becomes available.
This article was originally published on