Coco Gauff Celebrated Her US Open Win With A Special Message For Her Doubters
"I'm really burning so bright right now."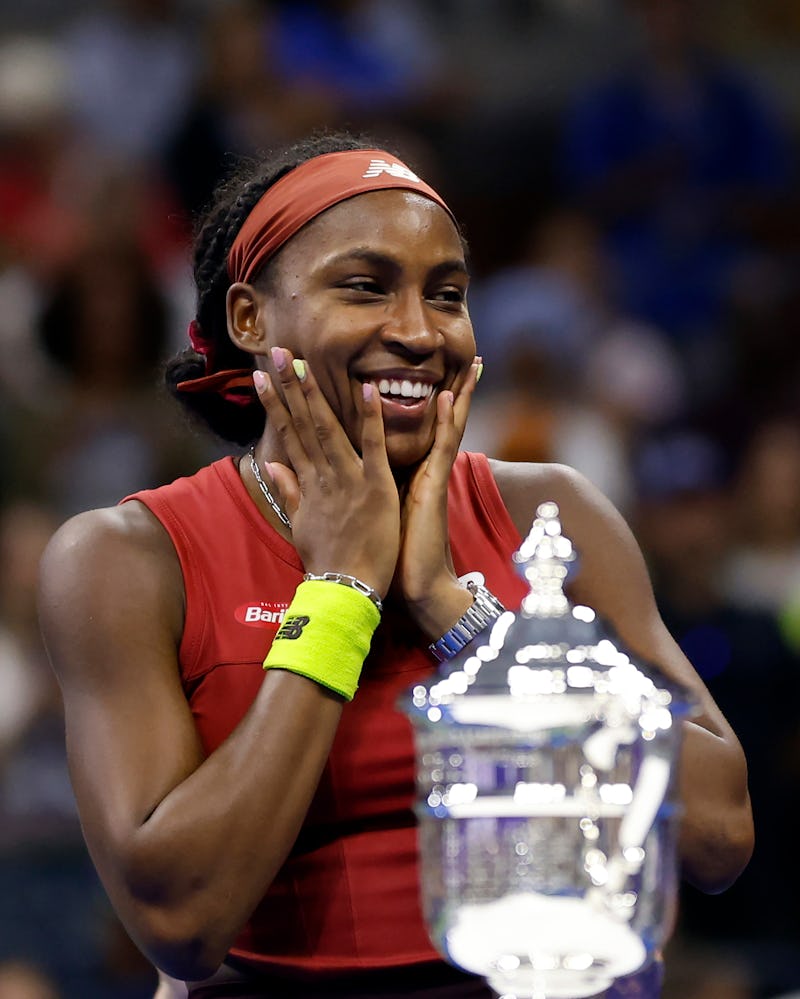 Sarah Stier/Getty Images Sport/Getty Images
Victory tasted extra sweet for Coco Gauff at the 2023 U.S. Open. Not only did the 19-year-old tennis star win her first Grand Slam title, she became the youngest American U.S. Open winner since Serena Williams in 1999 and got to relish proving her doubters wrong. After coming from behind to defeat world No. 2 Aryna Sabalenka (who officially becomes world No. 1 on Sept. 11) 2-6, 6-3, 6-2, Gauff celebrated her family, her team, and the fans in New York City — with a special message for her naysayers, too.
The tennis phenom was "a little bit in shock" after claiming the title, as she said in her on-court interview after the match, but that didn't stop her from finding the right words. She stayed composed as she thanked her parents and team, and she even took the opportunity to embarrass her dad a little by telling the crowd that "he got caught in 4K" crying. However, it wasn't just her supporters who helped fuel her victory; she made sure her doubters understood how they played a part.
"Honestly, thank you to the people who didn't believe in me," Gauff said, getting a swell of applause from the crowd. "A month ago, I won a 500 title and people said I would stop at that. Two weeks ago, I won a 1000 title and people were saying that was the biggest it was going to get. So three weeks later, I'm here with this trophy right now."
Gauff drove the point home, adding, "You know, I tried my best to carry this with grace and I've been doing my best, so honestly to those who … thought [you] were putting water on my fire, you were really adding gas to it, and now I'm really burning so bright right now."
Coming into the U.S. Open, Gauff was indeed on fire. Her 500-level tournament win came at the Mubadala Citi D.C. Open on Aug. 6, and then she topped it by winning her first 1000-level title at the Western & Southern Open on Aug. 19. Now that she's a U.S. Open winner, too, she becomes just the fourth American woman to raise the trophy since 2000, joining Venus Williams, Serena Williams, and Sloane Stephens.
In her press conference, Gauff called Stephens' 2017 win "an inspiring moment" for her and said that "words can't describe" what the Williams sisters have meant to her. "I hope I'm continuing a legacy," she said. "I hope that another girl can see this and believe they can do it, and hopefully their name can be on this trophy, too."
For now, it's Gauff time with the trophy — and she has the TikToks to prove it.