How You Can Help Make Healthcare Fairer For Women In The UK
The government is asking members of the public to share their experiences.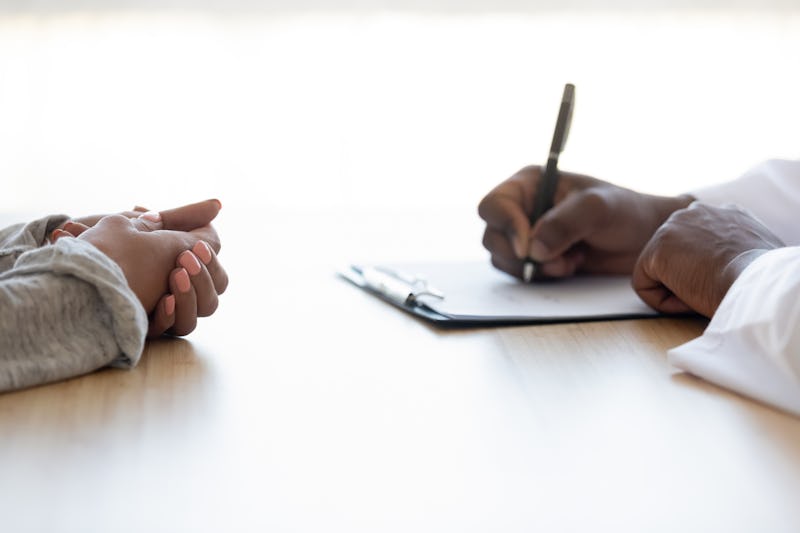 Shutterstock
The government has put out a call for evidence from women across the UK to help shape their first Women's Health Strategy. The strategy hopes to address and begin to resolve disparities in the health care system, which often means quality of care is lower for women. Here's everything you need to know about it, including how to contribute to the Women's Health Strategy call for evidence.
What Is The Women's Health Strategy?
For the first time ever, the government is working on a Women's Health Strategy, and are seeking evidence from women all across the UK to help inform their decisions.
The Strategy is outlined fully on gov.uk, where it is described in the following way: "The Women's Health Strategy for England will set out an ambitious and positive new agenda on women's health, with women's voices at the centre."
It was created after a number worrying reports highlighted the disparities between men and women's health in the country, including the fact women in the UK spend a greater proportion of their lives in ill health and disability, and that in recent years, healthy life expectancy has fallen for women but has remained stable for men.
It has also been established that there are also differences in life expectancy across socio-economic groups, and that there is a plethora of inequality in the healthcare system that must be addressed. For example, Black mothers are more at risk of dying than white mothers, namely of conditions such as pre-eclampsia (of which they are three times more likely to develop) .
The Women's Health Strategy is hoping to address the health issues and inequalities that affect women, and their call for evidence seeks views on six core themes, all of which connect different areas of women's health across the life course.
These are:
Placing women's voices at the centre of their health and care
Improving the quality and accessibility of information and education on women's health
Ensuring the health and care system understands and is responsive to women's health and care needs across the life course
Maximising women's health in the workplace
Ensuring research, evidence and data support improvements in women's health
Understanding and responding to the impacts of COVID-19 on women's health
In his foreword for the call to evidence, Health Secretary Matt Hancock acknowledged that, "for generations, women have lived with a health and care system that is mostly designed by men, for men."
"This 'male by default' problem of the past must be put right," he wrote, while MP Nadine Dorries added: "That is why we are embarking on the first Women's Health Strategy for England, with the ambition of improving health and wellbeing of women across the country."
So far, the call to evidence has been met with hope by some, including Mika Simmons, the co-chairman of Ginsberg Women's Health Board, who said: "Every single woman I speak to, myself included, has experienced either misunderstanding or loss as a direct result of slow or inaccurate diagnosis of their health concerns."
She continued: "I hope this new Government drive for thoroughly inclusive data will ensure that all women in the UK, no matter what their background or cultural demographic, will finally have their voices heard and their health needs met, at the highest possible level."
How To Contribute
The government are asking for as many varied responses as possible, and are encouraging women from across the UK to get involved. "We know that not all women have the same experiences, so we want to hear from as many women as possible from all ages and backgrounds about what you think works well and what we need to change," Hancock explained. "I'd urge you to come forward and have your say, so we can make sure our nation's health system truly works for the whole nation."
Everyone over the age of 16 is eligible to respond to the call for evidence, and you can do this in one of two ways. First, you are invited to complete the public survey that has been created. I filled out the survey myself, and it didn't take any longer than 10 minutes.
If for some reason you cannot access the online survey, you can email whscallforevidence@dhsc.gov.uk for a copy of the survey in word format.
Or alternatively, if you have more to say or want to submit more of a personalised response, the government are also accepting written submissions from individuals or organisations who have expertise in women's health. These include researchers and third-sector organisations who wish to submit data, research, or reports that may be relevant. The submissions are limited to ten pages each. You can access further guidance online.
The deadline for survey responses and written submissions is 11:45pm on May 30, 2021.
After the summer, the evidence collected will help to inform the "priorities, content and actions in the new Women's Health strategy for England. It will ensure that the strategy is evidence-based and reflects what women identify as priorities."