Courteney Cox Approves Of Ed Sheeran's New Friends-Inspired Song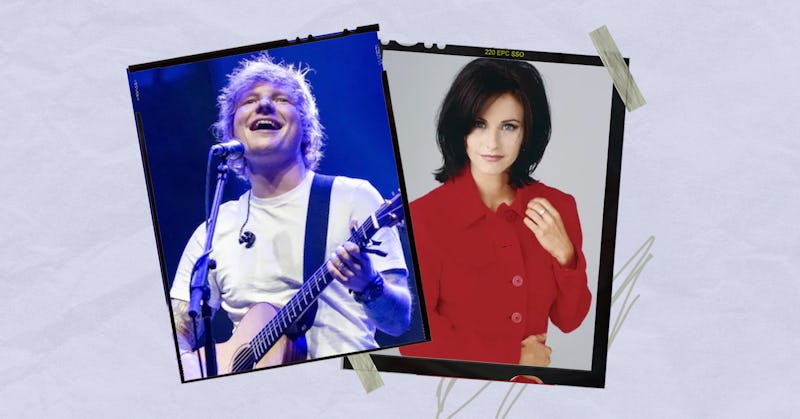 NBCUniversal/Getty Images; Timothy Norris/Getty Images
Ed Sheeran will be there for you (when the rain starts to pour). On Sept. 21, the Grammy winner shared a video posted to Instagram of him performing a new song, "American Town," for his friend Courteney Cox — because the track was inspired by her classic sitcom Friends. And if you're a fan of both Friends and Sheeran, grab the tissue box.
In the video, Sheeran is hanging out in Cox's kitchen and brings out a guitar to play. "Courteney, I wrote a song inspired by Friends, the show that you were on, and I'm going to play it to you, if that's alright," he tells her. The song tells the story of an "English girl in an American town" and shouts out Friends by name, describing some of the habits of the beloved characters.
Fans loved it, joking in the comments section that the "English girl" was Ross' ex-wife Emily, and Cox was equally stunned, even needing some assurance about its inspiration. "That was really about the show Friends?" she asked. "Well yeah, because you eat Chinese food in small white boxes, we lived the life we saw in Friends," he affirmed, nodding to the lyrics he just sang. After, Cox gave the song her approval. "Oh my God, I love this, I love that," she said, before joking, "Do I get paid?" for inspiring the song.
Cox and Sheeran's surprising friendship goes back nearly a decade, as he introduced her to her boyfriend, Snow Patrol member Johnny McDaid. The three have remained close since. The two recreated Ross and Monica's iconic Friends dance together, and Cox sang background vocals on his 2021 album =. In his latest Instagram caption, Sheeran even jokes that Cox is his "landlady" in Los Angeles. "Sorry for the late rent, I'm good for it," he quipped.
"American Town" comes from Sheeran's upcoming album Autumn Variations, which is set to be released on Sept. 29. The record marks his second album of 2023 and first solo effort that's not titled after a mathematical symbol, breaking a career-long pattern. In a surprising twist, the singer recently revealed that he secretly made a live version of Autumn Variations with each song being recorded in a different fan's living room. No word yet on whether Cox is one of them.