Cruz Beckham Teased New Music With An Adorable Nod To Mom Victoria Beckham
The budding artist has made Posh Spice a "proud mum!"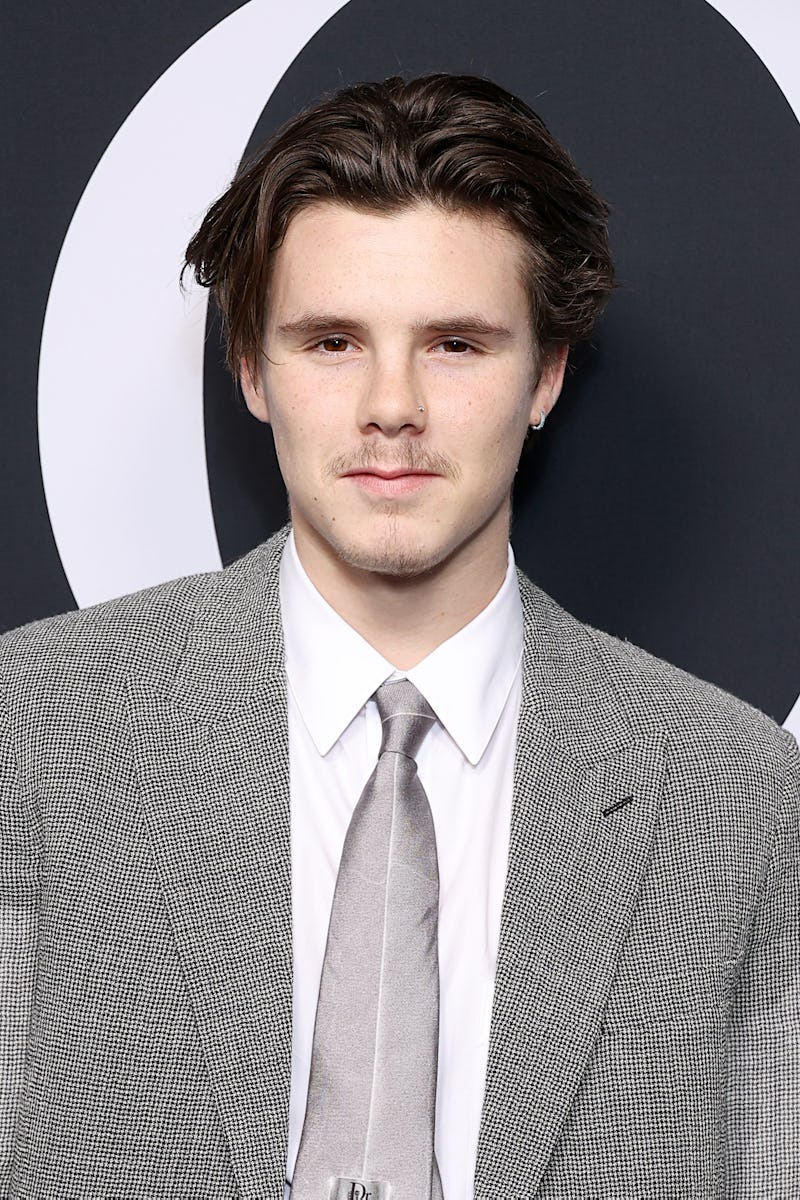 Marc Piasecki/WireImage/Getty Images
As much as nepo babies have come under scrutiny lately, Cruz Beckham isn't hiding his ties to his famous mom, Victoria Beckham, aka Posh Spice. In fact, the 17-year-old musician wore his pride on his shirt on Instagram on Friday, Jan. 27. His set of photos appeared to show him working on new music, all while wearing a nostalgic Spice Girls T-shirt.
Beckham's caption didn't offer specifics about the project in progress in the photos, but he did seem to tease upcoming music with his coy emoji selection: ".. 💭🎼." His debut seems to be on the horizon after more than a year of him laying the groundwork. Not only did he open up to i-D magazine in a February feature about making multiple songs with Justin Bieber collaborator Poo Bear, Beckham also reportedly signed to Tap Music — whose artists include Dua Lipa and Ellie Goulding, among other stars — in April.
The teen's snaps show him hard at work, and his mom couldn't resist publicly expressing her own pride. Sharing his post to her Instagram stories, Victoria wrote, "Proud mum!" The fashion designer had multiple reasons to be thrilled, of course. To see him following in her footsteps while celebrating her career is extremely sweet.
His followers had a lot to say about both his tease and his Spice Girls merch. Multiple fans described the shirt as "iconic," and at least one noted that they "need" their own. Meanwhile, another follower asked, "song soon???" and one more wrote, "hopefully we get new music … from you soon."
Though Beckham recorded his first song at age 11, he wasn't always sure he'd try to make it as an artist. As he told i-D, he also considered pursuing a soccer career like dad David Beckham and older brother Romeo, but eventually had to choose between the two paths. "At that point, I just decided: this is exactly what I want to do," he said of making music. He's dedicated himself to learning instruments such as the guitar, piano, and drums, and said he's "just making the music I love."
Another thing Beckham seems to love is his Spice Girls shirt. It appears multiple times on his Instagram grid, including in posts from a family trip and a performance in Miami in August. David shared moments from the show to his Instagram story and called Beckham a "heartbreaker," per the Mirror.
It remains to be seen when the musician will share his new music with the world, but he did hint at some major developments in the year ahead. His New Year's Day Instagram post said, "2023 is gonna be an MAAAAD one !" and included still more photos of him in the studio. Something's definitely coming — and it may just spice up our lives.