Curtis Sittenfeld's Latest Novel Trades First Ladies for SNL Cast Members
The Rodham and American Wife author explores the tradition of SNL hosts hooking up with the show's cast — but with a fun, feminist twist.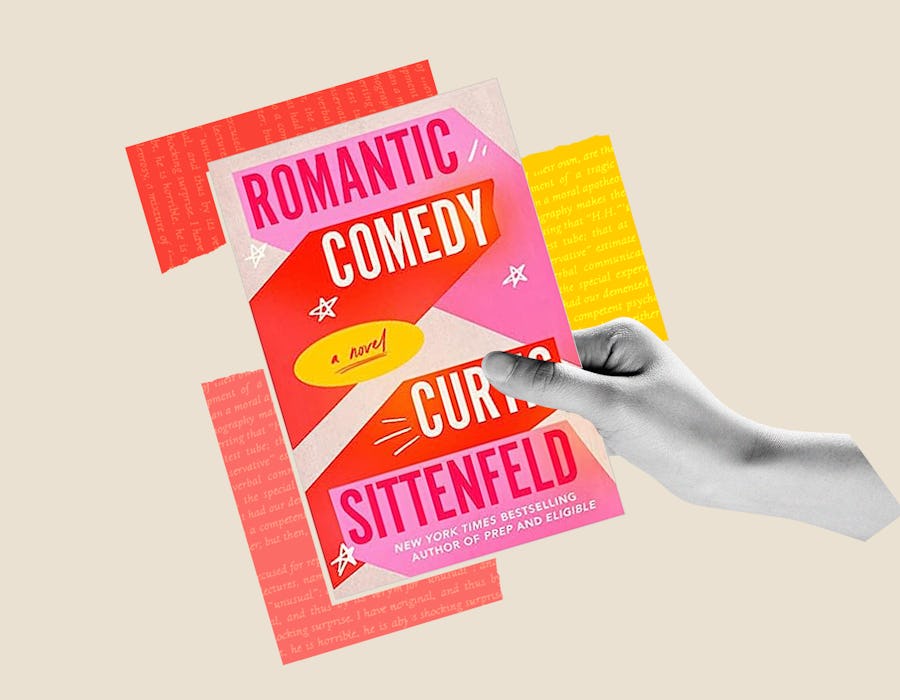 When Curtis Sittenfeld sat down to write a novel inspired by Saturday Night Live, she found herself faced with an overwhelming amount of source material. "So many cast members are writers themselves, and then so many people who've worked for the show but didn't appear onscreen are also writers. So there's an abundance of memoirs," Sittenfeld tells Bustle. She supplemented her reading by listening to podcasts like David Spade and Dana Carvey's Fly on the Wall and watching YouTube videos that break down the intricacies of making the show. "There was a time when I thought, 'I have read every memoir.' Then I realized, 'No, I think I've read about 25% of the memoirs."
The aptly titled Romantic Comedy is set on the fictional TV show "The Night Owls," which follows SNL in its format as well as in its penchant for male cast members dating the celebrity hosts. Except in Sittenfeld's universe, it's a late 30s, divorced, female sketch comedy writer named Sally Milz who has sparks fly with aging pop star Noah Brewster. Blurring the line between fiction and reality is familiar terrain for Sittenfeld, who has written novelizations of the lives of former First Ladies Laura Bush (American Wife) and Hillary Clinton (Rodham). So when it came time to comb through all the material, she had a few tricks up her sleeve. "One of the ways that I know I've maybe gotten toward the end of [the research process] is when I start acquiring the same information over and over," she says. "With Rodham, I would come across some anecdote from the 2016 campaign four times and then I would think, 'Okay, I've got this.'"
Through all of Sittenfeld's SNL research, she kept returning to the same question at the heart of Romantic Comedy. "[I started writing] thinking, 'Who wouldn't want to be married to a comedian? Because the part that actually isn't mysterious to me is why all these gorgeous, super successful women want to be married to funny men," she says. "But why does it seem like gorgeous, super successful men don't especially want to be married to funny women?"
Below, Sittenfeld reflects on her love of fleece, reading sex scenes aloud, and the gift she received from Judy Blume.
On the novel that's reminding her of Jeff Bezos:
I just read the novel Trust by Hernan Diaz. It's a story about a 1920s super successful financier and how he amassed his wealth and what the implications were. So it has these echoes to the present moment. He personally made me think about Jeff Bezos. [There's] one overlapping story, which is told four times from four different perspectives. It really deepens your understanding of what came before [his success], and raises questions about the truth of what came before. So it's just a really ambitious, smart book.
On the fabric she wears to write:
I live in Minnesota so in the winter I [write in] fleece lined yoga pants from Athleta. Then I often wear a fleece hat inside along with a sweatshirt, and a Patagonia fleece jacket. There's a lot of fleece in my winter wardrobe. It's a lifestyle.
On her good-vibes-only office:
I have a shelf of gifts and mementos that I've been given by other writers. For instance, Judy Blume had a book come out in 2015 [called In the Unlikely Event] and I was one of the writers in conversation with her for her book tour. To say thank you, she sent me a beautiful old-fashioned mirrored compact. But it's also an art object, which is mentioned in the book. So I have that there. It's just nice little things that other writers have given to me that I feel like bring good energy into my office.
On the drawbacks of reading aloud:
[The weirdest thing I do] is probably reading sex scenes aloud to myself. I read everything aloud to myself, but it's a little weird when it's sex.
This interview has been edited and condensed for clarity.