Dakota Johnson's Cannibalism Joke About Armie Hammer Just Shocked Sundance
She made an off-color joke about the 2017 movie Call Me By Your Name and his controversial past.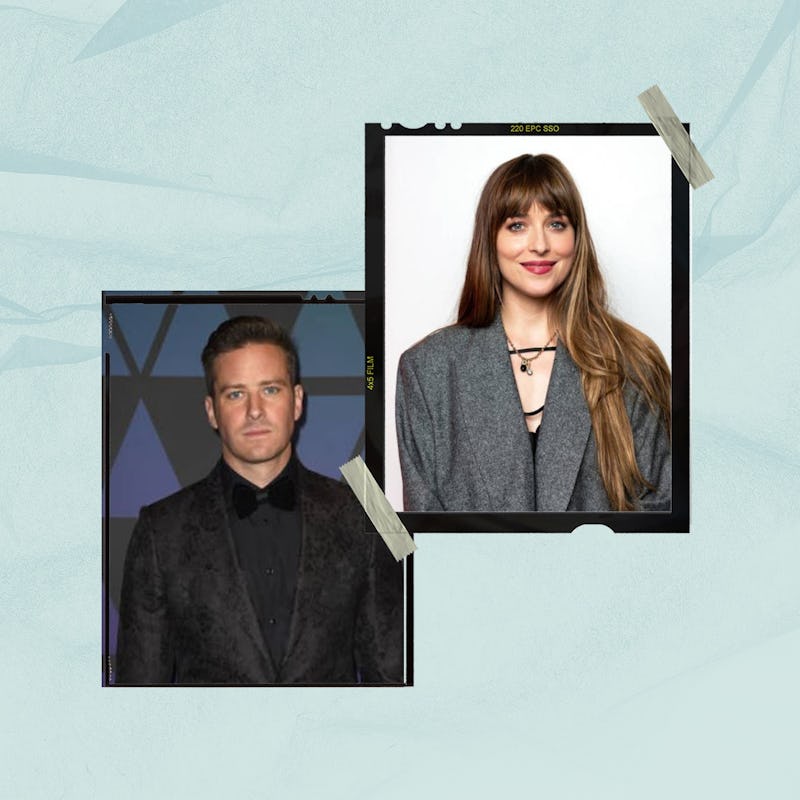 Getty Images - Kevin Winter / Getty Images - Amanda Edwards
Trigger Warning: This piece contains mentions of prior allegations of sexual assault.
Dakota Johnson made a shocking remark while honoring director Luca Guadagnino at this year's Sundance Film Festival. While presenting the festival's International Icon Award to the Italian filmmaker, Johnson invoked Armie Hammer, who starred in his film Call Me By Your Name before allegations of sexually explicit messages tinged with cannibalism came to light.
"It was here at Sundance in 2017 that audiences experienced a film that is uniquely characterized by Luca's iconic approach to storytelling, the vision, and the style that is Call Me by Your Name," Johnson began before making an off-color joke about one of the film's stars. "Sadly, I wasn't in that one. It was unfortunate. Luca had asked me to play the role of the peach, but our schedules conflicted. Thank God, though, because then I would've been another woman that Armie Hammer tried to eat."
The Oscar-nominated film also starred Timothée Chalamet as a teenage boy discovering his queer identity; in the film, Chalamet's character masturbates with a peach while fantasizing about his father's assistant (played by Hammer). At first, the Sundance audience responded with laughter at Johnson being cast as a peach, then appeared divided about the Hammer comment, with some laughing and applauding while others groaned.
Guadagnino's most recent film Bones and All reunited him with Chalamet and centered on a cannibal love story, providing Johnson with another opportunity to shock crowds. "It's been five years since that film premiered here, and Luca hasn't stopped taking us to exciting places," Johnson continued. "Who knew that cannibalism was so popular?"
Fans online are pointing out that when the allegations against Hammer first broke, Johnson spoke out in support of the actor. "I never experienced that firsthand from any of those people," she told The Hollywood Reporter in 2021, in relation to Hammer and other controversial co-stars like Shia LaBeouf and Johnny Depp. "I had an incredible time working with them; I feel sad for the loss of great artists. I feel sad for people needing help and perhaps not getting it in time. I feel sad for anyone who was harmed or hurt. It's just really sad. I do believe that people can change. I want to believe in the power of a human being to change and evolve and get help and help other people."
Since 2021, multiple women have come forward with sexual assault allegations against Hammer, including one claim that he wanted to "barbecue and eat" part of a woman's body. Hammer has denied all claims to date.
If you or someone you know has been sexually assaulted, you can call the National Sexual Assault Telephone Hotline at 800-656-HOPE (4673) or visit online.rainn.org.